On Saturday, October 15, 2022, Anselmians past and present gathered to honor long-serving Saint Anselm College Admission Director, Donald Healy '60, by naming the conference room in the new Savard Welcome Center in his honor.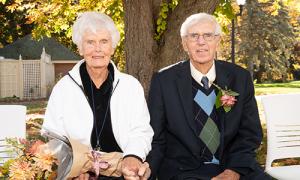 "Don Healy is a beloved member of the Anselmian community and one of the most significant lay administrators in the history of Saint Anselm College," said Dr. Joseph A. Favazza, president of the College. "The naming of the admission conference room honors his remarkable role in the college's growth, especially through the 70s and 80s when the college increased enrollment and transitioned to a coed institution."
Shortly after his graduation in 1960, Healy began coaching the Hawks men's basketball team in 1962 and was hired to lead the Admission Office in 1967. During his tenure, he witnessed many major shifts including the college's move to a fully co-ed campus, where he helped guide the college to enroll an equal balance of men and women through the mid-1970s and early 1980s. Through Healy's leadership the college pivoted from its dependency on parochial schools, where a majority of enrolled students originated from, to recruitment in public schools.
"Because of the length of time I worked with [Don], I observed how so many came to [him] seeking [his] thoughts, ideas, counsel, or just to say hello," said Robert Andrea '81. He talked about all the opportunities Don gave to students, taking chances on those who he felt most embodied being Anselmian. Andrea told the audience, "I would bet many of you in the audience either benefited from directly or know someone who benefited from Mr. Healy taking a chance on you."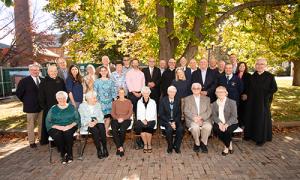 An avid sports fan, Healy is considered one of the founders of the Saint Anselm hockey program and was the patient and persistent force behind the return of football in 1999. Since retiring in 2002, he has often been found on the sidelines cheering on the Hawks.
"I would like to thank Don Healy for his steadfast commitment to the college and its students," said James Flanagan, senior vice president and chief advancement officer. "His dedication to his alma mater is an inspiration to our entire Anselmian community. Thank you also to the entire Healy family, friends, and alumni for their remarkable support."
The college embarked on a special fundraising project in January 2022 to name the Admission conference room, in the new Savard Welcome Center, in honor of Healy's service to Saint Anselm College. An anonymous gift of $25,000 from an alumnus was given to the college to encourage others to honor Healy and his dedication to Saint Anselm – as a student-athlete, basketball coach, Admission Director, parent, mentor, colleague and loyal Hawks fan.
The conference room connects Healy's legacy to future generations of Anselmians. It hosts prospective student interviews and admission ambassadors gather there for their call nights. In addition, the Healy Conference Room hosts admission and enrollment meetings and trainings, and other community events.
"The Donald E. Healy '60 Conference Room naming is a testament to my father who dedicated over 40 years of his life to Saint Anselm College, first as a student, then a coach and finally as director of admission," said Patrick Healy P'20, P'22. "The conference room in the Savard Welcome Center exemplifies what my father built here as director of admission for the 38 years he worked in this role."