For art and design associate professor Kimberly Kersey-Asbury, a love of art and adventure has taken her to Botswana many times, most recently on sabbatical, to exchange knowledge, fuel her creativity—and make an impact.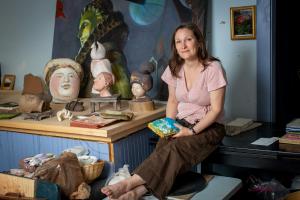 "Initially, I wanted to become a lawyer—so I could help people," says Kimberly Kersey- Asbury, associate professor of art and design. But the Missouri native's intense wanderlust and talent for art pulled her in another direction. As a young twenty-something, she found herself landing mural and portrait gigs, securing funding to pursue her creative work, and launching community art projects. Kersey- Asbury ultimately became an artist—a painter and ceramicist—as well as a professor. Yet she achieved her initial goal of helping people, albeit by taking a very different route, one that would lead her repeatedly to remote, dusty landscapes in Botswana.
Most recently, Kersey-Asbury went to Botswana in 2022, where she spent the first seven weeks of an academic sabbatical. Thanks to Summer Faculty Research funds granted by the college and her hosts at the new Moela Safari Lodge, co-owners conservationist David Dugmore, and Motswana businessman Legatilemang Moela, Kersey-Asbury is helping lay the foundation for an arts center affiliated with the new Moela Safari camp near the village of Khumaga and the vast and otherworldly Makgadikgadi Pans, the largest salt flats in the world.
Love at First Sight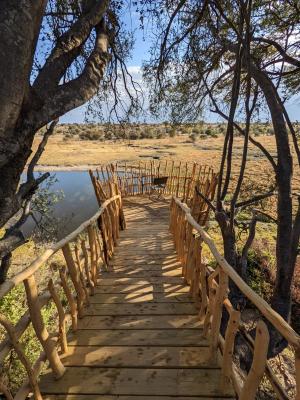 Her first trip to the Southern African country was in 1993 when she was 22 years old. She had been working as a waitress on a glass bottom boat on Lake Tahoe, saving money on a gap year so she could travel, itching for more adventure and purpose. "Initially, I wanted to do photojournalism in South Africa during the elections that would end apartheid," says Kersey-Asbury. "Yet I came to realize the danger of that time, and I found myself unexpectedly on an island on the other side of the Kalahari, in the Okavango Delta in Botswana."
When she arrived with an 80-pound backpack filled with camping gear and art supplies, she headed to a seven-sided rondavel (an indigenous round house with a thatched roof) that a friend in the Peace Corps had built and bequeathed to her. Yet a family already had moved in. Not knowing a soul, she would follow fellow travelers to Deception Pan weeks later, where she narrowly escaped a close encounter with lions. Yet, despite all this, she was smitten by the place. "The Salt Pans and the Delta were each a kind of oasis, a quiet pause," Kersey- Asbury recalls.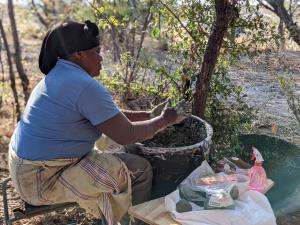 During that initial stay, Kersey-Asbury ended up working for—and ultimately co-owning—a sign company. She enlisted a group of Batswana teenagers at the nearby Maun Senior Secondary School to work with her, training them. Together, they made hand-painted signs for safari camps and other small businesses.
Eventually, Kersey-Asbury went back to the States, where she shifted her academic focus from ceramics to painting, first at the Kansas City Art Institute for a B.F.A., and then onto Boston University for an M.F.A. Upon graduation in 1998, Kersey-Asbury returned to Botswana on a Fulbright scholarship. Her project was titled "Landscape Painting & Its Audience: Fine Arts Development in Botswana." She found herself back in the Makgadikgadi Pans, working once again with Maun secondary students. It turned out her former Maun student workers had started their own sign-making company. "That's when I realized that sharing skill sets can be transformative. It can change lives," says Kersey-Asbury. "This is what led me to become a professor." 
From Artist to Professor
Kersey-Asbury began her professional academic career in 1999 teaching studio art, first at the University of Missouri-Columbia, and eventually joining Saint Anselm in 2007. In 2013, Kersey-Asbury took her first academic sabbatical, again returning to Botswana. On this trip, she focused on exhibiting the work she'd been making back in the States. Boarding an airplane to the capital city Gaborone with two solo shows worth of work, she installed one exhibition at the Thapong Art Centre of her sculptural artist books made with powdered pigment and wax (inspired by the Pans), and the other at the University of Botswana, featuring mixed-process, large-scale photography.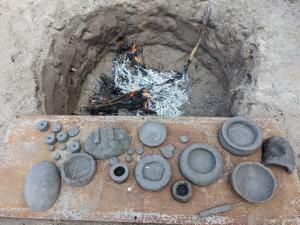 Nine years later, in 2022, Kersey-Asbury was awarded the second sabbatical of her tenure at the college. It was back to Botswana again. This time, she headed to the remote village of Khumaga, some five hours southeast of Okavango Delta, with the intention of researching locally occurring wild clay and pit firing processes that might aid in the creation of a new arts center. She would partner with developers who were creating the Moela Safari camp (slated to open August 2023) on the banks of the Boteti River. The team seeks to solve human/wildlife conflict in the area, cultivate sustainable art practices with indigenous materials, thus empowering the local population to benefit economically from the tourist industry.
"At first glance, there isn't much of anything in this area, with the exception of abundant wildlife," says Kersey-Asbury. Indeed, hippos, zebra, and wildebeest, often on massive migrations, populate the landscape here. It is the animals that attract the tourists.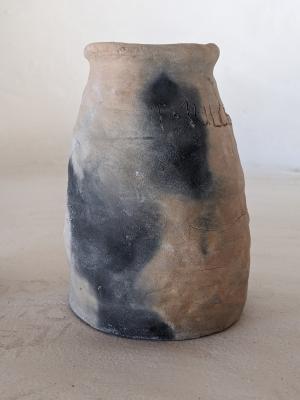 There are seemingly no materials for art production here. Yet ... there is mud. Lots of it. On a visit to the Moela campsite in 2019, Kersey-Asbury became fascinated by the way a group of local Tswana artisans, primarily women, were using black mud harvested from the banks of the Boteti River to create the walls for the large hut structures being built for the new Moela camp. The women were laying handmade sun-dried bricks, and then plastering on more mud to create walls that appear both primitive and strikingly modern, with undulating curves that suggest a playful sense of design. Dugmore and Moela helped source clay from different places around the Pans, each a different hue. This was used for aesthetic affect, creating a colorful palette—a convention taken from traditional painted Botswana houses.
"These were women who didn't see themselves as artists," Kersey-Asbury explains. "Yet their work was almost sculptural. I thought to myself: "I wonder if this mud could be used to make objects the women could sell when the safari camp opens." They had never fired this mud before, but I set about to try."
Kersey-Asbury sourced, processed and test-fired wild clays from around the region, even flying some in by plane from another village. Eventually she found an abundant bright green variety nearby that was easy to shape, and fired well.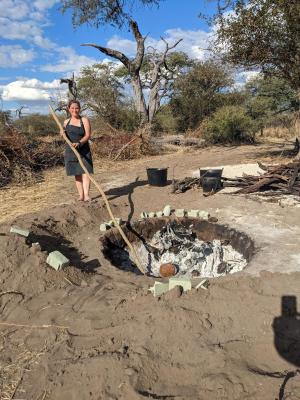 Kersey-Asbury's work at the camp culminated in a daylong ceramics workshop with the workers at the Moela camp. Together, they crafted small pieces like lidded bowls, spoons, beads, and small sculptures that could be sold to tourists. "In a remote area like this, you have to make things people who are carrying nothing but a backpack will buy," says Kersey-Asbury.
Just like her sign-making venture with Maun secondary students decades ago, Kersey-Asbury was helping launch another cultural economic initiative, enabling local female artisans to parlay art into a profession. Using money from her grant, she had been able to pay the workers from Moela's camp to help her search for clay, interview villagers in the area, and recruit and train men and women to help process and test the wild clay bodies, dig pits, and collect firewood and zebra and elephant dung for the pit firing. Every single employee at the camp signed up for Kersey-Asbury's ceramic object-making workshop. 
Although a teacher, Kersey-Asbury played student while at the camp as well, reading books about the history of ancient pit firing techniques by flashlight in camp at night. Kersey-Asbury, using her basic grasp of Setswana, shared her own hand-building techniques with the workers, such as coil- or slab-building, while a lone mosadimogolo (an elder woman) in the group demonstrated the traditional techniques she remembered seeing her grandmother use to make wide, flat bowls, similar to pinch-pot technique. "Such traditions had been lost due to the introduction of plastic," Kersey-Asbury explains.
A Shared Experience
While this fledgling arts center is some 7,500 miles from the leafy campus of Saint Anselm, Kersey-Asbury sees her recent sabbatical work in Botswana as integral to her teaching at the college as well.
Sabbaticals allow for "meaningful scholarship and service to the greater community, whether it be locally or internationally," she says. "They enable us to teach with greater depth and substance."
After her recent sabbatical, Kersey-Asbury no doubt has an even deeper understanding of the delicate alchemy of clay-making and firing. Yet the experience also allows her to be an exceptional role model for her students, as a professor who has seized opportunities, taken chances, and furthered her academic career through community work—a key tenet in Saint Anselm's philosophy.
There has been plenty of cross- pollination as well. In 2019, Kersey- Asbury invited Shepherd Ndudzo from Botswana and Zimbabwe to exhibit at the college's LCC Galleries. And these days, she is busy planning more exhibitions and programming at Saint Anselm. "I want to bring in some more heavy hitters," she says. "Much of the programming will have a focus on the unique role of arts education outside the traditional classroom structures."
Of course, Botswana is ever-beguiling. Kersey-Asbury remains in touch with her friends in Botswana and follows their progress. "I look forward to returning to continue helping develop an arts center and arts trade training and programming at Moela Safari, and in Khumaga village in general," she says.
Reflecting on her adventurous life trajectory—one in which art and life are seemingly fused, each informing the other—Kersey-Asbury sums it all up quite simply: "I am an artist and art professor, and I can do social good. I'm lucky. I get so much out of it."
Community Arts
The seemingly indefatigable Kersey- Asbury has a side project, a sizable one. Over the past few years, she has worked alongside a team in creating a community-based arts space called MAxT Ceramics Center based in Dublin, N.H.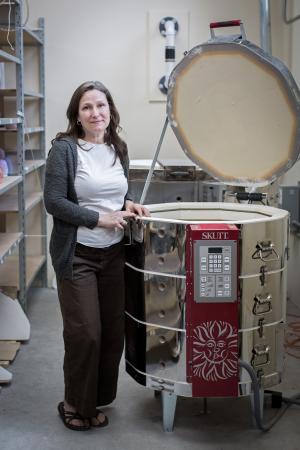 "The Monadnock area is known for the arts," says Kersey-Asbury. "When I moved here from New York City, I really liked that there was all this creative activity. It felt like a good fit."
Yet sadly, the local arts infrastructure took a huge hit when the Sharon Arts Center—the cultural anchor of the region that had served the community for 73 years—closed its doors in 2019 due to lack of funding and ownership changes.
Kersey-Asbury recognized the void left by the closed arts center, both from a creative standpoint and a communal one. "I kept wondering, like others, what could be done about this catastrophic loss," she says. "It came at a time when youth and other folks in the region were struggling, and the pandemic had left us all completely isolated. I wanted to help if I could."
So Kersey-Asbury and others decided to create a new arts center, one that would focus on ceramics. The goal was to serve both experienced ceramicists and those who might be getting their hands covered in clay for the first time. It would be a place to create—and gather as a community.
Kersey-Asbury, MAxT Makerspace Director Roy Schlieben, and other community members ultimately raised more than $100,000 in funding through contributions from community members, the state's CDFA Business Tax Credit Program, and the New Hampshire State Council on the Arts. All this fundraising and grant-writing—along with sheer grit— helped the group lay the groundwork to begin again.
Opening in February 2022, the MAxT Ceramics Center is housed at 1283 Main St. in Dublin, and includes amenities such as an outdoor raku, and salt and gas kilns coming this fall. These days, there is a full roster of classes, ranging from wheel throwing, to a pit firing workshop taught in Kersey-Asbury's backyard, to an Ikebana-style flower vase-making class.
Whether it's a dynamic new arts space or her various projects in Botswana, the focus on community service is always at the forefront for Kersey-Asbury. And as she sees it, this relates to her "day job" too.
"When I first came to Saint Anselm College, I didn't know anything about the Benedictine tradition. But I found at its core it is about welcoming, and about focusing on our communities. So, yes, for me, it all connects."
For information on the MAxT Ceramics Center, visit www.maxtmakerspace.org/ceramics.
—R.S.