First-generation students share why they chose Saint Anselm, and what their biggest challenges and successes have been along the way to becoming an Anselmian.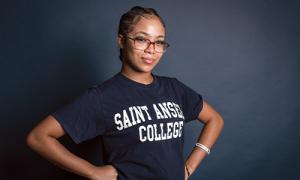 Tarialis Deleon '23
Business
AVERT, Campus Ministry, Meelia Center for Community Engagement, The Father Jonathan O.S.B. Center for Intercultural Learning and Inclusion
 
Why Saint Anselm?
I think the main reason I chose Saint Anselm was because it was a good choice financially, it was close to home, and the campus had an amazing aura. It was nice to see that no matter how far I was from a door, someone would still wait and hold it open for me.
 
Advice for future first-generation Anselmians?

"Don't be afraid to ask for help. I've always been independent and I always tell myself I can figure it out, but that can be so lonely. You never know what someone can do to help you unless you ask. Everyone needs help."
What has been your biggest success so far?
My biggest success so far has been the ability to be a full-time student as well as a part-time worker. My sophomore year of college was difficult, not only because of Covid, but because I was working in a hospital, all while worrying about my school workload. I believe that being able to juggle school while working night shifts has been such a great accomplishment.
 
And the biggest challenge here?
The biggest challenge has been my school and work schedule. I am not able to put all my focus towards school like I would hope to, since I must work some nights. It gets challenging because I am also a first-generation student and a lot of what I am going through now is also a first-time experience for my parents.
 
How did you get through this?
I believe the people closest to me have helped me get through this. For example, Wayne Currie [director of the Intercultural Center] and Kat O'Loughlin '10 in Campus Ministry have always been there when I just wanted someone to listen or when I was struggling in a class and needed resources.
 
---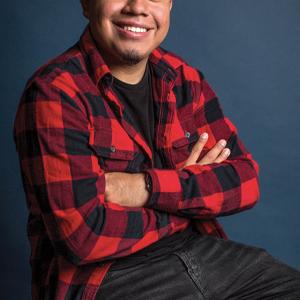 Brandon Maldonado '22
Criminal Justice
Thomas A. Melucci Jr. Memorial Scholarship Recipient, Impact Fellow Meelia Center for Community Engagement, Head Peer Mentor, Transitions Program
 
Why Saint Anselm?
I applied to other schools, but honestly, Saint Anselm gave me the most financial help and that was a big factor in my decision. And when I came to visit campus, I was blown away by the family feel here. Family is very important to me, and I felt that right away.
 
What has been your biggest success so far?
Definitely being awarded the Melucci Scholarship, but also becoming a head mentor in the Transitions program. This program was how I started making friends when I arrived on campus, and being able to interact with first-year students is important to me.
Advice for future first-generation Anselmians?

"First I would offer congratulations. Being first generation is a huge accomplishment. But also I would let them know they're not alone. There are so many people here looking out for you emotionally and academically - there's always someone in your corner."
And the biggest challenge here?
Being a student of color. The school is predominately white, and I stick out like a sore thumb. It sometimes can be hard getting through the day, meeting new people and always being different. But also, being a first-generation student, I put a lot of pressure on myself to be a role model for my younger siblings, and there's no one at home who has been through this to give me advice.
 
How did you get through this?
Both the Intercultural Center and the Meelia Center became my second home. Wayne Currie and Nicole Lora '06 [director of the Meelia Center] became an important support system, but they also encouraged me (and pushed me a little) when they saw potential.
---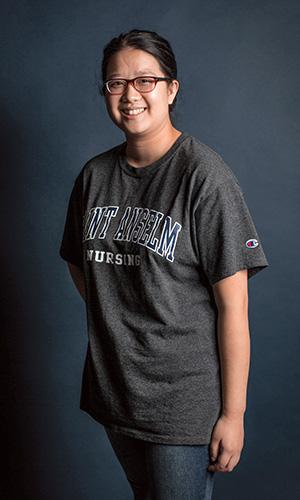 Amelia Zheng '24
Nursing, Spanish for Nurses Minor
Resident Assistant, Access Academy Instructor, Meelia Center for Community Engagement
 
Why Saint Anselm?
My first experience with Saint Anselm was when I was in eighth grade taking part in the Science Olympiad held on campus. When I was a senior in high school, it was during Covid and I couldn't tour schools. I remembered my experience in eighth grade and I knew Saint Anselm had a great nursing program, and I wanted to pick a school that made sense financially.
 
What has been your biggest success so far?
Just getting into this nursing program was big, especially being first generation. Declaring a Spanish minor also was big—I speak conversational Mandarin at home with my family, and learning to speak Spanish can be a struggle, but being able to test into that minor is an honor. Also becoming an RA, and being a part of the Meelia Center.
Advice for future first-generation Anselmians?

"You think you're alone, but you're not. There are a lot of first-generation students on campus who understand your background and what you're going through. Be confident to share your story, open up, there's a community here for you."
And the biggest challenge here?
Last year, I was very homesick, I didn't know anyone like me here. Being from Somersworth, N.H., I'm used to a lack of diversity, but in high school, at the end of the day, I knew I would go home to a support system I shared the same background with. But in college, you're living here. It's different. Being homesick is still very prevalent in my life, and it's still something that I go through.
 
How did you get through this?
I took part in the Transitions program and that was a really big help—everyone I met through this program feels like family to me now. Working at the Meelia Center also has helped. I was an Impact Fellow last year and we were able to have important discussions on how to make Meelia Center programing accessible to diverse cultures. I've been able to find a lot of friends with diverse backgrounds who have made me feel comfortable.
---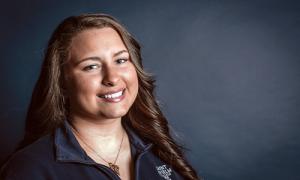 Ashlee Locke-Hunter '22
Elementary Education, ESOL and Spanish Minors
Head Peer Mentor, Transitions Program, The National Society of Leadership and Success President, Senior Class Gift Committee, Substitute Teacher, Head Server at Chunky's Cinema and Pub
 
Why Saint Anselm?
When I toured campus, I was able to shadow a student and sit in on two classes. Right away, I knew it was for me. I have been in Catholic schools since kindergarten, and I wanted that same close-knit family feeling—and I felt part of this community and part of a family as soon as I stepped on campus.
Advice for future first-generation Anselmians?

"Get involved. It's the most important thing you can do here. People want you to be part of things, they want to hear what you have to say."
What has been your biggest success so far?
Some of my biggest challenges have been coming to live at school away from home. I am an only child and living away from my family and friends was a big fear and challenge my first year. After being on campus though I fell in love with living here and it feels like a second home.
 
And the biggest challenge here?
I'm currently applying to graduate schools, and I had no idea how many different paths were available to me. I'm extremely close with my parents and they are a
tremendous support, but being a first-generation student, I had no one at home who could help me understand all of the possible paths or scholarships to pursue.
 
How did you get through this?
My parents being so supportive and guiding me in everything I do. Another is Wayne Currie. He is always there to talk to and prompts me to think about what's next. I'm so thankful to the entire education department. Dr. Aubrey Scheopner Torres has been an amazing advisor and helped me understand all of the options available to me after graduation. But also, Emily Kobrock in the Career Development Center has been very helpful working with me on where and when to look for a job, as well as with my resume and helping me prepare for interviews.
---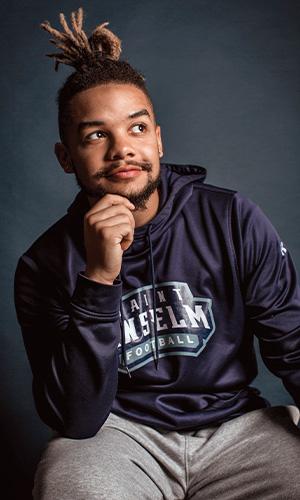 Alyzea (AJ) Espinal '24
Criminal Justice
Running Back, Hawks Football Team
 
Why Saint Anselm?
I visited a lot of schools, but I liked the small size here. After my first visit, which was an overnight, I felt like I fit right in. A lot of my friends who have gone to bigger schools are still struggling to create new friendships and find a community, but I was able to make connections from my first day.
 
What has been your biggest success so far?
Being able to evolve as a man here. Last year was so difficult with Covid. Not being able to meet teachers in person, having the double disappointment of football season being canceled in the fall, and then again in spring, it was one of the hardest years I've ever been through. Getting through last year was a huge success—if I can survive last year, I can do anything.
Advice for future first-generation Anselmians?

"Nothing in life is guaranteed, but come here with a goal and be prepared to work hard, and you'll be successful. It's worth the hard work."
And the biggest challenge here?
Covid was such a challenge, but also, getting used to the system here. I'm very disciplined but I still struggled with getting everything done. I learned quickly that when it came to schoolwork, I couldn't put anything off—there was no time to move anything to the side.
 
How did you get through this?
I have a handful of very close friends from home here, and they, along with my coaches and teammates, are my family here. The coaches and my teammates are always there for me—the upper class teammates care so much about the younger teammates, they welcomed me from the moment I arrived.
---
Help Fund the Future
This year, 17 percent of our students on campus are first generation. If you are interested in helping support future first-generation students by making a donation to the Hilltop Scholarship Fund, please contact Assistant Vice President, Major Gifts, Kenneth Binder at 603-641-7399.
---