Geisel Library recently welcomed a new Reference & Instruction Librarian to its team. Bekah is a Saint Anselm College alum, class of 2015 and recently finished a graduate program in Library Science from Indiana University. Please join us in welcoming her back to the Saint Anselm College community.
---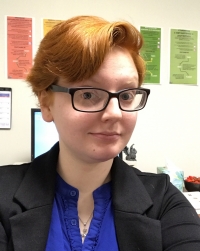 Hello all! I'm Bekah Dreyer, the new Reference & Instruction Librarian, liaising with English, History, Criminal Justice, and Fine Arts. I graduated from Saint A's in 2015, and for the last two years I've been out in Indiana getting my MLS at Indiana University. I like to call it my Big Midwestern Adventure, but it's certainly wonderful to be back home!
My love for libraries actually started with my love of history – I attended a public lecture that Keith gave for my Applied History class, and asked him if he knew of anyone who needed an intern. Turns out, Keith was the one who needed an intern! I worked with him in the archives and in the rare books collection my senior year. I loved being able to touch the history, and hold it in my hands; it was more thrilling than any history textbook, no matter how well written. So, initially I wanted to work with these types of materials. However, upon deciding to go to graduate school for library science, I discovered that I really loved the mission of libraries as a whole: a place of service and learning. Everything just sort of clicked at that point, and I knew that libraries – rare books or not – were the place I wanted to be. So, I am thrilled to be back on the Hilltop where my journey began!
My office is located right in the middle of Reference Row [adjacent to the computer lab and IT Help Desk on the main level], so feel free to stop on by and say hello! If you need any ice breakers, feel free to bring up Star Wars, cats, medieval history, or the latest in sports news and I'll talk to you for hours! It's also very important to me to keep chocolate nearby at all times, so if you find yourself in need, I've always got a bowl out for sharing.