With green thumbs and keen eyes, Noah Manuel '23 and Biology Professor Eric Berry have collected a cornucopia of information about plants around the Hilltop. 
This summer, Noah has had fun crisscrossing the campus and identifying more than 100 plants so far. He's plucked things like Pink Lady's Slipper Orchid, Prairie Rose and Enchanter's Nightshade from meadows and forests.
His summer honors fellowship project involves creating a flora, a list of plant species found within a local geographical area, for Saint Anselm College. The project includes writing descriptions about the various species and habitats, as well as dried voucher specimens — which are pressed and preserved plants. 
"Floras are extremely useful in seeing how the types plants of a particular area such as our campus change overtime," Noah said. "It records when some species appear and other disappear from the local environment."
On a warm July afternoon inside Goulet, Professor Berry and Noah were taking pictures of the mounted plant specimens using the lab's imaging system. The dried plants are scanned, uploaded to an online database, catalogued, and included in the college's larger herbarium collection.
Noah's efforts are part of a larger project that Prof. Berry has undertaken in his lab to work through the college's entire herbarium collection, which he estimates at 3,000-4,000 specimens. He has registered the herbarium (code STAC) with the worldwide herbarium index called Index Herbariorum. He's also registered it with  the Consortium of Northeastern Herbaria (CNH), which "…unites herbaria in northeastern North America to provide online access to specimen data housed in member institutions."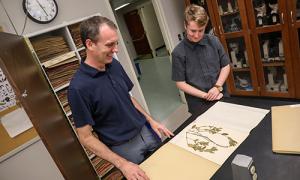 Berry uses the CNH portal to digitize the college's herbarium collection. That process involves — for each specimen — some repair followed by entering label information into the portal and linking the digital image.
When it's complete, the Saint Anselm College herbarium collection will be fully searchable by those at the college and other botanical researchers using the CNH portal, where they will have access to label information and high-resolution images for each species, Berry said. 
Berry said he's worked through a little over 100 species in the collection so far and it appears that the earliest specimens date to the late 19th century (~1890). Most species seem to have been collected from the New England area, but they have seen some from as far away as China and South Africa.  
"The exciting thing about this process is that we don't know what surprises the collection might hold," Berry said. 
The earliest versions of Saint Anselm's herbarium collection started at least as far back as the 1920s and picked up speed in the 30s and 40s, according to College Archivist Keith Chevalier. The archive has several detailed notebooks from Brother Bede Linder, O.S.B., 1927–1964, a monk who was also a gardener for the monastery, botanist and linguist. 
As a lay brother, Linder grew everything from flowers for Easter services to plant samples that were used for teaching in botany classes. Linder took meticulous notes about what he collected and classified throughout his years at the college. 
Other people helped out with this effort too, including Fr. Hubert Sheehan, O.S.B., a monk who was also a botanist and collected a lot of specimens. Maurice Provost '35 similarly collected specimens for the collection when he was a student here. Provost later became the Director of the Florida Medical Entomology Laboratory.
The documentation about flora and fauna from the monks in the early 20th century coupled with the current research by Prof. Berry has proven to be an invaluable resource for the archives at Geisel Library. 
"To me, it's really interesting to be able to use this in conjunction with some other parts of the archives to give a clearer picture of the agricultural story of the campus," Chevalier said.
Herbarium collections like the one at Saint Anselm are extremely important for both scientific and other uses. Scientifically, these collections provide the basis for taxonomic naming and classification, Berry said. They are used to reference biodiversity estimates geographically and across time, they enable studies of invasive species, and they preserve a record of our natural heritage for future scientists to access.  
The information found in herbaria are used by many non-scientists as well, including environmental engineers, forest managers, farmers, real estate appraisers, and landscape architects.