Michael '88 and Patricia Rockett '88 have generously pledged $100,000 gift to the college. They have challenged (or are challenging) other 1988 classmates to collectively match their gift by the time they celebrate their 35th reunion in June. The Rockett's gift will continue their support of seniors in need, to ensure that the students are able to finish their time at Saint Anselm College, however, any gift to the College, from a member of the class of 1988, regardless of its purpose, will count towards the challenge.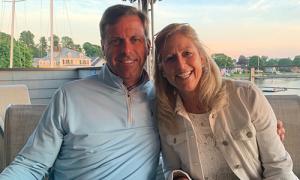 "The entire Saint Anselm College community extends our heartfelt thanks to Mike and Tricia for their generous leadership commitment to the college's reunion program in support of student scholarships," said James Flanagan, senior vice president and chief advancement officer. "Reunion giving is a proud Anselmian tradition and critical to the college's overall engagement and fundraising program."
The Rocketts graduated from Saint Anselm College in 1988 with degrees in business (Patricia) and sociology (Michael). They married shortly after graduation at the Abbey Church, and began working in Michael's family real estate business, later developing and managing the Salem Waterfront Hotel Suites. They are longtime residents of Marblehead, Mass.
"We've always been big supporters of the college, and we want to give back," shared Patricia Rockett. "We want to give to the students, because that makes the most impact."
Their hope is that this challenge gift will encourage their classmates to give back to a place that meant so much to all of them. "People often don't give until they are asked," explained Rockett.
Michael served as a college trustee from 2015 – 2020, and neither he nor Patricia turn down an opportunity to come back to the Hilltop. The Anselmian community has been so important to the Rocketts, and they have been long-time supporters of the College so that a new generation of Anselmians are able to have the same experience.
"On behalf of the Saint Anselm College community I extend my thanks to Michael and Tricia for providing this generous challenge opportunity," said President Joseph A. Favazza, Ph.D. "Their gift and the gifts of all members of the Class of 1988 will have a profound impact on our current and future students."
Saint Anselm College will be hosting Reunion 2023 from June 9 – 11 for classes '73, '78, '83, '88, '93, '98, '03, '08, '13, '18. More information will about schedules, tickets, and accommodations will be available at alumni.anselm.edu/reunion in March.