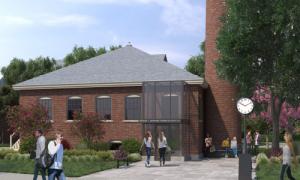 The National Endowment for the Humanities has awarded $500,000 to Saint Anselm College in support of the Gregory J. Grappone '04 Humanities Institute.
The federal grant will advance the college's effort to create a physical home for the humanities, a deeply-rooted part of a Saint Anselm education.
"This grant from the NEH will not only provide significant assistance in helping us to create a permanent home for the Grappone Humanities Institute, it will inspire many Saint Anselm alums and others to join in support of this project," said Dr. Gary Bouchard, the executive director of the Humanities Institute. "When Saint Anselm alumni hear the word 'humanities' they reflexively recall their experience in a core liberal arts program that was created with generous support from the National Endowment for the Humanities decades ago." 
As part of a shared experience, all Saint Anselm students study a selection of classical, philosophical, theological and contemporary works that are designed to evoke thought and conversation. The program encourages students to examine life's big questions and to consider the elements of a shared humanity.
"The humanities are essential to leading a life of purpose and reflection," said Dr. Joseph A. Favazza, president of Saint Anselm College. "We are committed to providing a signature education that prepares students to be specialists in a particular field. But at the core of the curriculum are engagement with the humanities which doesn't just teach students how to think critically but to consider what really is worth thinking about."
New Hampshire Sens. Maggie Hassan and Jeanne Shaheen have been advocates of the Grappone Humanities Institute and supported the college's bid for the NEH grant.
"I'm thrilled to see $500,000 in federal infrastructure investments heading to St. A's to support its humanities program," said Sen. Shaheen. "A strong liberal arts education is core to shaping the next generation of leaders, and it is fitting that this project pays tribute to Greg Grappone and his passion for the exploration of cultural, social and political issues. This funding will help connect more students with thoughtful and dynamic humanities programs. I look forward to welcoming additional infrastructure dollars to the state and will continue working in the Senate to expand access to quality higher education for young Granite Staters."
Sen. Hassan said, "Saint Anselm's students consistently make New Hampshire proud, and this grant to Saint Anselm College will help forward the college's efforts to create a physical home for the humanities on campus. I'm thrilled to see this funding come to New Hampshire, which will help provide even more resources to those wishing to gather, reflect and deepen their work in the humanities."
Robert and Beverly Grappone HD'21 have led the effort to create the Gregory J. Grappone '04 Humanities Institute as a lasting legacy to their son Gregory, who died in 2015 after a lifelong battle with cancer. Greg was a Great Books major at Saint Anselm and a passionate supporter of the humanities. PBS Filmmaker Ken Burns is the honorary chair of the campaign.
With fundraising under way, plans are in the works to break ground in 2022. The Grappones have issued a $250,000 challenge grant, and fellow co-chair Susan Connelly '92 has made a $100,000 challenge in honor of Professor Bouchard.
A former boiler house where the college's print shop currently resides will be transformed into a multipurpose space for seminars, events and performances. It is hoped the Institute will become a hub for the humanities similar to how the New Hampshire Institute of Politics has been the center of civic engagement.
"To have our vision and the vision of the Grappone family affirmed in such a substantial way by the National Endowment for the Humanities is deeply gratifying," Dr. Bouchard said. "It is yet one more testament to the life and legacy that Greg Grappone has left us."
Make a Gift:
Help support the Gregory J. Grappone '04 Humanities Institute Building Project, which will ensure that the humanities continue to flourish at the heart of a Saint Anselm education. For more information, contact Gary Bouchard, professor of English and executive director Gregory Grappone '04 Humanities Institute, 603-641-7092 or gbouchard@anselm.edu; or James Flanagan, senior vice president and chief advancement officer, 603-641-7221 or jflanagan@anselm.edu.