On Fri., Feb. 3, 88 nursing students in the class of 2025 gathered in the Abbey Church for a special blessing of the hands ceremony in preparation for their first clinical experiences. The ceremony is a beloved tradition for the college's future nurses, connecting the Benedictine values at the center of their college experience to their future work. For the first time in two years, community members were able to attend in person.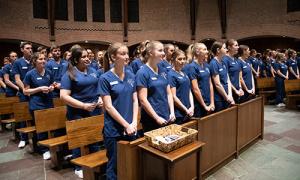 Fr. Mathias Durette, O.S.B., presided over the blessing, presenting to each student the medal of St. Raphael, patron saint of nurses. The students proudly wore their navy-blue scrubs for the first time, ready to begin their rotations. Student Nurses Association president Cordelia Inman '23 then provided words of encouragement; "I get to do this work as opposed to I have to do this work."
"The blessing of the hands reinforced this idea because it was such a beautiful demonstration of the power of the work that we, as future nurses, will be doing, and getting to do this work is a blessing in and of itself," said nursing major Anna Gaby '25.
One by one the sophomore nursing students were called to the altar to get their hands blessed by Nursing Professors Anne Knight, Joann Condon '00, Michele Moreau, and Melinda Ferguson. Lastly, community members who are healthcare professionals also had the opportunity to get their hands blessed. 
"It was an honor to have our hands blessed by those who brought us this far as we begin our clinicals," said Sela Rathe '25. 
"Blessing of the Hands was a beautiful way to commemorate the start of our nursing student journeys. It's part of what sets Saint A's nurses apart, and it helped us to truly understand how blessed we are to be able to care for others," said Riley Shea '25. 
The students will now enter a new chapter in their nursing education taking their classroom, lab, and simulation learning to the clinical environment. 
This year's students who received the blessing were: 
Lynda Alford
Audrey Arsenault
Gracie Atkins
Jamie Babineau
Alyson Baker
Hadeligh Bigelow
Kelly Binette
Helena Bolduc
Ashley Bolton
Brittiana Brache
Jenna Bray
Audra Brochu
Lauryn Butler
Bridget Butler
Francesca Campanale
Madison Cantwell
Julia Casaletto
Angelina Casciano
Courtney Casey
Abigail Cathcart
Brianna Ciardiello
Keirsha Comeau
Meagan Conlan
Kayla Conley
Maranatha Contreras-Velez
Elizabeth Curran
Maria Dagher
Sophia D'Ambrosio
Alanna Dooley
Sara Ducharme
Lindsey Dunn
Mary Durant
Abigail Edwards
Ava Elliott
Sidney Falterer
Meghan Farnum
MaryKatherine Finneran
Shannon Flock
Anna Gaby
Kate Golden
Eileen Gooding
Lauren Hatch
Bridget Hughes
Allison Indingaro
Andrea Kaspari
Aisling Kelly
Kaylee LaBella
Gabrielle Lacaire
Caroline Larson
Lauren Lejano
Sophia Leo
Ellen Linso
Samuel Luther
Megan Maggio
Robert Manson
Isabella Marcoaldi
Marie McCarthy
Haleigh Millett
Nicole Minnich
Eilis Monahan
Kristin Murphy
Hailey Nolet
Michaela O'Brien
Carissa O'Connell
Jillian Olbrys
Marguerite Ortiz
Ana Pachla
Emma Palermo
Justin Pollio
Sela Rathe
Anna Rigby
Mia Russo
Kendra Sabotka
Julia Schmidt
Stephanie Schoener
Faith Sexton
Riley Shea
Julia Smith
Caitlin Sullivan
Delia Swett
Michaela Thibault
Sabrina Tirrusa
Gillian Trackey
Sage Valiton
Alicia Vikstrom
Lydia Weider
Sarah Woods
Jessica Zipper
2023 Blessing Photo Gallery Goes Here