Former English Professor and Trustee Emerita Dr. Denise Askin passed away on Tuesday, June 6, after a long struggle with ALS. Dr. Askin served on the Board of Trustees from her retirement from the college in 2009 until 2020. In 2022, she was elected as a Trustee emerita. 
"No doubt many of you have stories and memories of Denise from the many roles she held," said Dr. Favazza, college president. "On a personal note, she was incredibly supportive and helpful to me during my first months as President as I was both learning about the college and navigating some challenging issues. She will be greatly missed."
Former student and alumna Dr. Emily Orlando '91, who is currently a professor of English at Fairfield University, reflected on her experience with Dr. Askin, saying "I was lucky enough to know Dr. Askin in her role as a master Professor of American literature. The unbridled joy and wonder she found in American letters was infectious. She helped me have a meaningful life and career. It is because of her that I wanted to make a career of professing literature. May her good, pure soul rest in peace knowing she made it better for all of us."
Visitation will be from 3 – 7 p.m. on Sunday, June 11 at Lambert Funeral Home, 1799 Elm Street, Manchester, NH.  A Mass of Resurrection will be celebrated at 11 a.m. on Monday, June 12 in the Abbey Church.
Below is a beautiful reflection about Dr. Askin's life and her long connection to the college by her friend and colleague Dr. Bindu Malieckal, chair of the English Department. 
Watch the service livestream:
---
Denise Theresa Askin
(December 1, 1946 – June 6, 2023)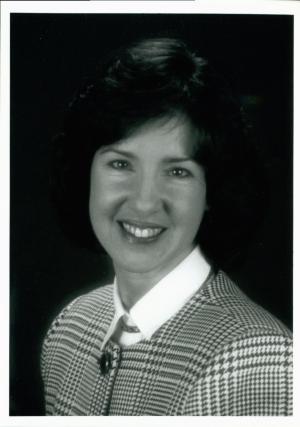 Dr. Denise Theresa Askin, Professor Emerita of Saint Anselm College, entered Eternal Life on June 6, 2023, after a courageous battle with Amyotrophic lateral sclerosis (ALS), previously known as Lou Gehrig's Disease. She is survived by her husband Walter "Jerry" Noyalis, her son Joseph Askin Noyalis, and her daughter-in-law Molly Williams.
Denise was a member of the campus community from 1972 to 2009. She taught for and served as the Chairperson of the English Department, was the executive vice president of the College, and upon retirement, was appointed as a trustee. Denise received the American Association of University Professors' Faculty Member of the Year Award and an Honorary Doctorate from Saint Anselm College.
Denise Theresa Askin was born in New York City to Joseph Askin and Rita Devaney. Joseph served in World War II and was a survivor of the Battle of Guadalcanal in 1942. Denise was their only child.
Denise was raised in Bay Ridge, Brooklyn. She graduated with a B.A. in English from Marymount Manhattan College in 1968 and with a Ph.D. in English from the University of Notre Dame in 1975. By then, she had already been teaching at Saint Anselm College. She would go on to earn tenure and be promoted to full professor.
Although Denise's area of specialization was 19th and 20th century American literature--Flannery O'Connor and Walker Percy were favorites--later in her career she was fascinated by Native American literature and in particular the writing of Samson Occom (1723-1792), a member of the Mohegan nation and Christian minister. Denise was one of the few scholars to thoroughly review Occom's unpublished manuscripts.
Students remember Denise as a passionate teacher who loved the written word and as a supportive advisor.  Denise continued to mentor young people even after her retirement. She volunteered with Court Appointed Special Advocates (CASA), where she worked tirelessly on behalf of vulnerable children.
"She is full of the most blessed condition," states one character about another in Shakespeare's great play Othello. No truer words can be said about Denise Askin. She was a woman of strong faith whose actions always came from a place of love. She radiated warmth and happiness, grace and elegance, a zest for life, and her laugh was infectious. Our loss is Heaven's gain, for Denise is no doubt among the angels, in the presence of the magnificence that is our God.