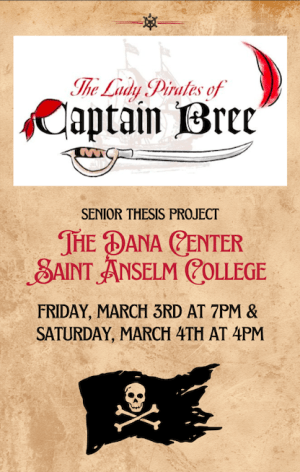 The Fine Arts community continues to display their talent this year with their senior thesis projects, with concerts, performances and presentations. 
In December, Natalie Bender's '23 senior thesis project resulted in the college's first opera. This month, it was director and producer Rina Simpson' '23 turn in the spotlight with her successful show The Lady Pirates of Captain Bree. 
Set in the 18th Century, The Lady Pirates of Captain Bree focuses on an all-female pirate crew who believe a British naval vessel is carrying treasure. Upon seizing the ship, they discover a group of royal passengers. Making up the royal passengers are notable characters such as the entitled Madam Prescot, a pompous Professor Bidwell, a comedic crew, and a Swedish chef that only one of the pirates can understand. 
"The pirates take them captive and debates ensue over what to do with the prisoners," Simpson said. "There are sword fights, dolphins that might be sharks, hilarious songs, and plenty of laughs to go around."
The dramatic arts have had a special place in Simpson's heart for years. With the help of Professor Andrew Haringer and Professor Sean Parr, she took the senior thesis project as an opportunity to stoke her interests. "I chose to direct a musical for my senior thesis project because of my love of music, theater, and storytelling."
Although she loves theater, Simpson's passion for storytelling transcends the glamor of the stage. For Simpson, there was an underlying purpose in selecting this play. "As for this show in particular, I wanted to direct something that is fun and would be accessible to all ages. The Lady Pirates of Captain Bree also is not well-known, and supporting smaller artists and helping expand the reach of lesser-known shows is important to me."
Despite the vision for the play, directing and producing one is no easy feat, but Simpson said the talented cast made the work easy and enjoyable.
"My cast has created an atmosphere where we are all looking out for each other and making sure that everyone is taking care of themselves. The success of this project relies on each of us working towards our full potential, and that is only possible when each person's needs are met," she said. "That is the biggest takeaway that I have gotten from this … I am so grateful to my stage manager, choreographers, tech crew, actors; everyone who has helped get this show up and running. I could not have done it without this wonderful team of people surrounding me."
Not only did this experience fulfill Simpson's passions, but her success in a position of leadership and collaboration with others set the standard for future endeavors. For her, this newfound expectation of teamwork was her biggest takeaway. 
Although unsure about her post-graduation plans, Simpson aspires to continue in the arts, pursuing her passions of storytelling, theater, and music as she shares her knowledge and love of the stage with others.