Kaitlyn Clark '09 | Criminal Justice
"We're providing [students] with the knowledge that our doors are always open, that their peers are available to them. We're not going anywhere—just because you have your diploma, that's not the end of your relationship with us."
By Kate Grip Denon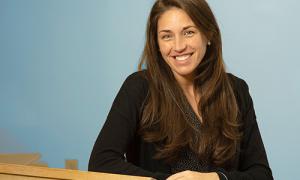 You're an alumnus as well as a faculty member—what made you want to come to the Hilltop first as a student?
My great uncle, James J. Dyer '60, was a student here before being drafted to play professional basketball, and I grew up hearing wonderful things about Saint Anselm from him. The fact that it was close to my home in Litchfield, Maine, also was important. I'm the oldest of eight children, and I'm extremely close with my family. Saint A's is so family-centered, it was like expanding my family. I also was fortunate enough to have a friend who was a student and a criminal justice major—and hearing him talk about the program really impressed me.
And what made you want to return as a professor?
My connections to the department. I maintained these relationships while I pursued my master's and Ph.D. Professor Jack Humphrey was actually one of my committee members for my dissertation. I was blessed when I got that phone call from Professor and Department Chair Peter Cordella asking, "Would you ever be interested in coming back to the Hilltop?"
When did you know criminal justice was your path?
My CJ100 class with Professor Jack Humphrey. Whenever I left the classroom, I wanted to keep researching. He, and all my other CJ professors, were always available to their students, which made me love this field even more. But also, when I was young, I watched the movie "The Hurricane," and I remember thinking, "I could never imagine being innocent and having to serve time behind bars." That's what sparked my interest in wrongful convictions, and what became my dissertation. Professor Humphrey and I also co-wrote a book on this topic, Wrongful Conviction: From Prevention to the Reversal of Injustice (Charles C Thomas Pub Ltd, 2018).
Tell me about the new 4 + 1 program—why now?
It was the next natural step for the department, and we knew this opportunity would help advance the careers of our students. Our department always is talking about what will benefit our students, and we're not afraid to try new things or different approaches. If this program existed when I was a student, I would have stayed.
Were you surprised by the interest in the program?
Yes! We were hoping for a 12-student cohort, but we had 22 students graduate from the program this May.
Why do you think there was so much interest?
Our flexibility. The fact that we offered an online component as part of the program allowed students to fit this into their professional life. We also identified the need for a second, non-thesis track, where instead of students completing two semesters of a thesis, they can pursue other topic courses such as crime mapping or an internship. By offering this second track, we're speaking to the different needs of our students—it's not a one-size-fits-all approach.
Were there any surprises this year?
The need for a second thesis track was a surprise, but also the online option being so beneficial to students, that also was a surprise. The flexibility of the online component has been very important.
What do you want your students to leave the Hilltop with?
Opportunity. Not only do we provide our students with the curriculum that will lead to their success, but we're providing them with the knowledge that our doors are always open to them, that their peers are available to them. We're not going anywhere—just because you have your diploma, that's not the end of your relationship with us.