Pamela Preston | Nursing
"For me, becoming a special education teacher was an opportunity to help others grow wherever they were starting from. Everyone has a gift, and everyone has something they're working on—as an educator, I wanted to help facilitate that growth in individuals."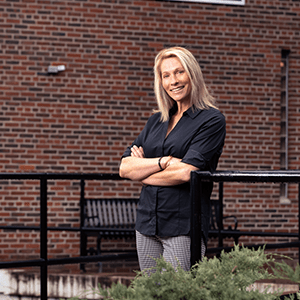 When did you know you wanted to be a teacher?
When I was graduating high school, I was undeclared with what I wanted to study in college, but I spent the summer working at a summer camp for children with disabilities. This experience cemented what I wanted to do with my life. For me, becoming a special education teacher was an opportunity to help others grow wherever they were starting from. Everyone has a gift, and everyone has something they're working on—as an educator, I wanted to help facilitate that growth in individuals. I was a special educator for five years for a private residential school for students in K-12 with autism spectrum disorders, and from there I moved into public education consulting where I supported students with challenging behaviors before moving into teaching in higher education.
How has the education department at Saint Anselm changed since you've been here?
When I arrived here 20 years ago, teacher licensure was an add-on program. There were no majors or minors in education, and no tenured faculty. Today, we have six full-time tenured faculty members and two staff members, two majors, two minors, 13 licensure programs, a rigorous curriculum and a clinical program. We also have just launched our five-year  (4+1) Accelerated M.Ed. Program with special education licensure.
Tell me more about the master's in education program—why now?
There is a critical shortage of special education educators—it has been an area of need for quite some time, and the college is in a unique position to embrace this opportunity and move forward with it. It's also something our students are very interested in having. Our inaugural class will begin in May, and students will be offered a full year of in-class internship experience while taking two courses in the fall, and one class in the spring. It is open to all seniors, as well as alumni who have graduated within the last five years.
What does this mean for our students? And the college?
For our students, it prepares them for the classroom and expands their career options. It also allows our students to be more marketable and prepares general education classroom teachers to teach all learners. As for the college, it adds to the breadth of programs we offer while also meeting the needs of the community.
In your opinion, what's the biggest challenge facing teachers today?
This is a difficult question to answer. There are many challenges facing teachers including inequities, and meeting diverse learning, communication, social, and personal needs of students. Today, the greatest challenge is the safety and well-being of their students during a global pandemic.
How are we preparing students to handle these challenges?
Our Teacher Education Program (TEP) goes far beyond education classes. Grounded in the strength and excellence of our liberal arts curriculum, our students have opportunities to examine not only the theory regarding the ethical, moral, political, and social realities, through multiple clinical experiences and community-engaged field work, they have varied environments in which to use this theory to inform their practice as future educators. As a result, they are well-equipped to handle the challenges of the current education climate.
If you weren't teaching, what would you be doing?
Personally, I would be gardening in my perennial and herb gardens, kayaking on the Maine lakes or on Cape Cod, reading, and spending time with family. Professionally, I think I would have always chosen to teach.