Have you always loved music?
I grew up with musical parents—both are opera singers, teach voice lessons, and conduct—and I grew up singing from a very young age, with singing all around me. But when I went to college, I was actually a math major. I was very sure I wanted to pursue math. 
What made you change paths?
When I was at Dartmouth, I did a study abroad program in London where I only studied music. I told myself 'This is silly, I'm enjoying this so much, let's see if I can add music as a second major.' When I came back, I did, and also completed a voice recital and supporting thesis. I knew then I needed to find a way to do music professionally. 
How did you make that happen?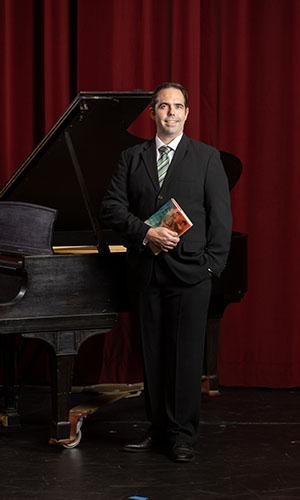 It took time. After college, I worked as a financial advisor and software engineer, but I knew I wanted to go back to school for opera and voice performance studies. My voice wasn't ready yet, and I wanted time to study to prepare for going back to school, and that's what I did—I went to Florida State for my master's degree, where I focused on voice performance and opera and took music history courses along the way. I then went to Columbia University for my Ph.D. in music history. During this time, I also co-founded a small opera company and we produced about a dozen operas. We didn't make a ton of money, but there's something wonderful about coming together and being driven by the same artistic vision.
You were recently appointed the Richard L. Bready Professor in Ethics, Economics, and the Common Good. What does this mean for you?
Last year, I was on research leave, thanks to a generous fellowship from the American Council of Learned Societies. This allowed me to work on a new book project, tentatively titled Singing at the Limits: Wagner, Race, and the Heroic Voice, which looks at the composer Richard Wagner—a very notorious figure in history who affected all of the arts and was a political figure as well. Much of my research focuses on singers and singing, and while my first book, Vocal Virtuosity (Oxford, 2021), explored the Olympian vocalism of coloratura sopranos, my current project tackles the idea of what it means to sing Wagner in Wagner's time, and what it means to sing Wagner after he died. It's led me to look deeper into the connection between music and politics, and music and ethics, and what do we do with great music by bad people. I feel so fortunate and honored to be the Bready Chair for the next three years as I continue work on this project.
When you're in the classroom, what's your favorite class to teach?
I really enjoy teaching my opera and gender course because it introduces opera to students in a way they don't expect. Opera already is unfamiliar to most of our students—they're learning about a 400-year-old art form that's very dramatic and different than what they're used to listening to. But also, opera has long featured women dressed like men and men singing like women. Examples of such gender crossing and ambiguity make opera the perfect vehicle for teaching students about the construction of gender. It's interesting to see how this helps students discuss gender in a way that might be more difficult if we were just talking about the here and now. 
If you could perform any opera role, what would it be?
Definitely Alfredo in Verdi's La Traviata, such a moving opera, but I'd also love to sing a Wagner role at some point, since that's such a significant part of my current research. Perhaps Tristan in Tristan und Isolde or Siegmund in Die Walküre, but those are definitely high hopes! 
Sean Parr
Professor of Music, Fine Arts
B.A. Dartmouth College
M.M. Florida State University
Ph.D. Columbia University