Have you always loved biology?
I've always loved science, but if you asked me what I wanted to be when I grew up, I would have said I was going to be a sea captain—I loved the ocean. I grew up in Germany, but we spent summers in Ireland, and the coast is wild, untamed. There was something about that wildness that drew me in. In school, I enjoyed physics with cause and effect, and chemistry because you could cause reactions, but I've always been interdisciplinary in my thinking, and biology brings all those pieces into play.
What made you want to teach?
I was on a research cruise, sitting on deck reading a book about how our worldview shapes how we interact with people and the environment. While I'm naturally a task-oriented person, I see great value in people, and I realized I wanted to lean into that more. There's something more lasting about the impact you can have on people versus your research output. I'd rather have one or two people say that an interaction with me helped shape their journey as opposed to having one publication more.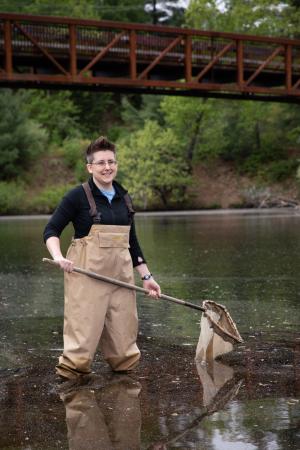 You are a conservation geneticist—what is that?
I study the genetic diversity of threatened and endangered species by using molecular tools to explore biodiversity. Biodiversity can be assessed at different levels—you've got ecosystems, and below that you have species level of diversity. Underneath that is genetic diversity. This is the fundamental building block, because anything expressed in what you observe is due to the genetic makeup of an individual. The genetic diversity of a population holds that adaptive potential. Meaning, as the environment changes, if a beneficial version of that organism that can survive in that change doesn't exist, then that species goes extinct.
How does your work in species identification factor into this?
To manage something responsibly, you must know what's there, how many, and turnover rate. For fish specifically, about 38 percent of the world's population rely on fish as a main protein source, making it an incredibly important resource to manage. But for fisheries management, we're often operating with estimates with how large populations are. To assess how many you have of something, and set responsible limits to not exhaust that resource, you must know how many there are, and to know how many there are, you must be able to count them accurately. Species identification is the core piece for that.
Is this what gave you the idea for your iCatch app?
That's still very much in the development phase, but we, my post-doc advisors at Michigan State University and Texas A&M Corpus Christi, started thinking how to make species identification better and faster. For the retail aspect of the fish industry, salmon is often mislabeled. Pacific salmon is wild caught and Atlantic salmon is from a farm. The farm variety is a lot cheaper, but if you sell it as Pacific, you can make more money, and you can't always tell them apart. We had an idea to develop a rapid test for fish—where you can do it quickly, with benefits of genetic identification without the need for a lab. We're in the prototype phase, but we've had a lot of positive feedback.
Why should students come here to study biology?
Students can explore any type of biology here. We lead them into a more interdisciplinary way of thinking, and the entire core curriculum at Saint Anselm emphasizes this as well. In whatever research they're doing, they have to think of the ethics of it, or even the history of it—this encourages students to think about how what they do fits into the larger context of things.
Shannon O'Leary
Assistant Professor
Biology
Bachelor of Biological Sciences, Universität Konstanz, Germany
Ph.D. Marine and Atmospheric Science, Stony Brook University, N.Y.