On May 20th we celebrated the Class of 2023 during the 130th Commencement Exercises at Saint Anselm College. In total, there were 20 graduating Kevin B. Harrington student ambassadors this year. Each brought a unique quality to the program during their college careers. Their next steps range from joining the military, to graduate school, to working in the media and beyond.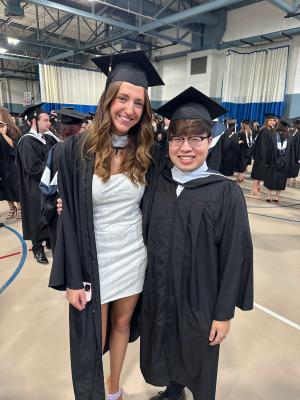 Two of the graduating ambassadors are the students who co-chaired the Comms Committee for the ambassador program: Kathryn (Katie) Monahan '23 (politics and psychology double major) and Ken Tran '23 (politics and communication double major). As they wrap up their time on the Hilltop, we celebrate their many contributions to the student ambassador program. 
Both Monahan and Tran will be moving to Washington, D.C. to start their professional careers in politics and media. The connections and experience that they received through the ambassador program helped them plan their career trajectories after college.
Monahan, who hails from Tewksbury, Mass., is starting as a public relations fellow at Cognet Strategies. She notes her comms experience working as a co-chair and with the news networks during debates, as particularly helpful with her job search. She embraced the many opportunities offered at the NHIOP as a freshman and joined the Comms Committee as a co-chair her sophomore year. 
"I would say my advice for future ambassadors would be to be as involved as possible and get to know the professors and faculty," said Monahan. "The program allowed me to gain experience while being a full-time student which really gave me a leg up when I was applying and interviewing for jobs."
Tran, who grew up in Manchester, N.H., is a Politics and Legal Affairs reporter for USA Today. He started working with the newspaper during his junior year as a politics intern. The relationships that he built during the internship turned into a full-time job after graduation. Applying to be an ambassador during his freshman year was a pivotal moment for him in college, as it provided accessibility to key networking opportunities.
"The ambassador program gives students access to those rare lucky moments that prove to be huge steps forward in building a career," explained Tran. "Sometimes the program isn't all that glamorous — ambassadors do a lot of grunt work. But everyone comes to NHIOP, so you have opportunities to meet a lot of people and show off your work."
The Kevin B. Harrington student ambassadors play an integral role in the New Hampshire Institute of Politics' mission – to educate, engage, and empower citizens of all ages to actively participate in the civic and political life of their communities and strengthen democracy. Ambassadors support the Institute in a variety of ways, including welcoming guests, providing tours, planning programs, and introducing speakers. 
Congratulations to all our graduating ambassadors! We are so proud of your hard work, and we cannot wait to see the amazing things that you do.