Seven New Trustees Named for Saint Anselm College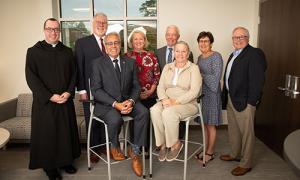 Saint Anselm College welcomed seven new members of the Board of Trustees this fall, including two who previously served on the board, five who are alumni, and one who is the parent of a graduate and longtime supporter of the college.
President Joseph A. Favazza, Ph.D. welcomed the new Trustees, who join the board at a pivotal time for Saint Anselm, as several initiatives are under way and the strategic plan enters its second year.
"We are so fortunate to have these extraordinary individuals sharing their talents with the college," Dr. Favazza said. "As we make big strides with our excellent nursing program, expand our athletic opportunities with track and field, and look to make curricular and co-curricular advancements that will benefit the mission of Saint Anselm, it is critical to have people who are at the top of their fields helping lead the way."
New Trustees include:
David G. Collins '77 is the retired president of RYP Granite Strategies, a leading state government affairs firm. Prior to RYP, David was the director of Government Relations for Public Service Company of New Hampshire and in an earlier life, a biologist for New Hampshire Fish and Game. He is a veteran lobbyist with more than 25 years of experience assisting clients through the development and implementation of successful public-policy strategies before state legislative and executive branches. Collins earned a B.A. in natural sciences from Saint Anselm College in 1977. He is the son of Saint Anselm's first executive vice president, the late Robert J. "Bob" Collins, class of 1937.
Robert E. "Bob" Dunn, Jr. is the director of the Office of Public Policy for the Roman Catholic Diocese of Manchester. Previously, he served as the director of Legislative and Governmental Affairs for Devine Millimet, as the assistant commissioner of the New Hampshire Department of Safety, and as an assistant attorney general in the New Hampshire Department of Justice. A 1983 graduate of the College of the Holy Cross with a degree in Classics, Dunn received his J.D. from Georgetown University Law Center in 1986. Currently, he is a member of the Board of Directors of New Hampshire Humanities, the Bishop's Charitable Assistance Fund, and the N.H. Catholic Lawyers Guild, and he also serves as a member of the State of New Hampshire Commission on Holocaust and Genocide Education.
Roger L. Jean '70, H.D. '06 retired in 2006 as executive vice president at Liberty Mutual Group, and president of its Regional Agency Markets (RAM), having worked in the insurance industry for more than 35 years. Previously, he served as president of Commercial Insurance at Liberty Mutual, joining when the company acquired the former U.S. operations of Guardian Royal Exchange, where Jean had been president and COO of the GRE Group. Prior to that, he was president and CEO of the ING Property & Casualty Corp. Jean earned a B.A. in history from Saint Anselm in 1970 and was awarded an honorary doctorate in 2006. He previously served as a Trustee from 1998 to 2020 and more recently as a member of the Presidential Commission on Nursing. 
Elizabeth J. (LaMalfa) Kelly '83 is a lead assessor for the Mercy Learning Center in Bridgeport, Conn. She earned her B.A. in English from Saint Anselm College in 1983, followed by a master's degree in Reading and Language Arts from Central Connecticut State University. She was a member of the Trustees from 2012 to 2021 and served as chair of the facilities and technology committee. Currently she is tri-chair of the Gregory J. Grappone '04 Humanities Institute campaign steering committee. 
Kara A. Pitt, M.D. '88 is an obstetrician/gynecologist at the Women's Health Center of Vermont and attending physician for Gynecology at Springfield (VT) Hospital. After graduating from Saint Anselm in 1988, she received an M.S. from Yale University and a medical degree from the University of Illinois. Her husband is John D. Polcari, a member of the Class of 1986. Kara and John are both long-time members of the Saint Anselm College President's Society.
Beverly D. Grappone, P '04, H.D. '21, since retiring from active involvement as a registered nurse, has been highly involved as a volunteer and philanthropist with numerous causes. She has been a major supporter of Easter Seals of New Hampshire and has served on the Concord (N.H.) Hospital Board of Trustees and the New Hampshire Institute of Technology (NHTI) College Advisory Board. Grappone is the mother of the late alumnus Greg Grappone, who graduated from Saint Anselm College in 2004 and passed away in 2015. The Gregory J. Grappone '04 Humanities Institute is named in recognition of their philanthropy and in memory of their son. 
Fr. Stephen (Brian) Lawson O.S.B. '08 was born and raised in Holyoke, Mass. He graduated from Saint Anselm College in 2008 with a B.A. in politics. After graduation he worked as a journalist for PolitickerNH.com and for the civic engagement group Citizens Count. In 2010, he joined Saint Anselm Abbey and professed solemn vows in 2014. Fr. Stephen earned a M.Div. from Saint Meinrad Seminary and School of Theology and was ordained a priest in 2017. While at Saint Anslem College, Fr. Stephen has served in the Office of Campus Ministry and taught in the Conversatio program. He currently works in the finance office and is a student in the Executive MBA program at the University of Notre Dame.
Six Trustees departed the board this fall at the expiration of their term, including Linda Kennedy Sheldon '78, Dr. Joseph Pepe '83, Frank Pfeffer '76, Susan Cabana '89, Christine "Dixie" Douville '86, and Robert Connor.
---
Diggins Named Fr. Bernard Holmes Scholar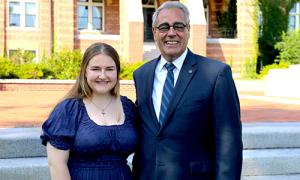 Jessica Diggins '23, an English major with a philosophy and American studies double minor, from Berlin, Mass., has been selected as the Fr. Bernard Holmes, O.S.B., Scholar for the 2022-2023 academic year.
The award is presented annually to an incoming senior, and provides a full tuition scholarship for the student's final year at Saint Anselm College. Holmes Scholars show concern for and work to provide assistance to others, demonstrate leadership potential, and actively participate in the life of the college.
"Saint Anselm College and its community have given me so much, and I am grateful every day to be able to benefit from the graces of this wonderful school," said Diggins. "I have had the opportunity to learn more about Father Bernard Holmes these past few months, and am truly inspired by his impact on our wonderful school; I hope to emulate his strong faith and commitment to his community in all of my future endeavors."
After graduation, Diggins plans to pursue a career in special education. She has been accepted into the University of Notre Dame's Alliance for Catholic Education (ACE). 
Dr. Favazza and Chancellor Abbot Mark Cooper, O.S.B. '71, presented Diggins with a certificate in recognition of her award during the college's opening Mass. The scholarship was established through the generosity of Mr. and Mrs. Robert C. Davison, in memory of Fr. Bernard Holmes, O.S.B., former president of the college.
---
Melucci Scholarships Awarded
Seniors Nicholas Howard and Jaime Kask have been selected to receive the 2022-2023 Thomas A. Melucci Jr. Memorial Scholarship, an award that annually provides full tuition to two seniors who have demonstrated significant spiritual and personal growth throughout their time at Saint Anselm College.
Howard is a member of the men's ice hockey team and Team IMPACT. He is a business and finance double major, and hopes to establish a career in sales and eventually begin selling and investing in real estate. His experience as a student-athlete has been a defining one during his time on the Hilltop, and believes it has given him many opportunities he had never imagined.
Kask is a nursing major from Bedford, N.H. She models a life of service not only in her nursing studies, but also through her work with Campus Ministry. During her time on the Hilltop, she participated in both Road for Hope and Anselmian B.R.E.A.K., and led spring 2022's experience that included service at Bethlehem Farm.
The Thomas A. Melucci Jr. Memorial Endowed Scholarship was established by Thomas and Gail Melucci as a memorial for their son, Thomas, who graduated from Saint Anselm in 1988. Mr. and Mrs. Melucci remain closely involved with the scholarship, serving on the committee that selects recipients each year. Mr. Melucci is a former trustee of the college.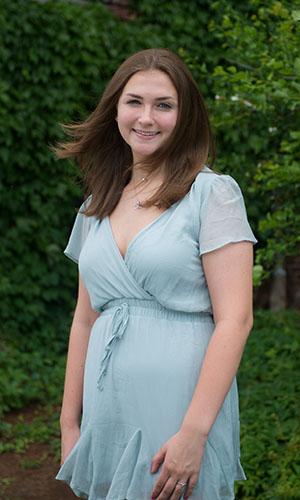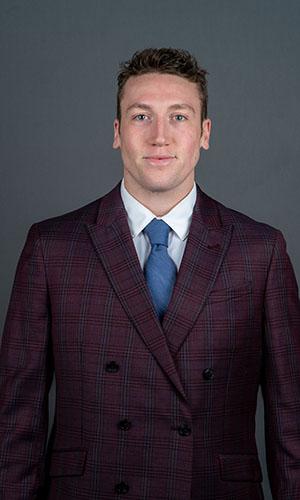 Thank You, Drew
After 35 years on the Hilltop, first as a student, and then a long-time administrator, Drew Litz '78 retired from Saint Anselm College last spring. Holding positions in Residence Life and the Office of Student Affairs, Litz also was the associate dean of students for several years, became the interim athletics director, and was also the college's Title IX coordinator. He dedicated his time at Saint Anselm College to ensuring that every student that came through the college had the same opportunity to have the Anselmian experience that he cherished as a student.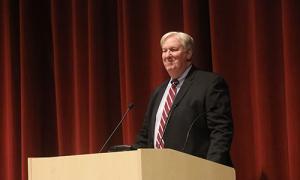 When reflecting on his time on the Hilltop, Litz looks to the monastic community and the Benedictine values as the backbone of the college. "Saint Anselm inherently portrays itself within the Benedictine hallmarks, which is what drew me here as a student," he says. "I quickly fell in love with the place when I met the monks—they are the heart and soul of the community, through good times and bad, which is what makes it so unique." 
Looking back at his time on the Hilltop, Litz is most proud of the creation of the Relay for Life. "To me, I will walk away knowing we taught a great lesson and did some great things in motivating our college community toward learning the value of philanthropy," he says. 
More than anything, Litz had a deep passion for helping the students in any way he could. "It's about the interactions with them on a day-to-day basis—at the end of the day, those are the moments I am going to miss the most," he says.
Although his professional career at Saint Anselm has come to an end, Litz looks forward to continuing to be the public address announcer for the football games and supporting his home on the Hilltop. And he offers some parting advice for anyone new to the Hilltop: "Take the time to talk to and meet the monks," he says. "If you take the time to do it, you will benefit greatly." 
---
Welcome New Faculty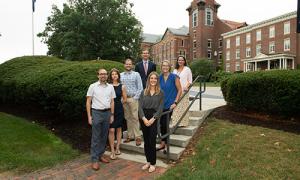 The college welcomed seven new full-time faculty members this fall. Back row from left: Adam Cooke, assistant professor, biology; Stephanie Coffey, assistant professor, economics and business; Justin Mohler, assistant professor, modern languages; Mark Cronin, dean of the college. Front row from left: Stephanie Morse, assistant professor, criminal justice; Jessica Wine, clinical faculty, nursing; Ann-Marie Bishop, assistant professor, sociology and social work. Missing: Elizabeth Daily, interim director, Anselmian Abbey Players.
---
Saint Anselm Partners with NHTI for Chemistry Program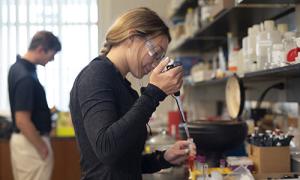 Saint Anselm College and NHTI—Concord's Community College have agreed to a partnership that will allow students who earn associate's degrees in several science-related fields to transfer and complete a bachelor's degree in chemistry in two years.
NHTI students who are health sciences, environmental science or biology majors who complete their studies with a 2.0 GPA or higher are automatically eligible for the transfer. Students would pay $5,000 for each semester, and the application fee will be waived.
"NHTI is pleased to join Saint Anselm in creating a pathway for students to achieve their educational goals that begins with a strong foundation in our community college system and leads to admission at this exceptional four-year institution. This partnership builds a bridge of success for New Hampshire's students," said Dr. Mark Rubinstein, interim president of NHTI and chancellor of the Community College System of New Hampshire
The new program was created by Professor Carolyn Weinreb, Ph.D., chair of the Chemistry Department, and Professor Nicole Eyet, Ph.D., associate professor in the Chemistry Department. Working with NHTI, Drs. Weinreb and Eyet determine the best approach to link the academic programs of Concord's Community College with the core requirements of Saint Anselm.
"The Chemistry Department is excited to begin this partnership with NHTI and we look forward to working with students as they continue their education as Anselmians," Professor Eyet said.
Professor Weinreb thanked her colleague at NHTI, Professor Tracey Lesser, who brought forward the idea of a partnership, and Professor Amy Liptak, chair of the department at NHTI, for helping create the pathway for the program. "We hope that this provides an opportunity to students who may not have considered Saint Anselm College or a career in chemistry as a possibility," Weinreb said.
NHTI students are eligible for the program as of the 2022-2023 academic year.
Saint Anselm President Joseph A. Favazza, Ph.D., said the partnership is a student-centric approach that will benefit the college community as well as New Hampshire students who begin their journey in the community college system.
"Saint Anselm is committed to developing pathways to give as many students as possible the opportunity to pursue their academic and professional goals," he said. "Our partnership with NHTI is one example of this commitment, and I'm hopeful this is the first of many such partnerships."
Saint Anselm's admissions office is available to provide more information at www.anselm.edu/admission.
---
NHIOP Ambassadors Work the Manchester Chamber of Commerce Debates 
Photos by Jason Kolnos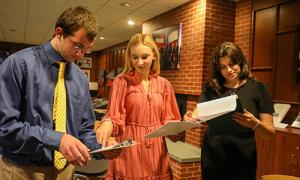 The New Hampshire Institute of Politics (NHIOP) hosted the Manchester Chamber of Commerce gubernatorial and congressional debates on October 24 and October 25, providing Kevin B. Harrington student ambassadors with a variety of valuable experiences.
Andrew Barbetto '23, a senior politics major worked the October 24 debate. "I had the exciting opportunity to be the official timekeeper for the gubernatorial debate held at the NHIOP, [which] allowed me to be an active participant in something as consequential and important as a gubernatorial debate," he said. "To have such incredible access to high-ranking government officials such as Governor Sununu and State Senator Sherman is something that only a place such as Saint Anselm College can provide."
Amani Clemons '24 described her experiences working closely with New Hampshire Governor Chris Sununu's communications team observing the governor's preparation before the debate. During arrival, Clemons greeted the candidates with NHIOP Executive Director Neil Levesque and a fellow ambassador at the VIP entrance. Once the debate had begun, ambassadors sat in the front row.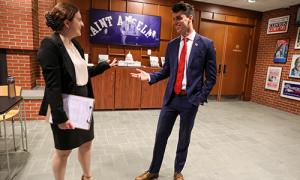 On the night of the congressional debate, Jacob Akey '24 mentioned the feeling of tension in the room between the two candidates: U.S. Rep. Chris Pappas, and Republican candidate Karoline Leavitt '19. He said it was a great experience as an ambassador to witness political history.
Lastly, junior Kevin Macarelli '24 shared how being an ambassador is a special opportunity at Saint Anselm College. "Getting the chance to be able to work at political debates right here on campus is incredible—the opportunities that the NHIOP Kevin B. Harrington Student Ambassador Program offers to students are truly groundbreaking," he said "I love being able to interact with candidates from across the political spectrum and take a real and meaningful part in the local, state, and even national electoral process."
---
Men's and Women's Track and Field programs to Become Latest Varsity Sports
Saint Anselm College announced that men's and women's track and field will become the latest varsity sports offered on the Hilltop, beginning with the 2023-2024 academic year. 
"Track and field will enhance the overall student-athlete experience and provide new opportunities for recruits to compete at the NCAA Division II level while immersed in a transformative educational experience," said President Joseph A. Favazza, Ph.D. "The addition of track and field at Saint Anselm is a key strategic initiative that will also drive ongoing athletics recruitment."
An on-campus track and field complex will include an eight-lane track, synthetic turf field, lighting, spectator seating, and an amenities building with locker rooms. Design and planning for the facility, which may be completed in phases, is underway. The complex is also expected to be home to the Hawks men's and women's soccer teams, as well as a wide array of other college programming.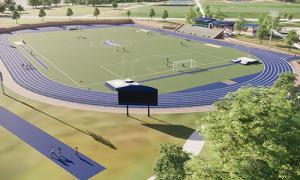 The new track and field programs will participate in both the indoor and outdoor seasons within the Northeast-10 Conference. 
Starting with the 2023-24 academic year, Saint Anselm will offer 23 NCAA Division II sports in total, an all-time high. 
"Athletic teams on the Hilltop have achieved unmatched levels of competitive success during recent years," said Director of Athletics Daron Montgomery. "We are confident that the college's track and field programs will strengthen our success in many ways and further elevate the brand and profile of Saint Anselm athletics."
Since 2018, Saint Anselm teams have reached the Elite Eight, Final Four, and played for two NCAA Division II national championships—earning a total of 23 NCAA post-season appearances.
The first track and field student-athletes will be enrolling at Saint Anselm in fall 2023.
Prospective track and field student-athletes should email Director of Track and Field and Cross Country Peter Early at pearly@anselm.edu, or preferably, fill out the online recruiting questionnaire at SaintAnselmHawks.com. Donor and naming opportunities are available for the track and field complex project. For more information regarding facility donor opportunities, contact Senior Vice President and Chief Advancement Officer Jim Flanagan at jflanagan@anselm.edu.
---
Peter Early to Direct Saint Anselm Track and Field, Cross Country Programs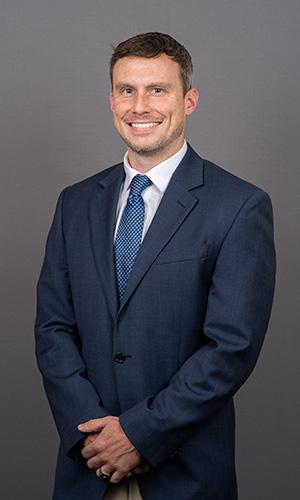 Following an extensive search, Peter Early was selected as the first director of track and field and cross country at Saint Anselm College.
An experienced coach at the NCAA Division II level, Early comes to Saint Anselm from fellow Northeast-10 Conference member Assumption University where he was the head men's and women's cross country and track and field coach. With the Greyhounds since May 2021, Early helped the men's cross country team secure its best finish at the NE10 Championship, hosted by Saint Anselm this past fall.
Prior to his stint at Assumption, Early was the head cross country and track and field coach at Coker University in Hartsville, S.C., for three seasons. He previously played a pivotal role in the formation of the men's and women's track and field programs at Merrimack College. He joined the Warriors as a coach shortly after the formation of their NCAA Division II teams in 2010-11, departing for Coker in 2018.
"I could not be more excited for the opportunity to be the first director of track and field and cross country here at Saint Anselm," said Early. "I would like to thank President [Joseph] Favazza, Director of Athletics Daron Montgomery, and everyone else involved with making this dream a reality. I am also eager to begin working alongside Coach Brian Stankiewicz, as we plan for the future."
Early joined the college just weeks after the announcement of four new varsity sports, men's and women's indoor and outdoor track and field. Plans were also revealed at that time for a brand-new sports complex that features an eight-lane track, synthetic turf field, spectator seating and an amenities building.
"We were impressed with Peter's credentials, particularly his experience in recruiting to and developing brand-new programs at Merrimack," said Montgomery. "His Division II experience, as well as his familiarity with the Northeast-10 Conference, make him an ideal candidate to get our track & field programs at Saint Anselm off the ground."
Across a coaching career that spans over a decade, Early has mentored over 50 All-Region award recipients, had 40 student-athletes earn qualifying marks in NCAA Division II, and developed 23 All-Americans. Twenty of his student-athletes captured league championships and he also coached Carly Muscaro, a six-time national champion at Merrimack in the 200m/400m.
Early received the United States Track Field and Cross Country Coaches' Association's National Assistant Coach of the Year award in 2016-17. Also picking up East Region Assistant Coach of the Year honors, Early was honored for his work with the first two individual competitors from Merrimack to qualify for Nationals.
A 2011 graduate of Merrimack with a bachelor's degree in business administration, Early was a member of both the football and track and field programs with the Warriors, earning All-Academic Team placement. As a student-athlete, Early secured All-New England plaudits in the 4x100 meter relay and captained the first men's track & field team at Merrimack.
Early received a master's degree in college athletic administration in 2020 from Coker. He resides in Haverhill, Mass. with his wife, Andrea, and two children, Peter and Madelynn.