Designed as a summer bridge program to welcome incoming students, Hilltop Academy sets students up for success through academic, social, and community support.
Hilltop Academy is a summer bridge program at Saint Anselm College for first-year students. All incoming students are encouraged and welcome to apply, but the program is tailored to first-generation college students, PELL-eligible students, students from diverse backgrounds, and those who received academic accommodations in secondary school. The Director of Hilltop Academy Marilu McCambly, a first-generation student herself, describes the program as "homegrown." It is not grant-funded but is a program that "the institution is investing in. They're investing in these students." Around 20 to 25 students usually attend this 4-week, 4-credit summer program. One hundred percent of Hilltop Academy participants have successfully completed the program, which results in a $1,000 scholarship for the school year.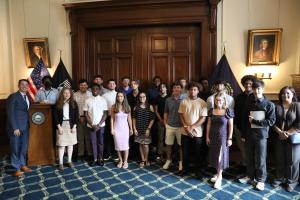 Hilltop Academy is designed to help students adapt to living and working in a college community, establish relationships with faculty and fellow students, and introduce them and welcome them to both lives as an Anselmian and a New Hampshire resident. Students take two courses: an Intro to College Reading and Writing and a course all about New Hampshire and its history. Benjamin Horton, Ph.D., assistant dean for first-year students and Hilltop Academy instructor, describes the program as "an education beyond the walls of a traditional classroom." Students take field trips to places all over the state. Some favorites from past years include meeting the NH Governor at the Statehouse in Concord, hikes in the White Mountains, swimming in the Pemigewasset River, visits to Hubbard Brook Experimental Forest, and the Currier Museum of Art. "It's fun, It's interactive, it's collaborative, it's experiential, it's challenging," says Horton. 
Enrique Ingram Mendez '26, a former participant of the program, believes that it provided him the opportunity to not only take college courses but to be social and make meaningful connections with faculty and students. 
"What did I get out of the program? You know, I got some pretty close friends. I won't lie. I still keep in contact with a majority of the Hilltop community, including a fair bit of the instructors as well. But I really think it got me a lot of solid connections on campus," says Mendez. 
Kevin McGurn '26 says "Hilltop Academy definitely made me feel more welcome because everyone comes here as a stranger." 
Hilltop Academy was Ilya Efremenko's first time in the Granite State. "I knew nothing about New Hampshire, and it was my first time in the state so it was kind of a rich experience for me," explains Efremenko '26. 
The students interviewed all agreed that students should apply for Hilltop Academy because of the connections they can make, the knowledge they can gain, and the hands-on experiences they can have. 
Dean Horton and Marilu McCambly are constantly developing this program to cater to the specific needs of the participants. "I think the beauty of Hilltop is it is representative of our college's mission of providing an education that's distinctive, but that's also welcoming and is also hospitable and is also focused on students and student success," says Horton. 
Both Horton and McCambly agree that students' success is their number one priority when discussing aspects of the program. Dean Horton believes, "If you're going to come to Saint Anselm College, we are going to help you succeed. I think that the beauty of this program is that is a representative of our institutional commitment to student success and to welcoming students, to making them feel at home, and a part of our community."