Saint Anselm College Launches Campaign to Build Home for the Humanities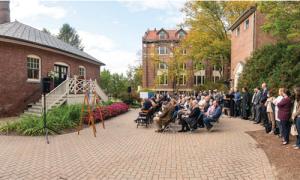 This fall, members of the Anselmian community gathered to celebrate the launch of the public phase of a $2 million campaign to build a permanent home for the Gregory J. Grappone '04 Humanities Institute.
"What we are really doing with the Gregory J. Grappone '04 Humanities Institute is, as our tee-shirt proclaims, carrying on the conversation," said Professor Gary Bouchard, executive director of the Humanities Institute and professor of English. "Creating not just classrooms, but a Living Room at the center of our campus where conversations of all kinds between people of all kinds can flourish, a place where… our lives can be transformed by one another in shared reflection about the things that matter most."
The two-story facility, located in the Boiler House, will be home to a large, state-of-the-art classroom, a seminar instruction room, a flexible, common meeting and exhibition space, a newly restored and landscaped courtyard, and modest administrative office space. It will be the first structure that visitors encounter upon exiting the new Savard Welcome Center and will be a visible reminder of the central place of the humanities in the life of Saint Anselm College.
"This building will be more than simply an academic facility," said Dr. Joseph A. Favazza, president of Saint Anselm College. "It will be the hub for the Humanities in southern New Hampshire.
During the event, attendees not only learned more about the campaign but also about the life of Gregory J. Grappone '04 and his legacy.
"There was nothing selfish in Greg at all," remembered Beverly Grappone HD '21 during the ceremony. "I believe that is where the best of humanity is. If we can help some other young people to realize that there is more than just what you're thinking about and what you're involved with, then we will have succeeded."
PBS Filmmaker Ken Burns serves as the honorary chair of the campaign.
"The humanities, in all their varied forms, offer us profound and inspired expressions of our shared humanity," says Burns. "As a friend to Greg and a friend to the Grappone family, I am honored to help lead the way in creating a permanent and living memorial to his memory… knowing that it will inspire generations of people to share in Greg's humanity, and seek the wisdom and understanding he discovered and brought to others."
The campaign has raised $1.3 million towards its goal, and plans to break ground in 2022. Included in this funding are two generous challenge gifts—$250,000 from campaign co-chairs Robert and Beverly Grappone HD '21 and $100,000 campaign co-chair Susan Connelly '92 to raise funds in honor of Professor Gary Bouchard.
Near the end of the event, a current student shared her vision for the future.
"I can't help but imagine what future Saint Anselm students will discover when they pass through the doors of the institute we're creating," said Amelie Crowe '22, a Great Books major. "Maybe here they'll discover their voice, stimulated by the often intense Come Friday discussions, or maybe they'll learn to ponder some of life's bigger questions through lectures and panels. Maybe it will provide an environment for another uncertain freshman to find their place here on the Hilltop, as it was for me. Regardless, it will be a testament to the fact that here, at St. A's, the humanities are alive and well."
---
Aloysius Sarasin, O.S.B. '17 Professes Solemn Vows and Ordained to the Diaconate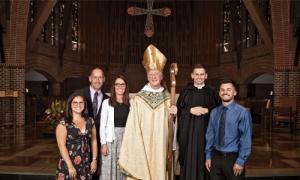 On July 11, 2021, the Solemnity of Saint Benedict of Nursia, Br. Aloysius Ryan Sarasin, O.S.B. '17 professed solemn vows as a monk of Saint Anselm Abbey. Abbot Mark Cooper, O.S.B. '71 clothed Br. Aloysius with the monastic cuculla, a pleated monastic choir robe, a symbol of solemn profession.
Standing before the altar and before his conferes in the monastery, Br. Aloysius professed vows of stability, obedience and conversatio morum, making a permanent commitment of himself to the Lord and to his monastic community. As a solemnly professed monk, Br. Aloysius becomes a member of the monastery's Chapter, as well as a Member of the Saint Anselm College, and Woodside Priory School corporations.
Br. Aloysius is a native of Leominster, Mass. He is the son of Robert and Dianne Sarasin and was a parishioner of Saint Anthony de Padua Parish in Fitchburg, Mass. He graduated from Saint John's High School in Shrewsbury, Mass., in 2013 and attended Saint Anselm College, graduating in 2017 with a degree in theology, and a minor in philosophy.
Reflecting on his profession, Br. Aloysius commented, "Originally, upon hearing the news of my acceptance for solemn profession by the monastic Chapter, my late Novice Master, Fr. Peter Guerin, O.S.B., told me that the day of profession 'will be the saddest day of your life because it is the day you will officially take up your cross and follow the Lord Jesus.' While I agree this is true, I must add that it is, as well, the happiest day of my life as God has called me for life to carry my cross as a Benedictine monk of Saint Anselm Abbey. I am eternally grateful to Abbot Mark, my confreres, my parents, siblings, family, and friends for all their encouragement and support for my vocation. I could not have achieved this goal without the blessings of such special people in my life."
On August 14, Aloysius Ryan Sarasin, O.S.B. '17 also was ordained to the Diaconate by the Most Reverend Peter A. Libasci, Bishop of Manchester, the Memorial of Saint Maximilian Kolbe, in the Saint Anselm Abbey Church. Following his ordination and according to house custom, he is now known as Fr. Aloysius.
As a deacon, Fr. Aloysius is now a minister of service for Saint Anselm Abbey and the wider Church. Among his many duties he will assist priests with the administration of the Sacraments.
Fr. Aloysius was presented for ordination by Abbot Mark Cooper, O.S.B., '71, Abbot of Saint Anselm Abbey.
After the laying on of hands and prayer of ordination by Bishop Libasci, Fr. Aloysius was vested with the stole and dalmatic, signs of his office within the Church, by his seminary classmates, Deacon Zachary Samples, Diocese of Springfield in Ill., and Deacon Roarke Traynor, Diocese of Manchester.
During the Rite of Ordination, Bishop Libasci instructed Fr. Aloysius regarding his new ministry: "As a deacon you will serve Jesus Christ, who was known among his disciples as the one who served others. Do the will of God generously. Serve God and mankind in love and joy."
In reflecting on his ordination, Fr. Aloysius noted, "It is a great honor and privilege to be called by God to serve Him and His Church in this ministerial office. After discerning a vocation to the priesthood for the last twelve years, it was surreal to finally receive this wonderful sacrament. I am very excited for this next chapter in my life as I begin this new ministry and I look forward to preparing for the priesthood over the next year."
Fr. Aloysius is entering his fourth year of theological studies at Saint Meinrad Seminary in Saint Meinrad, Ind. He will be ordained a priest following the completion of his studies next year.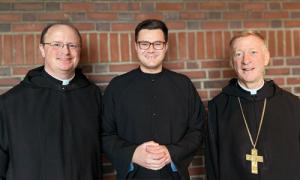 Br. Thomas Lacourse '15 Enters Novitiate
On July 10 2021, Dr. Kevin Lacourse '15 was received into the novitiate and was clothed in the monastic habit. Abbot Mark Cooper, O.S.B., '71 gave him his religious name, Br. Thomas.
Br. Thomas' patron is Saint Thomas More, the English saint and martyr.
Br. Thomas is a native of Chester, N.H. Fr. Bernard Disco, O.S.B. '92 will serve as his Novice Master. Please pray for Br. Thomas as he begins this year of formation. Please continue to pray that our community will be blessed with new vocations.
Welcome Br. George Rumley, O.S.B.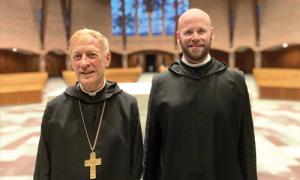 On August 24, 2021, the Feast of Saint Bartholomew, Br. George Benjamin Rumley, O.S.B. was received into the monastic community to begin a probationary period before transferring his stability to Saint Anselm Abbey.
Br. George comes to the Hilltop from Mary Help of Christians Abbey in Belmont, N.C. The matter of a monk transferring stability is mentioned in Chapter 61 of the Rule of Saint Benedict.
Br. George is a native of Asheboro, N.C. He completed priesthood studies at Saint Meinrad Seminary Saint Meinrad, Ind., last spring. He took vows as a Benedictine monk in 2014. This fall he will work in Campus Ministry. Please join us in welcoming Br. George to our community and pray for him as he begins this period of prayer and discernment. The monks of Saint Anselm Abbey are appreciative of the prayers of our beloved friends.
---
Four New Members Join the Board of Trustees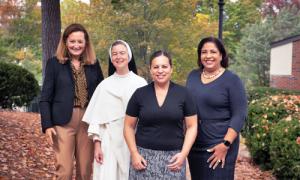 The college recently welcomed four new members to the 40-member Board of Trustees. Jennifer L. (Connor) Parent '89, Xiorli C. (Santamaria) Bernazzani '99, Marailou Watson, and Sr. Elinor Gardner O.P. '99. attended their first board meeting October. 15. "We are so pleased to have these four individuals bring their diverse perspectives and experience to the Board of Trustees at this important moment for the college," said Dr. Joseph A. Favazza, president of Saint Anselm.
Jennifer L. (Connor) Parent '89 graduated with a B.S.N. degree. She first worked at Beth Israel Hospital in Boston, where she held leadership roles, and eventually traveled to Tokyo, Japan with a team of doctors and nurses to participate in a medical exchange program. Parent also worked as a nurse manager at Hutzel Hospital in Detroit, Mich., and later Mount Sinai Hospital in New York City. She and her husband, Jeff Parent, have been active volunteers and fundraisers for St. John XXIII College Preparatory in their current home of Katy, Texas. Parent also serves on the Board of Directors of Abigail's Place, a transitional housing and advocacy agency for homeless mothers and their children, and is
co-chair for the Epilepsy Foundation of Texas 2021 Gala at the Houston Zoo. She has been active in numerous other philanthropic activities, including
Saint Anselm's Days of Giving campaign. The Parents have three children, with their son Connor graduating from Saint Anselm in 2019.
Xiorlivette "Xiorli" C. (Santamaria) Bernazzani '99 was born and raised in Venezuela, immigrated to the United States in the late 1980s and became a U.S. citizen in 2006. She holds a B.A. in sociology with a certificate in German studies, and a J.D. from New England School of Law, graduating in 2002. After teaching ESOL courses in the Hooksett school district and at Nashua Community College, Bernazzani joined the Nashua-based Law Office of Amy Wolfson in 2004, becoming a partner in 2012. In 2014, she became sole owner of the firm and changed its name to Bernazzani Law. Today the firm employs 13 attorneys, including her husband, Eric Bernazzani '99 and another fellow Saint Anselm graduate, Lyndsay Robinson '14. She is licensed to practice in New Hampshire and Massachusetts, as well as the United States District Court for the District of New Hampshire, and she is an active member of the New Hampshire Bar Association, as well as a member of the American Immigration Lawyers Association. The Bernazzanis live in Goffstown, N.H. with their four children.
Marilou E. Watson has been a partner at the Philadelphia law firm of Fox Rothschild LLP since 2008, where she focuses on intellectual property law. A leader in the firm, she serves as co-chair of the Life Sciences Practice. She previously served as co-chair of the firm's Diversity Committee, where she assisted in spearheading initiatives that promoted firm-wide diversity and inclusiveness. Prior to joining Fox, Watson was a partner at Synnestvedt and Lechner, LLP, where she was chair of the Pharmaceutical Practice Group. She also was previously Assistant Intellectual Property Counsel at Elan Drug Delivery, Inc. She has been a registered pharmacist since 1991. Watson has served as a member of the Pennsylvania Governor's Commission and has received a number of awards and honors, including being named a Minority Business Leader by the Philadelphia Business Journal in 2020. She holds a B.A. in biology, graduating in 1987, and a B.S. in pharmacy, graduating in 1991, from Temple University, and a law degree from Villanova University, graduating in 1994. Watson's connection to Saint Anselm is through trustee Elon Joffre '01. She and her family live in Wyndmoor, Pa.
Sr. Elinor Gardner O.P. '99 is a member of the Dominican Sisters of St. Cecilia. She received her Ph.D. in Philosophy from Boston College in 2009 and has served as an affiliate assistant professor of philosophy at the University of Dallas since 2016. She is an expert in ethics and the theology of St. Thomas Aquinas. Prior to joining the faculty of the University of Dallas, Sr. Elinor was assistant professor of philosophy at Aquinas College in Nashville, where she taught courses in ethics, epistemology, and the history of philosophy. Before Aquinas College, she taught at the Catholic University of America. Sr. Elinor has published numerous scholarly articles in such journals as Communio: International Catholic Review; Linacre Quarterly; and Verbum. She contributed a chapter entitled "Nature and Rights: The Meaning of a Universal Agreement on Human Rights" to Reading the Cosmos: Nature, Science, and Wisdom (American Maritain Association, 2012).
---
Women's Golf Introduced, Welcome New Coach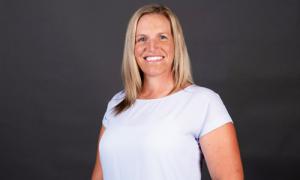 Saint Anselm College recently announced the addition of women's golf as a varsity sports offering. The institution will now sponsor 18 NCAA Division II varsity sports programs, 10 for women and eight for men.
Women's golf is expected to first represent the college in intercollegiate play beginning in the 2022-23 academic year—the team will compete as a member of the Northeast-10 Conference alongside Adelphi, American International, Assumption, Franklin Pierce, Le Moyne, Saint Rose, and Stonehill.
"I am proud of what our student-athletes have accomplished during my time on the Hilltop, both academically and athletically," said Dr. Joseph A. Favazza, president of the college. "The addition of women's golf at Saint Anselm will help the college attract, educate and transform future students in the coming years."
Women's golf is one of the fastest growing NCAA Division II sports.
Just under half of Division II colleges and universities sponsored the program in 2009-10 (144), but in 2019-20, that number had risen to 196. Presently, more than 62 percent of NCAA Division II institutions sponsor women's golf as a varsity sport.
"Adding women's golf will increase opportunities for female athletics participation at Saint Anselm, at a time when the sport has grown in popularity, both regionally and nationally," said Director of Athletics Daron Montgomery.
Leading the new program as head coach will be Tara Watt. A decorated amateur golfer in the Granite State, Watt is a two-time New Hampshire Women's Golf Association State Champion, winning in 2011 and in 2020. Watt recently won the NHGA Women's Mid-Amateur Championship for the second consecutive year and continues to compete in other major regional events throughout the calendar year.
An active member of the New Hampshire Golf Association's (NHGA) Board of Directors since 2019, she also served on the New Hampshire Women's Golf Association Board of Directors from 2015-19. Watt comes to the Hilltop after five years at Southern New Hampshire University as the institution's assistant women's golf coach.
"I am very excited to be named the first head coach in Saint Anselm history," said Watt. "I am ready to hit the ground running and build a competitive team as we attempt to grow the game."
Watt is a 2005 graduate of Gardner-Webb University where she was a member of the women's golf team and an active participant on the institution's Student-Athlete Advisory Committee. She earned an MBA from the University of Phoenix in 2009 and is presently employed by Control Technologies, Inc. as a service account manager.
"Coach Watt is passionate about the sport, and her enthusiasm for starting our women's golf program resonated with us during the search process," said Montgomery. "We are so happy to welcome her to the Hilltop as she begins recruiting the future faces of Saint Anselm women's golf."
---
Christine Gustafson Named the College's First Dean of Academic Excellence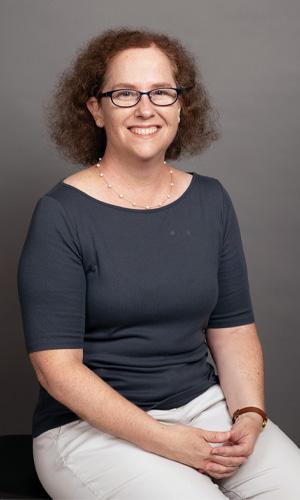 The college's first dean of academic excellence filled by professor and former Associate Dean Christine Gustafson, Ph.D. began officially July 1. This new role is a part of the college's strategic plan for academic initiatives to ensure student academic success and achievement, so each student has the opportunity to reach their full potential. The leadership changes were announced by President Joseph A. Favazza, Ph.D., last winter. The restructuring of the academic division included the dean and associate dean positions which were re-imagined as dean of the faculty and dean of academic excellence respectively.
"We restructured the Academic Affairs administration to ensure all student facing academic services are well-coordinated and resourced," said Dr. Favazza. "Through the leadership of the new dean of academic excellence, academic deans and directors will work together in a more intentional way to provide students with high-impact learning opportunities and strong academic support across the continuum of ability and achievement."
This new position will strengthen the college's tracking and reporting of student outcome data and overall data of student academic success. By reviewing this data, the college will determine why students may not be as involved in experiential learning opportunities while also guaranteeing that all students have access to those experiences that provide them with a well-rounded education. "Having this data will help us ensure that every student has the ability to flourish, to be the best they can be," said Dean Gustafson. The means for success are already present at Saint Anselm; this new position will connect students with campus opportunities that students previously may not have considered.
The dean of academic excellence is responsible for ensuring student academic success through the coordination and delivery of academic resources. She will supervise the directors of the Academic Resource Center, Career Development Center, Study Abroad Office, Meelia Center for Community Engagement, the first-year and sophomore deans, faculty directors for the Honors Program, the Fulbright/ Postgraduate Scholarships Program, college debate, undergraduate research initiatives, and pre-professional programs. The offices overseen by her work closely with students to provide opportunities that further their education while also becoming more involved both on-campus and within the greater community.
Dean Gustafson came to the college in 2004 as an assistant professor of politics. She was tenured and promoted to associate professor along with becoming the associate dean for faculty development and assessment in 2012 and then associate dean of the college in 2015. She continues to publish and present in her fields of Brazilian political economy and democracy, as well as Church/state relations in Brazil and Latin America.
In addition to the creation of Dean Gustafson's position, the college named Vice President for Academic Affairs Br. Isaac Murphy, O.S.B., the newest executive vice president. In this role working in the President's Office, Br. Isaac will supervise a number of administrative offices including Human Resources, Institutional Research, and Sponsored Programs and Research. He will also provide general support to the President's Office and handle special projects. Dean Mark Cronin, Ph.D., will continue his work as dean of faculty while also serving as the interim vice president for academic affairs (VPAA) for the 2021-2022 academic year. The college in the process of conducting a national search for the VPAA position with a start date of July 1, 2022.
---
Welcome New Faculty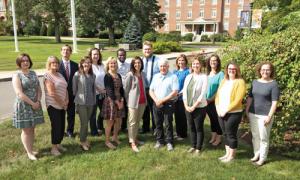 The college welcomes the following new full-time faculty members. From left: Alexandra Locking, assistant professor, history; Carrie Scott, clinical faculty, nursing; Mark Cronin, dean of the college, interim vice president for Academic Affairs; Emily Dix, assistant professor, psychology; Victoria DiBona, assistant professor, biology; Sandra Cereola, associate professor, economics and business; Braima Salaam, assistant professor, psychology; Inés Vañó García, assistant professor, modern languages and literatures, Michael Huelsman, assistant professor, computer science; Arthur Maerlender, associate professor, psychology; Melissa Brodeur, clinical faculty, nursing; Amy Rohlfing, assistant professor, biology; Krystal Pimentel, clinical faculty, nursing; Chelsey Twombly '10, clinical faculty, nursing; Christine Gustafson, dean of Academic Excellence. Missing: Amy Wilson, clinical faculty, nursing.
---
Thank You, Faculty Emeriti
When classes began for the 2021-2022 academic year, the Hilltop was missing five notable members from its distinguished faculty. Prof. David George, Classics, Prof. Maria McKenna, psychology; Prof. Elizabeth Ossoff, psychology; Prof. Jay Pitocchelli, biology; and Catherine Spitzer, modern languages (Russian), were granted faculty emeritus/emerita status.
"For those of us who have been at Saint A's for a number of years, it's hard to imagine life at the college without Liz and Catherine, Maria, David, and Dr. J.," said Dean of the College and Interim Vice President for Academic Affairs Mark Cronin, Ph.D. "They were such iconic figures and an integral part of campus life: They could be found leading talks at the NHIOP, walking with Relay for Life teams in Stoutenburgh Gym, heading up archeological digs in Italy, exposing students to languages and cultures outside Europe, driving students to Plum Island to spot birds, and cheering for the home team from a special perch in the end zone or softball stands. And while each brought something unique to the college—in terms of their scholarship, service, and teaching—together, they represented the best of the Saint Anselm College professor: an unwavering dedication to their students and to the life of the college. They are already dearly missed."
Below from left: Prof. David George, Prof. Maria McKenna, Prof. Elizabeth Ossoff, Prof. Jay Pitocchelli, and Prof. Catherine Spitzer.