540 Graduate From Saint Anselm College
Photos by Leah LaRiccia
On a beautiful morning in front of historic Alumni Hall, 540 members of the Saint Anselm College Class of 2022 were celebrated for academic achievement and for overcoming the challenges brought on by the pandemic during the 129th Commencement Exercises on Saturday, May 21.
The college's first graduate school class also received diplomas that day, with 22 students completing the Criminal Justice Accelerated 4 + 1 Master's Program.
College President, Joseph A. Favazza, Ph.D., reflected on the recent campus visit by filmmaker Ken Burns, who shared that having doubt leads us to a more reflective life.
"We can never abandon our commitment to make citizens who are wise enough to know that doubt is a good thing and humble enough to seek new knowledge as a response to doubt. In a moment when it seems so many know so much about so little, we are in desperate need of such citizens," President Favazza said.
Following the invocation, Lillian Strang '22 sang the National Anthem and Kathleen McCarthy '22 presented the student address.
McCarthy reflected on the gift that she and her fellow students received during their time on the Hilltop: "A Saint Anselm education is an extraordinary treasure, arming us to help bring peace to a divided and troubled world."
Abbot Mark Cooper, O.S.B. '71, the chancellor of Saint Anselm College, was joined by Dean of Academic Excellence Christine Gustafson, Ph.D. in presenting Ariana LoFaro '22 with the Chancellor's Award for the highest grade-point average of 3.977.
Professor Tauna Sisco, Ph.D., was honored with the American Association of University Professors Award for her dedication to her students, her field of sociology, and the college community.
Honorary Degree Recipients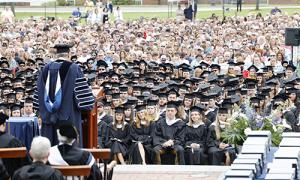 Fr. Columba Stewart, O.S.B., received an Honorary Doctorate of Humane Letters in recognition of his work preserving tens of thousands of centuries-old Christian and Islamic writings from around the world. Fr. Columba is the executive director of the Hill Museum & Manuscript Library at Saint John's University in Collegeville, Minn.
Professor Ahida Pilarski, Ph.D., chair of the theology department, introduced Fr. Columba, who then delivered the commencement address, focusing on the themes of courage, providence, friendship and gratitude.
He shared the story of his journey from an undergraduate at Harvard University who thought his path would lead him to graduate school but instead led him to a monastic life in Minnesota and a vocation "partnering with communities around the world to preserve their handwritten heritage, their manuscripts."
"I never saw it coming. But I was ready. How did that happen? I'll say it was providence. And I'll say it was a fine liberal arts education like yours. Sometimes a new door suddenly appears before us. I encourage you at least to open it and peek inside, and seriously consider walking through it. It may just be part of the plan."
In addition to Fr. Columba, Saint Anselm alumna E. Carol Polifroni '71 received an Honorary Doctorate of Science for her distinguished nursing and education career. She was presented by Professor Maureen O'Reilly, Ph.D., the executive director of the nursing department. And longtime Head of School at Woodside Priory Tim Molak received an Honorary Doctorate of Humane Letters. He was presented by Professor Laura Wasielewski, Ph.D.
Convocation and Baccalaureate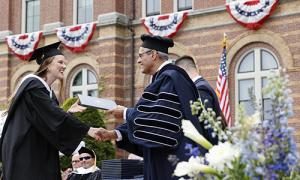 A day earlier, the Saint Anselm community celebrated the Class of 2022 with the Senior Academic Honor Convocation and Baccalaureate Mass, which were held on the college quad.
Thirty-three academic awards were bestowed on the graduands during convocation, in addition to recognition of those who were inducted into the chapters of 17 honor societies and the 15 students who earned summa cum laude distinction.
Following convocation, 15 members of the monastic community celebrated the Baccalaureate Mass, with Abbot Mark serving as the celebrant. They were joined by the college choir, who led the singing of liturgical music, and members of the Class of 2022, who led the readings.
Four students were commissioned in the military: Matthew Korzec '22, Jacob Labounty '22, Caitlin Morgan '22, and Connor Smith '22 were sworn in as Army officers, while Jack Schoonmaker '22 was commissioned an officer in the Marine Corps.
As they depart the Hilltop, many graduates will begin their careers with employers such as Fidelity Investments, The Walt Disney Company, BAE Systems, and Catholic Medical Center.
College Awarded $500,000 Grant By The National Endowment for the Humanities 
The National Endowment for the Humanities has awarded $500,000 to Saint Anselm College in support
of the Gregory J. Grappone '04 Humanities Institute.
The federal grant will advance the college's effort to create a physical home for the humanities, a deeply-rooted part of a Saint Anselm education.
"This grant from the NEH will not only provide significant assistance in helping us to create a permanent home for the Grappone Humanities Institute, it will inspire many Saint Anselm alums and others to join in support of this project," said Dr. Gary Bouchard, the executive director of the Humanities Institute. "When Saint Anselm alumni hear the word 'humanities' they reflexively recall their experience in a core liberal arts program that was created with generous support from the National Endowment for the Humanities decades ago."
As part of a shared experience, all Saint Anselm students study a selection of classical, philosophical, theological and contemporary works that are designed to evoke thought and conversation. The program encourages students to examine life's big questions and to consider the elements of a shared humanity.
"The humanities are essential to leading a life of purpose and reflection," said Dr. Joseph A. Favazza, president of Saint Anselm College. "We are committed to providing a signature education that prepares students to be specialists in a particular field. But at the core of the curriculum are engagement with the humanities which doesn't just teach students how to think critically but to consider what really is worth thinking about."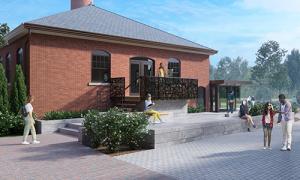 New Hampshire Sens. Maggie Hassan and Jeanne Shaheen have been advocates of the Grappone Humanities Institute and supported the college's bid for the NEH grant.
"I'm thrilled to see $500,000 in federal infrastructure investments heading to Saint A's to support its humanities program," said Sen. Shaheen. "A strong liberal arts education is core to shaping the next generation of leaders, and it is fitting that this project pays tribute to Greg Grappone and his passion for the exploration of cultural, social and political issues. This funding will help connect more students with thoughtful and dynamic humanities programs. I look forward to welcoming additional infrastructure dollars to the state and will continue working in the Senate to expand access to quality higher education for young Granite Staters."
Sen. Hassan said, "Saint Anselm's students consistently make New Hampshire proud, and this grant to Saint Anselm College will help forward the college's efforts to create a physical home for the humanities on campus. I'm thrilled to see this funding come to New Hampshire, which will help provide even more resources to those wishing to gather, reflect and deepen their work in the humanities."
Robert and Beverly Grappone H.D. '21 have led the effort to create the Gregory J. Grappone '04 Humanities Institute as a lasting legacy to their son Gregory, who died in 2015 after a lifelong battle with cancer. Greg was a Great Books major at Saint Anselm and a passionate supporter of the humanities. PBS Filmmaker Ken Burns is the honorary chair of the campaign.
With fundraising under way, plans are in the works to break ground in 2022. The Grappones have issued a $250,000 challenge grant, and fellow co-chair Susan Connelly '92 has made a $100,000 challenge in honor of Professor Bouchard.
"To have our vision and the vision of the Grappone family affirmed in such a substantial way by the National Endowment for the Humanities is deeply gratifying," Dr. Bouchard said.
"It is yet one more testament to the life and legacy that Greg Grappone has left us."
Dr. Sheila Adamus Liotta Named Vice President of Academic Affairs
Dr. Sheila Adamus Liotta has been named Saint Anselm College's Vice President of Academic Affairs (VPAA). The position was previously held by Br. Isaac Murphy O.S.B., who is now executive vice president.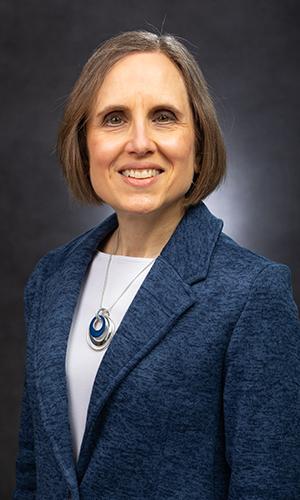 Liotta brings impressive experience in the classroom and the administrative offices at Providence College, where she has worked for 29 years. Appointed the founding dean of the School of Arts & Sciences in January 2009, Liotta fostered a culture of academic excellence in the humanities, fine arts, social sciences and natural sciences. She helped build new interdisciplinary programs and oversaw the implementation of Providence College's revised core liberal arts curriculum.
Liotta led Providence College's successful application for a chapter of Phi Beta Kappa, the premier arts and sciences honor society, which will be installed this spring. She also prioritized issues of diversity, equity and inclusion throughout her time as dean, creating an associate dean position to ensure that the School of Arts & Sciences consistently works towards achieving strategic DEI goals.
Prior to serving as dean, Liotta was chair of the Department of Chemistry and Biochemistry for eight years. She has been a faculty member since 1993. An organic chemist and a strong proponent of undergraduate research, Liotta has supervised 35 student researchers in her Providence College laboratory. Since becoming dean in 2009, she has continued to teach a course for non-science majors on contemporary issues in chemistry. She obtained her bachelor's degree in chemistry from Rutgers University and her M.S. and Ph.D. degrees from Cornell University.
"The importance of the role of the chief academic officer cannot be overstated" said Dr. Joseph A. Favazza, president of Saint Anselm. "We were pleased that three strong finalists emerged from a pool of more than 50 applicants. Dr. Liotta rose as the top candidate after the extensive review and interview process. She will be a very welcome addition to our exceptional academic community as well as the senior leadership team."
The VPAA is responsible for all academic-related matters and leadership. In this role, Liotta will work on developing and implementing the college's academic plans and promoting academic excellence through collaboration and cooperation across the college. She also will be a member of the college's Senior Administrative Leadership team.
Liotta brings extensive knowledge of student-centered Catholic higher education to the VPAA position. At PC, she focused on establishing and developing the School of Arts & Sciences' structure, creating faculty development and support opportunities, and forging partnerships with others on campus in areas such as inclusive excellence and fundraising. She credits PC's supportive community with the school's success and is looking forward to bringing her knowledge to a college with similar attributes like Saint Anselm.
"I am truly grateful for this opportunity," Liotta said. "Saint Anselm's firm commitment to a holistic liberal arts education rooted in the Catholic and Benedictine traditions resonates fully with my own educational philosophy. I hope to use my experiences to help Saint Anselm College thrive in the years to come while it stays firmly rooted in its identity and principles. I look forward to partnering with President Favazza along with the faculty, staff, administration, students, board of trustees and Benedictine community."
Saint Anselm and Catholic Medical Center Receive $2M to Construct a Medical Simulation & Innovation Facility
Jeanne Shaheen to build a new innovative health care facility on Manchester's West Side. This state- of-the-art facility will support health care staff as well as nursing and health care students through on-the-job training and medical simulations of health care events and testing. The newest facility will be in addition to Saint Anselm College's current campus simulation facilities.
"We are delighted to have an opportunity to extend our wonderful relationship with Catholic Medical Center. This simulation lab will provide our nursing students a new opportunity for a meaningful, hands-on learning experience. The college is very grateful to Sen. Shaheen for the support and advocacy of this partnership," said Saint Anselm College President Joseph A. Favazza, Ph.D.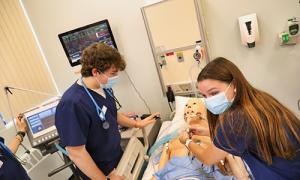 Simulation labs are a critical component of health care education and training. Saint Anselm College nursing students participate in simulations prior to beginning their clinical rotations as well as throughout their courses. The labs ensure that students are confident in clinical situations, learn from mistakes in a safe and supportive environment and gain experience with conditions that may not arise during clinical rotations.
"We are excited by the prospect of a state-of-the-art simulation center which will allow faculty and students to strengthen our inter-professional relationships with staff at CMC," said Dr. Maureen O'Reilly, director of nursing at Saint Anselm College. "Working with hospital staff will add another dimension to the simulation experiences students participate in on campus. These experiences will enhance communication and collaboration within the health care team which is essential for excellent patient outcomes. Working together in a combined facility will be beneficial for students and staff alike as we prepare to meet the challenges of the modern health care environment."
"I'm thrilled to welcome $2 million, which I worked to secure in the government funding legislation recently signed into law, to build a facility that will propel innovation in health care and deliver quality care to patients in New Hampshire. This facility will be home to hands-on training and simulation centers that ensure our nursing students are equipped with the best education possible. By connecting students with top health care professionals and technology, this partnership between Saint A's and CMC will train the next generation of health care leaders," said Shaheen. "I'll continue pushing for investments that connect Granite Staters with quality, affordable health care."
"We're thankful for the Senator's support of this project, which will help us train nurses and providers on leading-edge technologies and support Manchester's growing biotech industry," said Chief Nursing Officer and Vice President Nursing at Catholic Medical Center, Jennifer Cassin.
As a senior member of the Senate Appropriations Committee and chair of the Commerce, Justice, Science and Related Agencies Appropriations Subcommittee, Shaheen secured key priorities for New Hampshire in the new omnibus bill signed into law
last March.
New Public Health Major Announced
Students interested in science, people, and community health, can now major in Saint Anselm College's newest academic program, a Bachelor of Science in Public Health. The first course, Introduction to Public Health will be offered in the fall of 2022. The interdisciplinary major focuses on preventing disease and confronting systemic health challenges that impact communities both locally and globally. It encourages civic responsibility in order to make communities healthier.
Courses prepare students to explore the role of the public health worker, understand disease prevention, engage in policy-making, and improve the well-being and health of individuals
and communities.
Students will learn the multiple perspectives of public health such as investigating subjects like environmental disasters, water safety, infectious diseases, chronic diseases, health equity, and pandemics. Senior year will culminate with a practical internship experience
to launch students into the career of
their choice.
The newest Saint Anselm program pulls from the expertise of multiple departments including our nationally-ranked nursing program and the New Hampshire Institute of Politics to provide a an experience rich in science, public policy, civics, and ethics.
"Public health is intimately intertwined with politics and science. Through science we can assess the health status of a community. Through politics, we develop policies to make communities healthier. Public Health is also strongly rooted in principles of health equity, social justice, and addressing disparities to protect human dignity," says Professor Tauna Sisco. "Our goal with the Public Health major is to empower students with knowledge and experience for the challenges of creating and sustaining healthy communities both locally and globally."
Public Health is also offered as a minor. The program's directors come from four academic departments: Professor Theresa Dabruzzi of the biology department, Professor Pamela Preston of the nursing department, Professor Elizabeth Rickenbach of the psychology department, and Professor Sisco of the sociology and social work department.
The NHIOP Kicks Off Primary Season
The New Hampshire Institute of Politics (NHIOP) at Saint Anselm College welcomed former New Jersey governor Chris Christie this spring for their first in-person Politics and Eggs event since 2020.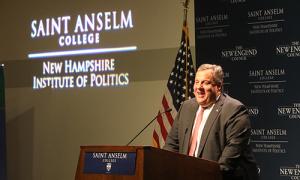 Christie spoke about his perspective on some of the current topics being debated in American politics, such as U.S. action towards Ukraine and Russia, inflation, and establishing identity both in the GOP and in America through elected officials. Members of the audience had their photos taken with Christie and their questions answered from him.
Both a lawyer and a politician, Christie served as the 55th governor of New Jersey from 2010 to 2018 and has since played a major role in American politics such as assisting former President Donald Trump in his re-election campaign in 2020.
Brothers Titus and Dunstan Profess Solemn Vows
On January 9, 2022, the Feast of the Baptism of the Lord, Brothers Titus Michael Phelan, O.S.B. '12 and Dunstan Noah Enzor, O.S.B., professed solemn vows as monks of Saint Anselm Abbey. Abbot Mark Cooper, O.S.B. '71 clothed Brothers Titus and Dunstan with the monastic cuculla, a pleated monastic choir robe, and a symbol of solemn profession.
Standing before the altar, before their families, friends and Benedictine confreres, Brothers Titus and Dunstan pronounced vows of stability, obedience and conversatio morum, making a permanent commitment of themselves to the Lord and to the Saint Anselm monastic community. As solemnly professed monks, Brothers Titus and Dunstan become members of the monastery's Chapter, as well as members of the Saint Anselm College, and Woodside Priory School corporations.
"We are honored to profess solemn vows here at Saint Anselm Abbey. We look forward to many years of seeking God and serving our monastic and college communities," said Brother Titus and Brother Dunstan.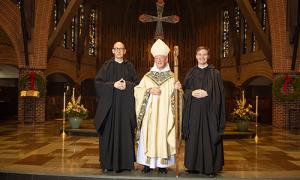 In his homily during the liturgy, Abbot Mark said, "I believe, Titus and Dunstan will help continue and enhance the solid foundation of our community. Although different in many ways, they are both firm in their readiness and resolution to follow Christ in the monastic way of life. Their commitment to our common life, using their gifts and talents to build up both our monastic and college communities, is a source of hope and inspiration for all of us."
Brother Titus is a native of Swampscott, Mass. He graduated from Saint Anselm College in 2012 with a degree in political science and with minors in Catholic studies and Spanish. He completed the ECHO program, receiving a Master's degree in Theology from the University of Notre Dame in 2014. Before entering the monastery, he served as a college campus minister and high school theology teacher. He received a Master's in Theological Studies (M.T.S.) from the Boston College School of Theology and Ministry in 2021. Brother Titus currently serves as the coordinator for Academic Support and Student Programming at Saint Anselm College and aspires to be ordained to the priesthood in the near future
Brother Dunstan is from Boulder, Colo. He graduated from the University of Colorado-Boulder in 2007 with a degree in English. He received a Master's degree in Theology from Saint Joseph's College in Maine in 2017. Before entering the monastery, he worked in technical publishing and higher education administration. In 2020, he received a Masters in Theology (Th.M.) from the Boston College School of Theology and Ministry. Brother Dunstan is currently a doctoral student in the Theology Department at Boston College.
Jacob Halterman '21 Received as a Postulant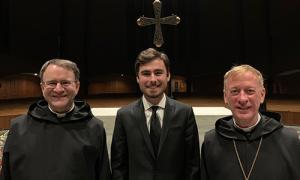 On the evening of January 8, 2022 at First Vespers of the Baptism of the Lord, Jacob Halterman '21 was received into the Saint Anselm monastic community as a postulant by Abbot Mark Cooper, O.S.B. '71. Jacob is a native of Solomons, Md. Brother Isaac Murphy, O.S.B., will serve as the Postulant Director. The monks of Saint Anselm Abbey are grateful for the continued prayers of our families, friends, alumni, and benefactors for our community.
Women's Bowling Becomes 19th Varsity Sport
Saint Anselm College has announced the addition of women's bowling as a varsity sport, making it the 19th varsity sport offered at the college. The program will begin competing during the 2022-23 academic year, with the Hawks training and competing at Yankee Lanes in Manchester.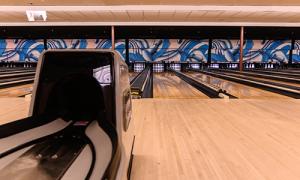 "With the introduction of women's bowling, Saint Anselm continues to provide athletics opportunities to female student-athletes in a growing sport," said Dr. Joseph A. Favazza, president of Saint Anselm College. "Adding the sport will allow Saint Anselm to attract new students to the college from here in New England and also throughout the country."
The Hawks applied for and were accepted to the East Coast Conference as an associate member in a vote by the league's Presidents' Council. Saint Anselm becomes the 14th member of the ECC in women's bowling and will be eligible for the league's automatic qualifying bid to the NCAA National Collegiate Women's Bowling Championship.
Saint Anselm becomes one of just three institutions in New England that sponsor the sport of women's bowling. Adelphi, a member of the Northeast-10 Conference alongside Saint Anselm, has sponsored the sport since 2004. One of the fastest-growing sports in the country, 24 institutions across all levels of NCAA competition have added women's bowling to its varsity sport offerings since 2015-16.
According to the most recent report from the National Federation of State High School Associations, girls bowling is sponsored by high schools in 28 states and over 28,000 students were participants on 2,925 teams across the country. Women's bowling was listed among the initial NCAA Emerging Sports for Women in 1994 and attained NCAA Championship status in 2004.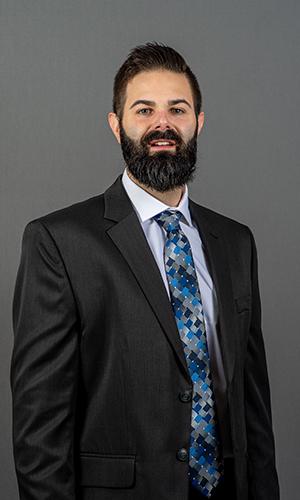 Leading the team as Saint Anselm's first women's bowling coach will be Tim Frye '11. The head coach for co-ed bowling at nearby Souhegan High School since 2009, Frye helped the Sabers win the New Hampshire Interscholastic Athletic Association (NHIAA) State Championship in 2013. He also served as the youth bowling program coach at both Merrimack Ten Pin and at Yankee Lanes in Manchester.
He also is active on the New Hampshire Interscholastic High School Bowling Committee and was named the assistant chair in 2014. Frye, an accomplished amateur bowler who has competed three times at the USBC Junior Gold National Championships, is also the Pro Shop operator at Yankee Lanes.
During his time as an undergraduate at Saint Anselm, Frye served as a resident assistant who was also active with the Meelia Center. He graduated in 2011 with a degree in history, earning Dean's List honors during his academic career on the Hilltop.
He is an active member with the New England Bowlers Association, and resides in Loudon, N.H. with his wife Olivia and four children, Audrey (5), Marshall (3), Cora (1). The couple welcomed their third daughter, Elsie, in March.
"A fixture in the Granite State bowling scene, we are pleased to welcome Timothy back to the Hilltop as the head coach of our brand-new women's bowling program," said Director of Athletics Daron Montgomery. "His enthusiasm and passion for the sport make him a perfect fit to start a new team here at Saint Anselm."