Four members of the Honors Program dedicated their summers to research fellowships on topics ranging from medieval references in women's suffrage arguments to structural changes in cells and proteins. Students spent eight weeks living on campus, working closely with faculty members, utilizing campus resources, and exploring new sites. They also had the opportunity to attend a luncheon with other students pursuing research on campus, presenting their projects, and learning from their peers.
This is the fifth year of The Honors Summer Research Fellowship Program, an opportunity for students in the honors program to pursue research projects that align with their academic interests with dedicated faculty direction and funding. The students undergo a competitive application project where their proposal is judged by the director, the dean, and the Honors Board. Once selected, eight weeks of summer research begins. "This is one of the Honors Programs signature opportunities, and it is through the generosity of the college and the foresightedness of the administration that we are able to run it," said Ward Holder, director of the honors program and professor of theology.
Medieval references in 20th century suffrage discussions
Carter Brannon '23 found his inspiration to research references to medieval history in discussions of women's suffrage in the early 1900's while working on a Feminism Literature honors colloquium project and browsing the Geisel Library periodicals. He was fascinated by the references of medieval history and the Reformation that were used to argue for and against women's suffrage, so he applied for the honors research program to learn more about it. English Professor Ann Holbrook, Ph.D., who taught Brannon's honors colloquium course, and Theology Professor Kelley Spoerl, Ph.D., have been working on the project, combining their knowledge of Feminist literature and medieval Catholic elements.
Brannon's focus has been discussions of women's suffrage in America, a New York City-based Jesuit weekly magazine in the 1910s. His primary focus is a discussion about a 6th century Council of Mâcon that appears over several months in 1915 and 1916 across a few publications.  "This small council is mentioned in Gregory of Tours' History of the Franks and is connected with legends that get repeated several times from the 15th through the 20th centuries about a discussion of whether women have souls, including in America and a few other publications in 1915 and 1916," Brannon explained.
What began as an interesting observation in the basement of the library quickly snowballed into an exciting, interdisciplinary project that piqued many of Brannon's interests. As an American Studies major and medieval studies minor, he combined his two interests in one topic. Unexpectedly, he found himself relying on his French skills to decipher Belgian history journals. Seeing how his research subjects compared to modern discussions of this age was another highlight of his project. Being on campus for research over the summer allowed him to explore the place where it all began too. "I liked figuring out how to use different machines and resources in the library, which has always been one of my favorite places on campus," said Brannon. 
With so many interesting elements and overlapping topics, it was difficult to narrow the focus of his research. "I feel like I could keep doing research on this and related topics for decades," he said. As Brannon begins his senior year, he plans to write his senior thesis as a continuation of this project or on a related topic.
Saint Anselm Flora to preserve native plants for generations to come
Noah Manuel '23 set his sights on creating a flora, a list of plant species found in a local environment, for Saint Anselm in collaboration with Professor Eric Berry, Ph.D., of the Biology Department. His research has involved a large amount of field work, quite literally, as he adventured through campus collecting plant species to bring to the lab where they were identified, pressed, and cataloged as part of the flora.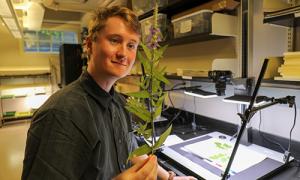 Creating a Saint Anselm flora provides a window into the local plant species on campus, a tool that will be helpful for those currently studying plants and future scholars. "Plant compositions can change over time, with new species being introduced and old ones dying out. A flora provides a way to track the changes in species overtime. It also helps to preserve plant specimens for future study," Manuel explained.
One of the benefits of honors research is the opportunity for students to envision their future career direction and better define their interests. "This research has really helped to show me that I love this kind of work," said Manuel. "It has helped to affirm my goals of becoming a professor in the future, allowing me to continue my research into the wonderful world of plants," he continued. 
Exploring the treatment of female models in late nineteenth century artwork
Grace MacDonald '24 has spent the summer working with Professor Laura Shea, Ph.D., of the Fine Arts department to learn about the role of female models for a group of late nineteenth century artists called the Pre-Raphaelite Brotherhood. These artists went against the rigid, formulaic art from the Royal Academy and worked with female models which aroused scandals. Many at the time viewed modeling as similar to prostitution because women would be alone with male artists. "I'm focusing on how the Brotherhood treated their models and it is very interesting because they claimed to love them and treated them like deities, but really, they loved these women because they helped the artists accomplish their art," MacDonald explained.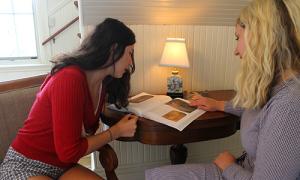 A particular highlight of her summer research was the opportunity to visit the Delaware Art Museum's archives and to see the artwork she is studying in person. MacDonald said that it was "super helpful as well as amazing to be able to see so many primary sources" during her visit to Delaware. She shared that she has had a great time doing her research and that working with Professor Shea has greatly helped her pursue this research.
Studying S. Pombe structural differences to understand human cancer cells
Alexandre Pennell '23 pursued honors research and INBRE funded research projects this summer.  Professor Robert Vallari, Ph.D., of the Biology Department worked with him on both, and the INBRE project includes Professor Stephen Tobin,Ph.D., Angela Slaybe '23, Meghan Wozniak '25, and Anna Michaud. His honors research is a separate project from the other group members, and he presented on both projects at the end of the summer.
The organism S. Pombe is a model reflecting the effect of aneuploidy in humans, making it the subject of both research projects. The INBRE research analyzed aneuploid and normal strains to determine which proteins are over/under expressed, which is similar to protein expression in human cancer cells. Pennell's honors research focused on phosphorylation differences (structural) among the same strains. After analyzing the phosphorylation data and determining if protein structures have changed, he investigated the effect of structural change on the protein and cell.
Conducting research during the summer allows for more critical analysis and an abundance of time able to be dedicated to research, as students don't have to balance research and a full course load. Pennell tried to process some of the information from the data last winter, but shared how due to the volume of data involved, it would be immensely difficult to process it all during the school year. "Our lab has so far evaluated the relative expression levels of over 4,000 yeast proteins and have observed some interesting differences between the strains that may provide some insight on how both aneuploid, and human cancer cells are able to survive despite possessing aberrant chromosomes," he said. Pennell plans to continue this research during the school year, cross examining the two data sets as part of his research elective.
For many, the topics researched this summer will transpire into future projects and senior theses. While their research period has concluded, all of the participants will have the opportunity to present their work on Parents' Weekend during the spotlight on summer research.