When Susan Connelly '92 speaks about the impact of Saint Anselm College on her life, it comes down to one thing: the people.
From the admissions guide who first convinced her to give the college a chance, to the friends she made on campus who kept her on the Hilltop, and finally to the professors who mentored her and pushed her into the world after graduation—all of her stories tie back to people.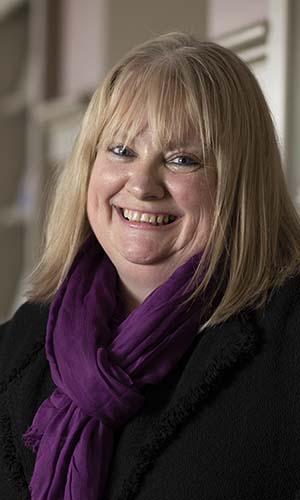 While Saint Anselm College was not her first, or second, or third choice of colleges, once she moved to campus, she quickly became an Anselmian for life. As an English major, she was immersed in the humanities, in the classroom and also as a member of the Abbey Players and as a writer on staff at the Crier. She took leadership roles in both, and also served as an admissions guide, convincing future students to make the Hilltop their home.
"Saint A's was a place where I found it very comfortable to take risks," she says. "That risk-taking, while maybe not recognized in the moment, has formed my career, because it was a safe place for me to learn how to be a leader."
During her time at Saint Anselm College, Connelly built strong relationships with many people but particularly professors Landis Magnuson and Gary Bouchard. Professor Bouchard was relatively new to the Hilltop and served as her advisor. She was close to him and his wife, Donna, and even babysat for their oldest son after he was born.
"Gary has a wonderful way of wrapping you in comfort while pushing you out the door and saying, 'You can do more, and you can do better,'" she says.
After graduation, she found work as a reporter, and then moved into corporate communications and government affairs. In the coming years, she would find herself coming back to the skills she honed at Saint Anselm College—most notably, debate and writing.
Connelly kept in touch with her professors, and after she was promoted to her current position as chief communications and public affairs officer at Darden Restaurants, Inc., her first emails were to Bouchard and Magnuson to say thank you.
She also stayed connected to Saint Anselm College, participating in the Boston Business Roundtable, serving on the Alumni Council, and currently as a member of the college's board of trustees.
"Regardless of how much my life has changed or evolved, I know that when I drive onto campus and walk into the Abbey Church for Mass, I see familiarity and it feels like home," she says.
Connelly is deeply committed to ensuring that more students are able to find a home at Saint Anselm College. She has supported many scholarships throughout the years and recently made two leadership gifts. The first created the Professor Landis K. Magnuson Endowed Scholarship to honor Magnuson's retirement. It provides assistance to students in need, with a preference for members of the Abbey Players. The second established the Connelly Challenge in honor of Professor Gary Bouchard, where she is matching gifts up to $100,000 to the campaign to build a permanent home for the humanities.
Regardless of how much my life has changed or evolved, I know that when I drive onto campus and walk into the Abbey Church for Mass, I see familiarity and it feels like home.

—Susan Connelly '92
"I wouldn't have the ability to make leadership gifts without Landis and Gary. Recognizing that and celebrating that and appreciating that, it made sense to me," she says. "It was a no-brainer for me to be able to say thank you and job well done. You have had such a tremendous impact, and your impact will continue through scholarships. You will be remembered."