The New Hampshire Institute of Politics (NHIOP), at Saint Anselm College, was at maximum capacity on Friday, February 17, 2023, for Nikki Haley's Town Hall. Visitors across the state came to the institute to hear Haley speak about foreign policy, education, and her experience as former Ambassador to the United Nations.
NHIOP Executive Director Neil Levesque welcomed the crowd gathered around the center of the auditorium. Former candidate for U.S. Senate, Don Bolduc, introduced Haley as he officially endorsed her at another New Hampshire event earlier in the week. "I have never come across somebody who I admire and trust more and believe will serve you in the way you need to be served," said Bolduc.
While growing up in South Carolina, Haley described the difficulty attending school in a predominantly white community. She said the challenges she faced from being bullied, because of her Indian descent, inspired her to make a difference.
As Governor of South Carolina, she passed a bill that allowed the public to see how elected officials voted on legislation in the House and Senate, to ensure transparency with constituents. From there, former President Donald Trump invited Haley to be the Ambassador to the United Nations (UN). She accepted the position as a cabinet member in public policy.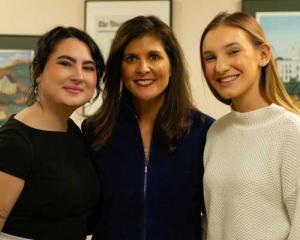 During an interview with a Kevin B. Harrington Student Ambassador, Haley detailed the obstacles she faced during her time as Ambassador to the UN. "The biggest issue I had was countries would be very quick to want to stab us in the back but would turn around and have their hand out. What we would try to do is focus on not buying friends and start letting them know what we expect of them," said Haley.
The question led Haley to elaborate on her concern with foreign aid, an issue she emphasized during the Town Hall. Haley stated, "Foreign aid should be given because they earned it, they had to show the American public that they needed a return on investment and really cutting the waste."
Education was another topic that Haley was passionate about. She spoke about Florida Governor's Ron DeSantis' "Don't Say Gay Bill," and how it did not go far enough. She expressed that the COVID-19 pandemic changed the education system, and education now focuses on issues such as gender rather than children reaching the appropriate reading levels for their grade.
A teacher in the audience asked Haley how teachers are supposed to change the education system when they are paid very little and must worry about school safety and other issues. Haley's response noted that school boards should be held accountable for the problems teachers face.
Haley stated her run for presidency would make a positive difference to Americans. She wants to make term limits for Congress and have elected officials over the age of 75 take a mental competency exam. Her remarks received positive feedback from the audience.
Lastly, during her student interview, Haley was asked her opinions of the Democratic Party's decision to select South Carolina as their new first presidential primary election. Haley was very passionate with her response.
"I think it's terrible. First of all, you should hold your elected officials accountable for allowing that to happen. Look what it did to small businesses. Everyone was planning on that money coming in, but what was it really? Joe Biden knew he would lose in New Hampshire, so he decided to change it and say, 'Let me go to South Carolina.' It is wrong, there is a playing field, and you can't change the playing field because you think you can't win. He was a coward, he got out, and he shouldn't have, and I think New Hampshire should let him know they don't appreciate it," said Haley.
At the conclusion of the Town Hall, Haley took pictures and gave autographs to student ambassadors, faculty, and visitors to the Institute. The Kevin B. Harrington Student Ambassador Program is a unique opportunity for Saint Anselm College students of any major to be involved in the Institute's various activities. They assist in event promotion, welcoming guests, and serve as greeters and ushers. Additionally, ambassadors sometime get special opportunities to meet VIP guests and participate in interviews.
The NHIOP was mentioned in the following press outlets: