Robert and Beverly Grappone H.D. '21 have been pillars of the Anselmian community for years, supporting the football stadium and many other emerging needs at the college. Their greatest impact has been the project that is most personal to them—the founding of the Gregory J. Grappone '04 Humanities Institute in memory of their son who passed away in 2015.
After trying two other colleges to find neither was a good fit, Gregory J. Grappone '04, a Great Books major, found his home at Saint Anselm College. He loved the atmosphere, and the opportunity to have deeper conversations while exploring the great books.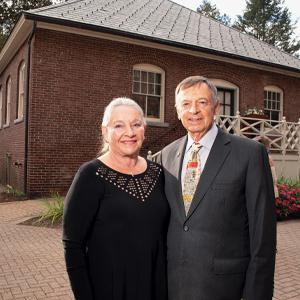 "A beautiful stage in a person's life is when they arrive at this school, and know that they can take a road that can lead up rather than down," says Robert Grappone.
A love for the humanities was not something unique to Greg, but rather something the entire family shares. Beverly Grappone remembers that all of her family has been touched by the humanities in some way, and that love is carried on to subsequent generations—including the love of theater by Greg's daughter, Briar.
"The humanities are way more than sitting and reading a book about Plato or somebody. You can incorporate it into all of your life," says Beverly.
It is this love of reflection and great books that gave Robert and Greg a chance to connect during the final months of Greg's life. While visiting him at his home, Robert noticed a copy of Leo Tolstoy's "A Calendar of Wisdom," a collection of daily quotes and reflection from great texts around the world meant to "feed the soul." The two of them, later adding filmmaker Ken Burns, the honorary campaign chair and a friend of Robert's, would share the daily page and then their individual reflections via email.
This daily exercise continues today, and the "Tolstoy Trio" has grown to include 130 people, some reading and reflecting independently, others continuing the conversation via email.
The humanities are way more than sitting and reading a book about Plato ... you can incorporate it into all of your life.
- Beverly Grappone H.D. '21
As a part of the new Humanities Campaign, the Grappones have issued a $250,000 challenge grant to encourage others whose lives have been shaped by their study of the humanities to support the creation of a physical home for the building, one that serves as a visible sign of the central place the humanities play at Saint Anselm College.
The Grappones believe that building a home for the humanities at Saint Anselm College is something Greg would have loved, not only because of his commitment to the Institute's mission, but also its future location—the Boiler House, which is currently the college's print shop. Beverly remembers how much Greg loved fonts and printing, and believes the building's history makes it a perfect fit.
Robert and Beverly look forward to seeing a space where students, faculty, staff, and the greater community can gather to learn and explore issues together, and believe that now is the right time.
"Everyone has been so separate for so long," says Beverly. "I think people are more thoughtful now after all they've been through."
The Grappones' passion for the humanities project became even more clear when Allison Grappone, Greg's twin sister, asked her father a question: "Would you rather have somebody donate or start a group of their own?"
After a moment of thought, Robert answered, "It would be just as gratifying to me that if people don't have the wherewithal to donate, they don't have to donate, but if they started their own group that would be wonderful. I'd love to see people, on their own initiative, start a circle and do these reflections. Pick their own favorite authors, but make sure it's noble."