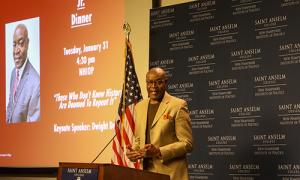 When Dwight Davis was in ninth grade, his class was visited by an inspirational speaker who he still remembers six decades later, and for good reason.
"If you research Barbara Jordan," he told the audience at Saint Anselm College's 2023 Martin Luther King Jr. Dinner on Tuesday, Jan. 31, "she will lift you with her voice and the power and the strength and the vision that she has. And she taught us about something I still remember today – you got to have a dream to have a dream come true."
Jordan went on to become one of the first two African-Americans, along with Andrew Young of Georgia, to be elected to congress from the Deep South.
Davis, meanwhile, became a basketball star at the University of Houston before being selected number-three overall by the Cleveland Cavaliers in 1972 and then playing five seasons in the NBA. After a successful playing career, he became a prominent businessman and community leader, and currently serves as chair of the New Hampshire Center for Justice & Equity.
After a two-year hiatus due to Covid-19, the college's dinner celebrating Martin Luther King, Jr., was once again in person with Davis as the keynote speaker. The uplifting evening was sponsored by Campus Ministry, the Martin Luther King, Jr. Planning Committee, the Center for Intercultural Learning and Inclusion, the Multicultural Student Coalition, and the Office for Diversity and Inclusion and was held at the New Hampshire Institute of Politics (NHIOP).
In addition to Davis' remarks, several students recited poems and speeches, including Annie Adames '23 reading an excerpt of MLK's "Our God is Marching On" speech, Tarialis DeLeon '23 reading Maya Angelou's "Still I Rise," and Devin Williams '23 reading a powerful original work, "KJ's Poem."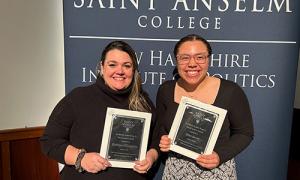 Two members of the college community were honored with Social Justice Awards – junior Jillian Barrett '24 received the student award and Campus Ministry Director Kat O'Laughlin received the faculty/staff award.
Throughout the evening, speakers referenced MLK's words that "the arc of the moral universe is long, but it bends toward justice."
"It's not going to be a 90-degree angle. It's not going to be a 45-degree angle. It's going to be slow bending. And that's why we must keep on fighting. We must continue fighting and I would even venture to say we will never be able to stop the fight because darkness is here," Davis said. "But Dr. King says it will bend toward justice. And you know, given the choice, I rather I accept that. That we've moved in the right direction. Let's keep it going."
Dr. Joseph A. Favazza, president of Saint Anselm College, reflected on the importance of the Martin Luther King Jr. Dinner and thanked the student volunteers and campus organizations for making it happen.
"I think about this event, and I think about the fact that we are called to do something, and we are called to keep moving on, to march on, and to not lose hope," Dr. Favazza said. "Martin said the arc of history bends towards justice, even though sometimes it's really hard to believe. So we keep moving on. We keep doing our part. And that is a thing that we have to do. This is an event that reminds us that we can't lose hope. But we also can't be complacent."
The theme of the evening, "Those who don't know history are doomed to repeat it," will be echoed during other events during Black History Month in February, according to Wayne Currie, director of the Intercultural Center.