Dear Friends,
Standing before a gathering of prospective students and their parents on a beautiful Saturday this October, I reflected on the lessons we learned from the painful social distancing days of isolation brought about by the pandemic. We paid a high price in so many ways, especially in the ever-rising mental health crisis faced by both children and adults. At the same time, I would suggest the challenges of Covid-19 also sharpened our perspective about what is really important.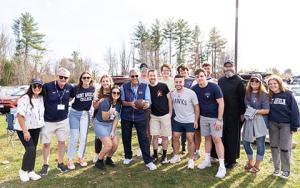 We now see that we need each other in ways once taken for granted. It is one thing to say that all we require is a book and a computer screen to learn, but it is a whole other thing to actually have to do it. And in doing it, we realize that beyond the book and the computer, we need each other. Yes, we need support when we are lost and confused, but we also need the challenge of other perspectives to sharpen our ideas and opinions and make sure that we are not just forcing the facts to fit our preconceived notions of truth.
With this in mind, I believe with all my heart that we need a place like Saint Anselm College. We need a liberal arts curriculum that is infused with Catholic and Benedictine values of community, hospitality, and, yes, love. We need a place where programs in the humanities, arts and sciences, and professional programs like nursing, criminal justice, and business build on our liberal arts core rather than compete with it. We need a place where you don't have to choose between career outcomes and life outcomes. That place is Saint Anselm.
The issue of Portraits in your hands offers powerful testimony to this idea. Take a few moments to read the wonderful variety of stories, which provide a look back to our rich history, from a review of the amazing musical performances that shaped the soundtrack of the Hilltop for generations and a loving contemplation of Fr. Iain MacLellan's, O.S.B. '78 stewardship over the treasured Alva de Mars Megan Chapel Art Center to a look forward at the future of our nursing program and a year of rejoicing and growth within the monastic community. And take time to really view the beautiful photos—you can truly feel the energy on campus.
We are truly blessed to be Anselmians and the world needs us, now more than ever.
Sincerely,
Joseph A. Favazza, Ph.D.
President