Dear Friends,
The Hilltop was alive with a great energy and near normalcy this fall. I am proud of how our community managed through Covid-19, making the safety of our campus a priority while ensuring a college experience worthy of Saint Anselm College.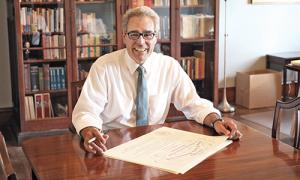 Our tremendously successful vaccination rate and mitigation efforts allowed us to bring back Family Weekend, Homecoming and a spectacular President's Society Dinner. Fall sports returned for the first time since 2019, and wonderful traditions like the Gingerbread House Contest and the Christmas Feast helped ring in the holiday season. It was a triumphant semester in so many ways, and as I reach the mid-point of my third year as president, it is refreshing to focus on new plans, programs and partnerships, rather than managing through a once-in-a-century health crisis.
In the feature "Being First," we ask a handful of first generation students to share why they chose Saint Anselm, and what their biggest challenges and successes have been on their journey. These impressive students are trailblazers in so many ways, and as a first-gen college student myself, I appreciate what it takes to be "first."
Our cover story focuses on a cohort who certainly are not firsts and will not be lasts. Saint Anselm Abbey has added 11 new members in the past decade, most of whom are in their 20s and 30s. The identity of Saint Anselm begins with the Abbey and the future of the college relies on the continued sponsorship of an engaged monastery. We are so fortunate to know the foundation of this very special place is secured for many years to come.
You also will read about two institutions that are underpinnings for the college. First, the New Hampshire Institute of Politics is celebrating its 20th anniversary at the center of civic life in the Granite State. And second, our longtime core humanities program will finally have a physical home with the Gregory J. Grappone '04 Humanities Institute. The two share an important role in shaping our students and helping them acquire the tools for public discourse and critical thinking; it is fitting that both are flourishing at a time when these life skills are so needed in society.
Last spring, I stated we were emerging from the pandemic as a stronger, smarter and more supportive community, and I can say without hesitation, as we begin a new year, the transformational experience of Saint Anselm is more valuable than ever before.
Sincerely,
Joseph A. Favazza, Ph.D.
President