Dear Friends, 
This is an exciting time on the Hilltop!
Since the last issue of Portraits, we launched several new majors and minors, announced an innovative student leadership program, unveiled an outstanding study-abroad opportunity in Italy, and we are breaking ground on the Gregory J. Grappone '04 Humanities Institute.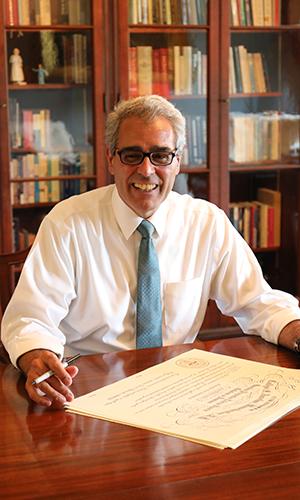 The college was awarded a $2 million grant to create a state-of-the-art nursing simulation lab in partnership with Catholic Medical Center, the first of several exciting developments with our nursing program this year. And we just concluded a most successful first year of our strategic plan, Vision 2025, with an equally ambitious second year now underway.
While we are very pleased with how the college navigated through the pandemic, it is wonderful to put our full attention toward the many programs, initiatives and experiences that make Saint Anselm so transformative. We are taking intentional steps to strengthen our Catholic, Benedictine liberal arts mission and identity while developing innovative market-driven strategies to ensure the perpetuity of the college for generations to come. In an extremely competitive climate for higher education, I'm pleased to say we are on the move.
The 2022 Spring/Summer edition of Portraits offers a glimpse of the many activities and individuals at the heart of our community. Professor Gary Bouchard reflects on the enduring influence of the humanities and Portraits editor Kate Grip Denon shares the meaningful programs in place to meet the mental health challenges of today's young adults. Inspirational alumni E. Elon Joffre '01, Charlene Bonner '91, Susan Connelly '92, and faculty member Professor Kaitlyn Clarke '09 are featured, and new Vice President of Academic Affairs Sheila Adamus Liotta is introduced.
Of course, many of you were able to experience the campus in person last month, with 28 classes returning for reunion. I enjoyed meeting all of you and hope you left the campus rejuvenated by the warm memories of your time here. 
I wish each of you health and happiness in the months ahead and look forward to sharing more Anselmian updates in the near future.
Sincerely,
Joseph A. Favazza, Ph.D.
President