The New Hampshire Institute of Politics celebrates 20 years of being a must-stop destination for any and every politician on their way to the White House, while also serving as an important place for the community to come together, share ideas, and engage.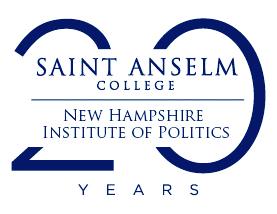 This year, we are celebrating the 20th anniversary of the New Hampshire Institute of Politics. Four days before the tragic events of 9/11, we held a ribbon-cutting ceremony to launch the Institute, which is dedicated to democratic principles and civic engagement. Some of you may know the home of the Institute has a long history of housing those engaged in service. Nestled next to Saint Benedict Court, the building that houses the Institute was once an Army Reserve facility. It was dedicated to John and Donald Crafts, two brothers who lived in the shadow of this college.
The Crafts brothers made the ultimate sacrifice in service to our nation on the battlefields of World War II. Years later, the building bearing their name gave witness to countless goodbyes as young soldiers prepared to ship off to service in Korea and later in Vietnam. Once the Army ceased using this building for Reserves, members of the college, with the invaluable leadership of U.S. Sen. Judd Gregg, worked tirelessly to turn it into the wonderful, state-of-the-art center for civic and political engagement that it is today. We still have people tell us they used to conduct target practice in the media room, and there may have been a visiting politician or two who faced the press and felt those target-practice days weren't over.
In the past dozen years, the Institute has grown exponentially, becoming a center of national politics. We host the nationally known "Politics & Eggs" program, we have our own survey center and a 24-hour television studio, we house an amazing collection of political history, and soon we will announce a National Elections Laboratory.
The Institute also features a student-ambassadors program that is emblematic of the crossroads of civic engagement and the Anselmian tradition of hospitality.
The Kevin B. Harrington Ambassador program is a unique opportunity for students to get an all-access pass to the state, local, and national political scene. The students assist with each and every event here, as well as running a number of campus programs promoting civic responsibility and engagement.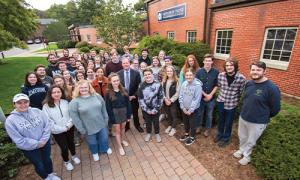 The Institute has become a must-stop for any and all White House hopefuls. Since 2001, we have witnessed five primary seasons, having a role in each one. We are proud to say we host more presidential campaign activity than any other location in the United States and will continue to do so in the future. We hosted the first campaign event for then-candidate Donald Trump, and Joe Biden holds a record as the person who has spoken the most at Politics & Eggs.
But the Institute is not just for presidential candidates. Throughout the year, our programs feature renowned authors, journalists, scholars, and policymakers—we've hosted everyone from New Hampshire's Kid Governor to national figures such as Gen. David Petraeus and Madeleine Albright, secretary of state under President Bill Clinton.
We hope you enjoy this photo essay, which takes a look back at the Institute's first 20 years, and we look forward to sharing with you what will no doubt be an exciting and important future to come.
—Neil Levesque, Executive Director, New Hampshire Institute of Politics
---
Even before the Institute was opened in 2001, the college had a long history of hosting those engaged with service and welcoming politicians. 
Left: President John F. Kennedy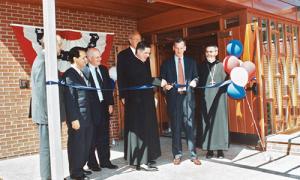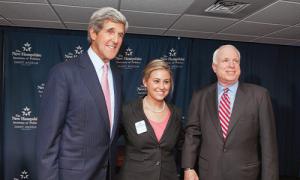 Right: The current building for the NHIOP was originally a U.S. Army Reserve Center, dedicated as the Crafts Brothers Reserve Training Center in 1957. This ceremonial groundbreaking took place in 1956 with, from left, Fr. Thomas Flaherty, O.S.B.; (unidentified); Fr. Bernard Holmes, O.S.B.; Abbot Bertrand Dolan, O.S.B.; Manchester Mayor Josaphat T. Benoit; (unidentified); and (unidentified). 
Photo and caption information courtesy of the Saint Anselm College Archives
The New Hampshire Institute of Politics was established as a nonpartisan forum for discussion and debate on all aspects of the American political process. Its mission was and is today, to EDUCATE, ENGAGE AND EMPOWER CITIZENS to participate in the civic and political life of their local, national and global communities. It continues to be a place where people from across the political spectrum come together to discuss the most important issues of the day.

- U.S. Sen. Judd Gregg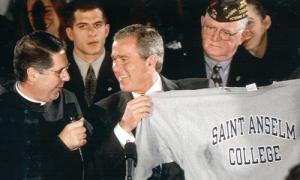 Above: President George W. Bush and Father Jonathan DeFelice, O.S.B.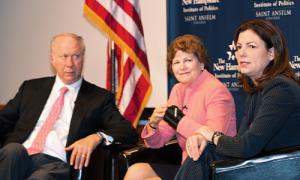 Above: Harvard Kennedy School professor David Gergen (left); U.S. Sen. Jeanne Shaheen (center) and U.S. Sen. Kelly Ayotte (right) 
I believe the New Hampshire Institute of Politics holds a special place in American democracy as a venue where OPINIONS ON ALL SIDES CAN BE HEARD AND CHALLENGED. Students can take advantage of the constant stream of accomplished and well-connected speakers, the rich and vivid political history documented throughout the building's halls, and the incredible community of politically engaged students, staff, and faculty. Even as a non-politics major, The Institute has been a cornerstone of my college experience.

—Ryan Heath '22, Student Ambassador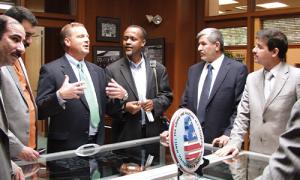 Above: Executive Director Neil Levesque welcomes a delegation from Iraq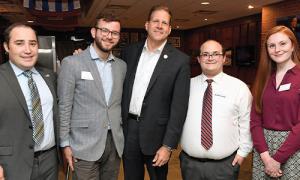 Above: Gov. Chris Sununu with student ambassadors 
The Institute has given me some of the greatest experiences within the realm of politics, but also in life. I have been able to meet so many candidates and network with different guest speakers. I also have made LIFELONG FRIENDSHIPS WITH STUDENTS WHO SHARE THE SAME PASSIONS and interests as me that I know I will have for a long time after I graduate from Saint Anselm College.

—Maeve McAllister '23, Student Ambassador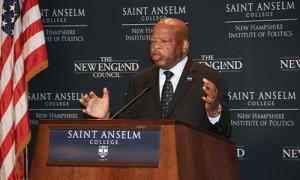 Above: U.S. Rep. John Lewis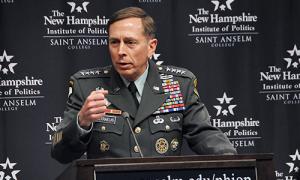 Above: Gen. David Petraeus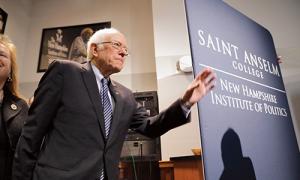 Above: U.S. Sen. Bernie Sanders 
In Mid-April 2014 I was invited to speak at the Institute of Politics at Saint Anselm College in Manchester, N.H. The Institute, led by Neil Levesque, plays an important role in New Hampshire's primary process. Almost all presidential candidates speak there. As I waited to step onstage, it was interesting to see the photos and posters of candidates past and present on the Institute's walls. Some of those candidates made it through the New Hampshire primary and ALL THE WAY TO THE WHITE HOUSE. Others are a blip on the memory. That's politics.

- U.S. Sen. Bernie Sanders, Our Revolution (Saint Martin's Press, 2016)
The Excitement is tangible throughout campus during an election year.
Right: President Joseph A. Favazza, Ph.D., at his first debate as college president. Photo by Leah LaRiccia
Above: NHPR reporter Lauren Chooljan '10 and U.S. Sen. Hillary Clinton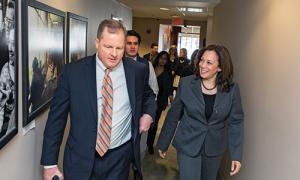 Above: Neil Levesque and presidential candidate Kamala Harris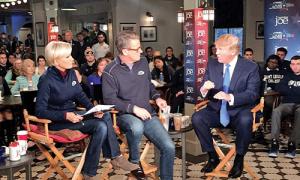 Above: President Donald Trump and the hosts of "Morning Joe"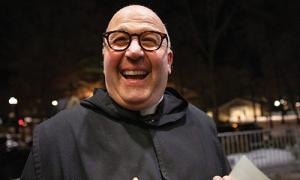 Above: Fr. Benet C. Phillips, O.S.B. '87. Photo by Leah LaRiccia