Whether in her role on the Massachusetts Parole Board, or a a mom to her 13-year-old son, Charlene Bonner '91 is changing people's lives for the better.
For Charlene Bonner '91, attending Saint Anselm College was a family affair. Her father, Robert Bonner '66, was the president of his class and chair of the Alumni Association, and she shared two years on campus with each of her brothers, Rob Bonner '89 and
Mike Bonner '94. "My father spoke so highly of Saint Anselm that we never looked anywhere else," says Bonner.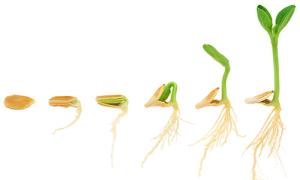 She considers her time at Saint Anselm one of the best periods of her life. She played on the women's soccer team all four years and graduated with a degree in psychology and a certificate in secondary education. "If Saint A's had a master's program then, I would have enrolled just to stay," she says.
After graduation, she received a master's in education at Bridgewater State College while working at a psychiatric hospital. She then earned a doctorate in psychology at William James College in Newton, Mass., and became a forensic psychologist in Massachusetts' juvenile court system. Soon after, she returned to campus as a lecturer in the psychology department. Bonner credits Dr. Paul Finn '73 and Fr. Augustine Kelly, O.S.B. '83 for encouraging her teaching career. "Teaching at Saint Anselm College has been the most fulfilling job I have had," she says.
While balancing her career and teaching, Bonner was in the process of adopting a child from Ethiopia. As she got closer to finalizing the adoption, Bonner accepted a full-time position as a forensic psychologist in southeastern Massachusetts' trial court system in order to relocate closer to family.
In 2007, Bonner traveled to Horizon House, an orphanage in Addis Ababa, Ethiopia. There, she met her 11-month-old son, Bendeshe ("Ben"). Before traveling back to the U.S., Horizon House facilitated a meeting between Bonner and Ben's surviving relatives. Communicating through a translator, Ben's father asked two questions: "Will you raise him Catholic?" and "Will I ever see him again?" She answered "yes" to both.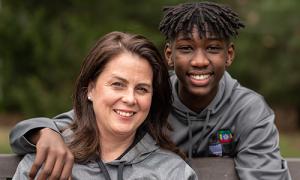 A practicing Catholic, Bonner had planned to bring up her son in the faith. She fulfilled her other promise in 2010, when she and Ben returned to Ethiopia and reconnected with his family, solidifying a lifelong relationship.
In 2011, Bonner began serving on the Massachusetts Parole Board, a seat she continues to hold. The job consists of conducting hearings for all sentenced adult inmates in Massachusetts, many of whom suffer from mental illness and addiction, Bonner's expertise. She continues to work as a per diem court clinician, where she often meets with people in crisis. "My job is to educate and inform them, their families, and attorneys, and give the court a more compassionate lens," she says. In the parole cases she reviews, Bonner recognizes the immense responsibility she holds. "Our decisions can change the course of someone's life," she says.
In Ethiopia, Bonner and Ben are changing the course of an entire village. In February 2020, they visited Wondo Genet where Ben's relatives had moved. As a 13-year-old, Ben had a new awareness of the village's poverty: People did not have access to running water or reliable food, health care, and education. He was determined to help.
Within months, Bonner and Ben, with the help of their Kingston, Mass., community, established "Bendeshe's Village," a nonprofit raising money to renovate Wondo Genet's school by building classrooms, supplying desks, constructing a well and bathroom, and sending 200 kids to school. "Bendeshe's Village" has raised more than $30,000, and the school is scheduled to open in September 2022.
From Wondo Genet to Kingston, Bonner's story demonstrates that strong communities transform lives, and the Saint Anselm community is foundational to her journey. "I believe the seeds planted while at Saint Anselm prepared me not only for my professional accomplishments but also motherhood," says Bonner. "I experienced the importance of strong faith, charity, and investment in others, as well as the benefits of meaningful relationships."