With the college's new flagship study abroad program in Tuscania, Italy, and Global Seminar courses reaching from France to Argentina—not to mention Covid-19's decline—students are once again free to move about the world.
When Jackson Kupferschmid '25 was a junior in high school in Ellington, Conn., he never would have believed that in the spring of his sophomore year of college, he'd be living and learning in Tuscania, Italy.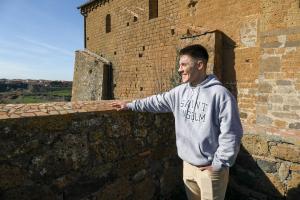 "During the first [Covid] lockdown, I prayed that I would be able to go back to school to finish up my junior year of high school," says Kupferschmid. "I continually asked my parents when they thought this whole thing would be over. The response they always gave me was that they did not know."
Soon, however, Kupferschmid did return to in-person classes in high school, and eventually found his way to the Hilltop. The psychology major couldn't have been happier to experience a traditional college experience, which he learned could also include an opportunity to study abroad.
"I remember sitting down and talking with my parents about coming to Tuscania through Saint Anselm's study abroad program," he says. "They jokingly said that at least one of us should go abroad since my two older sisters couldn't because of Covid. To think that three years later I am experiencing a Covid-free semester abroad is amazing."
Kupferschmid wasn't alone in wanting to spread his wings and see the world. This semester, 19 Saint Anselm students traveled to Tuscania, Italy, as part of the college's new study abroad program.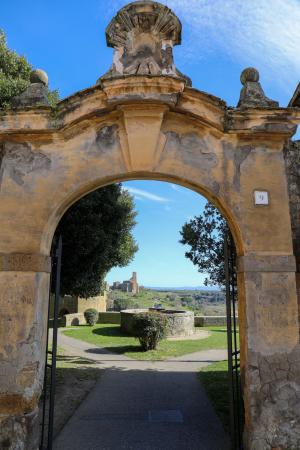 "Saint Anselm in Tuscania is our flagship study abroad program because it is truly Anselmian—there is no other program like it anywhere," says Jane Bjerklie-Barry, director of international programs at Saint Anselm.
The new program, explains Bjerklie- Barry, was born from the success of the college's former Orvieto study abroad program. "When the Orvieto program shut down because of the pandemic, it gave the college an opportunity to build upon its success by designing a customized semester with additional mission-driven opportunities for learning and engagement," she says.
This program is designed exclusively for Saint Anselm students, with the opportunity for taking four to five classes earning credits toward core degree requirements.
"We have a faculty director in residence who teaches the mission course, called Passaggi, who also works collaboratively with faculty from our host institution, Lorenzo de Medici Institute and our program partner, API," says Bjerklie-Barry. "Students participate in weekly excursions that augment the mission course in an enhanced learning way."
Professor of Art History, Katherine (Kate) Bentz, serves as the faculty member in residence in the program for the 2023 and 2024 spring semesters. Prof. Bentz, who has experience living and teaching in Italy, spent two summers as co-director for Penn State University's program in Todi, Italy, while working on her doctoral degree. She also taught in the college's former program in Orvieto.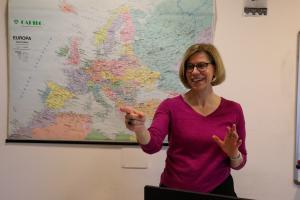 "My scholarly expertise and teaching specialty is Italian Renaissance and early modern art and architectural history," she says. "I have lived in Rome and Florence for extended periods of time, travelled throughout Italy for research, and am fluent in Italian—so, both personally and professionally, Italy and its rich artistic legacy have been one of my great passions throughout my life and career." 
Courses taught by Prof. Bentz this semester included Italian Renaissance Art, a one-credit Community Engaged Learning course, and the program's core course, Passaggi: Travels in Italian History and Culture.
For Bentz, one of her more memorable moments of the semester came from observing students in her Passaggi course. "One of the course assignments requires students to choose and research a topic from a list corresponding to our group tours," she says. "They research these monuments, sites, or works of art on their own, and then stand in front of the work and teach their classmates about it while we are onsite."
Bentz loved seeing how much her students had learned, and how hard they had worked to produce a good talk, as well as the pride and excitement they displayed when seeing their topic in person. "How many chances are there in life to research a topic and then stand in the Roman Forum, a medieval cathedral, or a Renaissance garden and tell people about it?" she asks. "As a teacher, there's nothing more rewarding than when students proactively invest in their own learning and find joy in the process."
Community Near and Far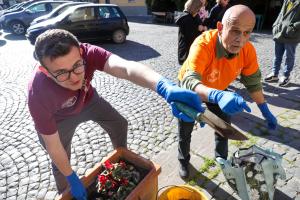 For Bjerklie-Barry, the Tuscania program was built by stakeholders with the college's mission in mind. It was important to imbed a community service component into it because community-engaged learning is an important part of being Anselmian. "Building the Tuscania program took nearly two years of some heavy lifting behind the scenes from many people on campus—but it was an opportunity to create a program that followed the college's foundational history," she says. "This is our flagship program because it embodies what it means to be Anselmian."
According to Bjerklie-Barry, it's common for students who study abroad to have one or two volunteer opportunities over the course of their semester, but community engagement is a bigger part of the Tuscania program because it's a big part of being Anselmian.
"The Tuscania students can elect to engage in the community through a one-credit course, or they can simply participate for the joy and reward of doing so," she says. "Our students are engaging side by side with local community members, which is the best way to foster human connection."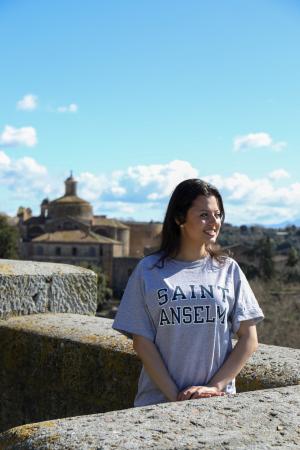 Some of the community engagement projects included giving presentations to schools about American culture, helping clean up parks and plant flowers around town, participating in English language exchanges with local families, and helping a group who cares for stray animals by providing food and water. "Cat colonies are a big thing in Tuscania, and many of our students fell in love with helping these cats," says Bjerklie-Barry.
These cat colonies, and other small cultural differences are just some of the many aspect's students loved about their time in Italy. For Annabella Pizzi '25, a double major in history and Spanish, there were many fun surprises during her semester abroad. "My favorite culture shock has been that dogs accompany their owners everywhere," she says. "In Tuscania, many people have small pet dogs that can be seen in almost any establishment. The Tuscanese dogs go out to dinner, to the gelateria, and even to the bars with their owners."
Immersing herself in the culture of the area has been another unforgettable experience for Pizzi. "Going on weekly field trips and being able to form relationships with the local people have been my favorite parts of the trip," she says. "Every Tuesday we have a different excursion centered around our class material—my favorite trip thus far has been our trip to Villa d'Este in Tivoli to learn about the villa lifestyles of cardinals and other wealthy men of power."
Kupferschmid also speaks of how this experience has given him memories to last a lifetime. "My favorite part of studying abroad in Tuscania was the excitement of waking up every day knowing that I would experience something new and exciting," he says. "Specifically, riding through the vacant streets of Rome on an electric scooter at midnight, seeing the Colosseum all lit up is an experience I will never forget. And playing 5v5 soccer and basketball game with local Italians is something I will tell my future kids about."
A World of Experience
These types of experiences are just the tip of the iceberg when it comes to the benefits of studying abroad, according to Bjerklie-Barry. "Higher education is a foundation for young people to grow academically, personally, professionally, and culturally," she says. "Research shows how these areas are sustained through high-impact learning opportunities, and high-impact learning is a hallmark of study abroad."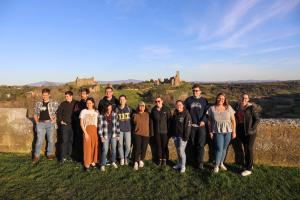 Other takeaways from a study abroad experience, according to Bjerklie-Barry, include gaining insight into the world in which they live, and gaining global experience, giving students a greater sense of depth into what makes education important in today's world. And it also helps set students apart to future employers. Bjerklie-Barry notes that many employers look for employees who are well rounded, independent, and able to navigate a variety of situations— all things learned through study abroad. "Employers look for experiences such as service, study abroad, and internships, where students can apply classroom learning and leverage it in the real world through experiences," she says. "They're looking for that emotional intelligence."
Prof. Bentz couldn't agree more. "I think study abroad is one of most significant learning experiences one can have in college, especially within a liberal arts education," she says. "Living abroad and learning about other cultures firsthand teaches us lessons about ourselves and helps us grow as individuals," she says. "It also helps us to develop habits of curiosity, empathy, and a deeper understanding and appreciation of the global community that we are a part of."
And that is exactly what Pizzi has taken away from her semester in Tuscania. "From my time in Tuscania, I have become more confident in myself and have learned patience," she says. "I have traveled in groups but also alone to various places over the course of the semester. I have learned to trust myself and my own abilities in navigating stressful situations."
Gallery
View other opportunities Saint Anselm students had on their study abroad experience!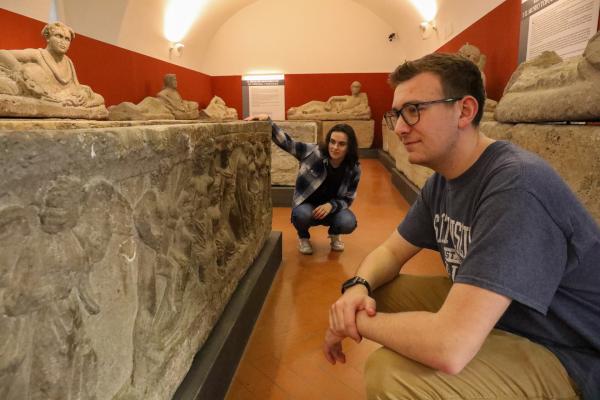 Olivia McGuire '25 and Sean Kelleher '24 check out artifacts inside the National Archaeological Museum.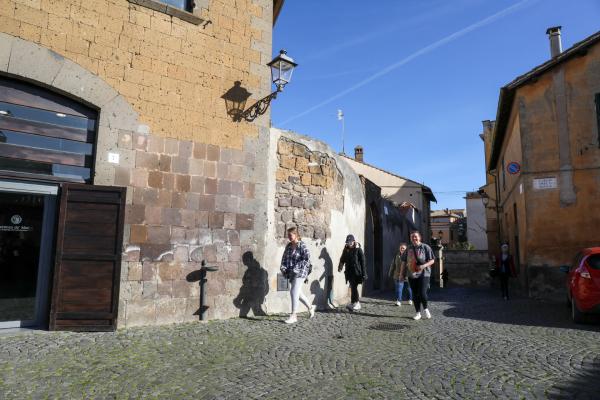 Students on their way to class at the Lorenzo de Medici Institute.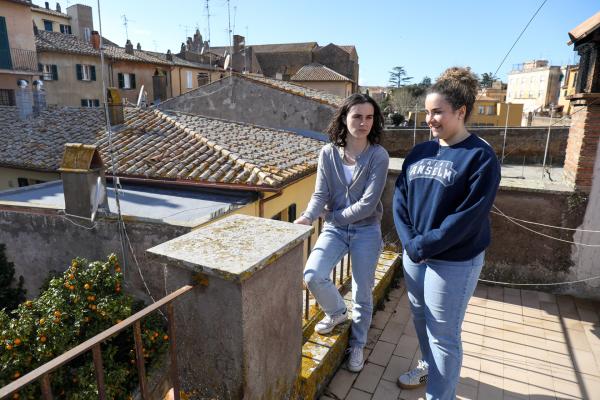 Rooftop views never get old.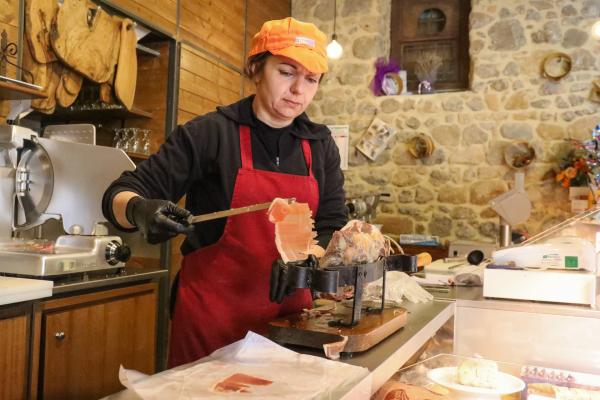 Fun trips to local markets for delicious prosciutto, and more!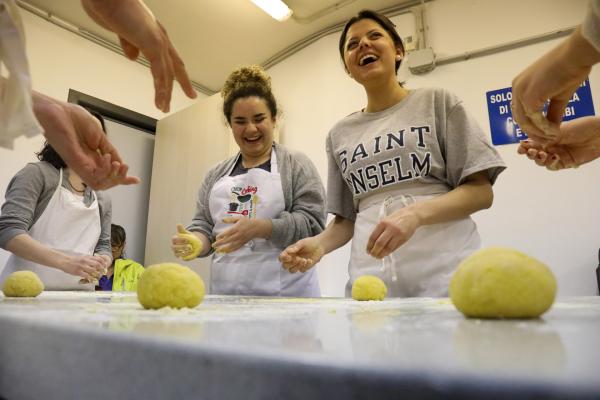 Working the pasta dough.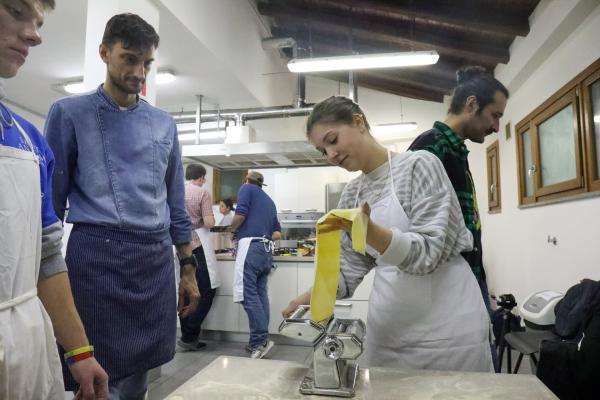 Rolling and cutting pasta.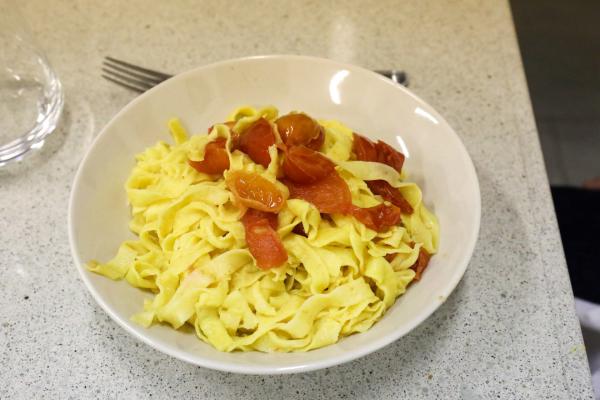 Mangia!
What to Know
If you're interested in studying abroad, Jane Bjerklie-Barry, director of international programs at Saint Anselm offers these tips:
Get your passport—So many students don't realize how long this process takes. Start the process early.
Start planning—If you're interested in studying abroad your junior year, begin planning your sophomore year. This will help you map out your course sequence and what classes you should be taking.
Pick a program—In addition to Tuscania and Global Seminars, there are so many programs and destinations Saint Anselm students have access to. Give some thought to where you want to go and why, and what type of program will suit you best.
For more information on all the study abroad options, visit anselm.edu/study-abroad.
Going Global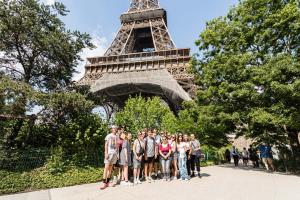 Global seminars are another unique opportunity for Saint Anselm students to experience the world in a uniquely Anselmian way.
"Global Seminars are faculty-taught international experiences embedded within an on-campus course, and can be anywhere from one to five weeks long," says Jane Bjerklie-Barry, director of international programs. "They are meant to provide students with an in-depth exploration of course content, as well as provide faculty an innovative pedagogic way to teach. These are intensive programs requiring a collaborative mindset to design and run, and are one- of-a-kind opportunities for our students to participate in and engage with our amazing faculty."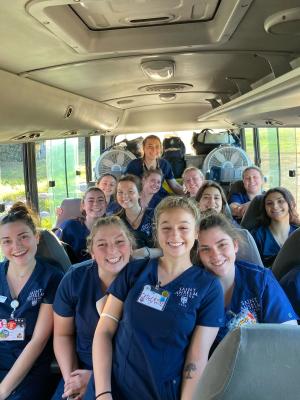 These shorter duration experiences are an important option to offer students for a few reasons, according to Bjerklie-Barry. "College students are busy people—they have jobs, they might be athletes or have other commitments or responsibilities that preclude them from being away for an entire semester," she says. "Students are craving global experiences because they understand how valuable they are to their education and career preparation, and shorter programs can meet the needs of a lot of different students."
Bjerklie-Barry also points out that Global Seminars often can be the launching pad for many students to pursue a full semester abroad. "These options are ideal for students who may not have travelled much before, but after this experience, they catch the travel bug, and then go on to consider a full semester study abroad."
Historically, according to Bjerklie-Barry, the college has offered interdisciplinary Global Seminars in the Normandy region of France, Vienna, and Austria, and more targeted seminars on the Cold War in Cuba, Spanish immersion in Argentina, and a nursing clinical in Costa Rica.
For more information on Global Seminars, and other study abroad options, visit anselm.edu/study-abroad.
—K.G.D.