Freshman Will Rosen (Washington, D.C.) of the Saint Anselm College men's ice hockey team was nominated for the Hockey Humanitarian Award on Wednesday.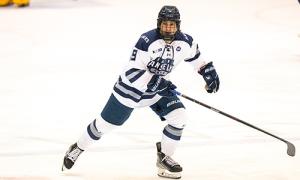 The award is presented annually to college ice hockey's finest citizen — a student-athlete who makes significant contributions not only to his or her team but also to the community-at-large through leadership in volunteerism.
Rosen founded a non-profit apparel company in 2021 named Every Shift HockeyTM. The company aims to generate support for the Fort Dupont Ice Arena, the USA Hockey Membership Relief Fund, and those who are less fortunate in the ice hockey community.
Rosen has been able to donate $10,000 through Every Shift HockeyTM to the Friends of Fort Dupont Ice Arena. Half of the donation went to weekly Saturday programming at rink called "Kids on Ice", USA Hockey registrations, and new hockey equipment. The program introduces children to ice skating in different facets such as ice hockey, synchronized skating, figure skating, and speed skating. The program at the Fort Dupont Ice Arena impacts 3,500 children annually.
The remainder of the donation was targeted to a new electric Zamboni and to other upgrades around the Fort Dupont Ice Arena. The previous Zamboni had long outlived its live lifespan and was becoming too much of a hassle to continue to try and operate.
"Will provides the Hawks with a high level of competition and a high hockey IQ that will only continue to grow as his time playing collegiate level hockey increases," said Head Coach Larry Rocha '79. "As an individual, Will is mature, polite, articulate, sincere, and a well-mannered young man."
Rosen has skated in 10 games for the Hawks in his freshman season, aiding the team to a 12-7-1 overall record and a 7-3-1 mark in Northeast-10 Conference games. Rosen made his collegiate debut in the Saint Anselm home opener on Oct. 29 against the University of Southern Maine and has put 10 shots on goal. The freshman has won 20-of-32 face-offs this season.
Finalists for the 2023 Hockey Humanitarian Award will be announced in February. The 2023 recipient will be announced on Friday, April 7th during the NCAA Men's Frozen Four weekend in Tampa, Fla.
Tucker Mullin '13 and Amanda Conger '20 are both winners of the prestigious award and are the only nominees from the College. Both Mullin and Conger won the award following their senior seasons on the Hilltop.
 
---
This news story was provided by the Office of Athletics Communications. View the original story on the Saint Anselm Athletics website.