On Wednesday morning, June 29, 2022, members of the Saint Anselm College community gathered to break ground on the new home for the humanities.
"After all of the excitement and success of the past year, and all of the energy and hard work it took to get us to this point, it's easy to want to downplay this ceremonial groundbreaking," explained Gary Bouchard, Ph.D., executive director of the Gregory J. Grappone '04 Humanities Institute. "But this day that was once unimaginable, and then imagined and re-imagined, has arrived."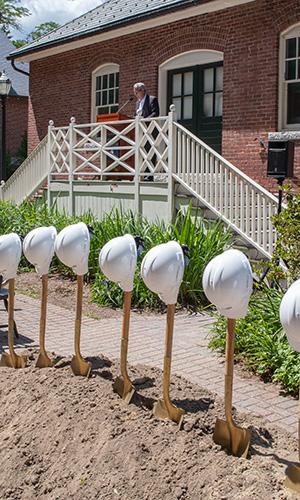 The two-story facility, located in the Boiler House, will be home to a large, state-of-the-art classroom, a seminar instruction room, a flexible, common meeting and exhibition space, a newly restored and landscaped courtyard, and modest administrative office space. It will be the first structure that visitors encounter upon exiting the new Savard Welcome Center and will be a visible reminder of the central place of the humanities in the life of Saint Anselm College.
"This building will be more than simply an academic facility. It will be the hub for the humanities in southern New Hampshire," said Joseph A. Favazza, Ph.D., president of Saint Anselm College. "This building is also a symbol of our commitment to prepare students to be thoughtful and ethical leaders no matter their chosen career."
The Humanities Institute at Saint Anselm College reaches across the campus, the curriculum, and the surrounding communities to challenge people with questions that arise from our shared and individual experiences and inspire them with the consolations and wisdom found in the arts and humanities.
"It is hard to believe how much has been accomplished since [Bob and Bev Grappone] first approached the college about their interest in doing something to honor Greg," said James F. Flanagan P '23, senior vice president and chief advancement officer. "It is even more difficult to believe the amount of time that has passed since Greg asked to meet with me in my office a couple of years after his graduation to tell me that someday he was going to do something significant to support the humanities.  And, wow, has something truly significant and transformational been done to support and elevate the humanities."
During the groundbreaking, members of the steering committee, Beverly D. Grappone, H.D.'21, Robert J. Grappone, H.D.'21, Elizabeth J. (La Malfa) Kelly '83, Professor Bouchard, President Favazza, James Flanagan, Kathleen M. Kayros, and Father Benet Phillips, O.S.B., unveiled the renderings for the new humanities building which will remain in place until the project is over. Father Iain G. MacLellan, O.S.B., '78 to offered a prayer asking for God's blessing on the building project and those who will be involved in its construction before attendees had the opportunity to dig their shovels in to break new ground.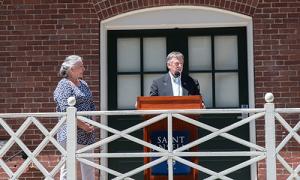 "If we do this right--and I know that the people here, will make sure we do this right--this building with a funky smoke stack as its steeple--will be many years from now a place dear in the memory of Saint Anselm alums," predicted Professor Bouchard. "It will be the place where that class, that forum, that reading, that music, that reflection, that chance meeting, that conversation took place which ended up changing everything. This will be the place where, as Bob Grappone likes to say, the gates open."
The renovation of the new home for the humanities is the result of work of a number of people including: William Furlong, vice president of finance and CFO, Jonathan Woodcock, director of physical plant, Kyle Davis, project manager, Milestone Engineering and Construction, Placework, Stimson Landscape Architects, Professor Bouchard and other Humanities faculty, the Office of College Advancement team, Mary Mader, director of sponsored programs and research, and members of the Board of Trustees.