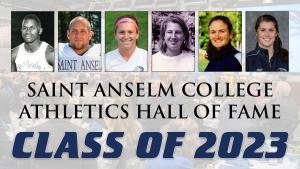 MANCHESTER, N.H. – Saint Anselm College revealed its six-member Athletics Hall of Fame Class of 2023 on Monday. The group of distinguished former student-athletes will be honored at an induction ceremony and banquet scheduled for Saturday, Feb. 18.
Established in 1980, the Saint Anselm College Athletics Hall of Fame recognizes student-athletes, coaches and athletics administrators that have brought recognition to themselves and the College through their efforts on and off the playing surface. The Hall of Fame was reinstated in 2017 when the Class of 2007 was finally inducted along with two additional candidates.
Four women and two men make up the Class of 2023 and Rachel Jackson '85, a 1990 Athletics Hall of Fame inductee at Saint Anselm, will formally enter the Northeast-10 Conference's Hall of Fame as part of the ceremony. Other inductees include the first women's cross country student-athlete to earn the honor since 1998 and the first women's tennis student-athlete to enter the Hall since 2006.
"We are thrilled to honor our former student-athletes in mid-February at what has become a signature event for the College," said Director of Athletics Daron Montgomery. "Furthermore, as we celebrate the 50th anniversary of Title IX and its passage into law, it is fitting that we will recognize not only four female inductees, but also the first female student-athlete from Saint Anselm to enter the NE10 Hall of Fame."
The proceedings will kick off at 6 p.m. with a cocktail reception in the New Hampshire Institute of Politics, followed by a banquet which will begin at 7 p.m. in the NHIOP. Those attending the induction ceremony are invited to cheer on the Hawks across three games in the afternoon and explore the Salamone Family Hall of Fame space that was opened and dedicated in February 2020.
The three home athletics events include two basketball games (women at 1:30 p.m., men at 3:30 p.m.) and a women's ice hockey game at 3 p.m. versus Post University.
Tickets for the event may be purchased for $60 per person via the online payment form.
---
Warren Burgess, a two-time captain of the Saint Anselm men's basketball team, averaged 5.7 assists per game in a standout career for the Hawks before graduating in 1994. Scoring 1,260 career points at Saint Anselm in 117 career games, Burgess presently ranks third all-time in career assists (662), fourth in steals (188) and eighth in minutes played (3,533).
As a junior, Burgess racked up 234 assists, 62 steals and played in over 1,100 minutes for the Hawks, a single-season program record at the time, as the team sprinted out to a 20-11 record and the team's third NE10 Championship title in program history. During his freshman season, he equaled the team's single-game record for free throws made (17 vs. Quinnipiac, 02/09/91).
An All-Conference performer for Saint Anselm, Burgess helped Saint Anselm to 38 victories in his final two seasons and scored a career-high 27 points in his final game, which happened to be in the NCAA postseason. Burgess remains the only student-athlete in team history with over 1,200 career points, 600 career assists and over 175 career steals.
Lance Flagg was a four-year member of the first modern-day Saint Anselm football team, graduating in 2003. In just 29 career games across three seasons, Flagg racked up 194 total tackles (6.69/game) and compiled 62 tackles for a combined loss of 219 yards, departing as the program's all-time leader in the latter metric despite missing a full season due to injury.
After not taking the field as a junior, Flagg rebounded in a big way by leading the NE10 in tackles for a loss (24 takedowns for 93 total yards), adding 9.5 sacks for 61 yards in 2002. He also led the Hawks roster with 16 quarterback hurries and was third on the team in total tackles (66). Flagg earned his second First Team All-NE10 accolade following the season and also captured First Team All-ECAC honors.
Also receiving First Team All-America distinction from Hansen's Gazette as a senior, Flagg presently ranks in the top-30 all-time in NE10 history with 21.5 career sacks and remains the only student-athlete in team annals to record at least four-and-a-half tackles for a loss in a game on three occasions. His 2.40 tackles for a loss per game in 2002 stands today ranks in the top-25 seasons in NCAA Division II history.
Kristina Katsikis, a 2013 graduate, will become the first student-athlete in the history of the Hawks field hockey team to be inducted. Scoring 74 points with 28 goals and 18 assists (28-18=74) in a 69-game career, Katsikis graduated as the all-time leading point, goal and assist-getter in team history and set many of the team's statistical records that lasted for many years.
As a junior in 2011, Katsikis had a historic season by scoring 16 goals with 10 assists for 42 points (16-10=42), becoming the program's all-time leader in each category through just three seasons on the Hilltop. To this day, she still holds the single-season record for points per game (2.33) and her season records of 16 goals and 42 points were eclipsed for the first time in 2022.
Just the second NE10 First Team All-Conference pick in program history, Katsikis holds a share of the all-time record for assists in a game (four). She earned ECAC Division II All-Star honor accolades as well for her performance in 2011.
Kirsten Lawrence, a four-year participant on the Saint Anselm women's tennis program, graduated from the Hilltop in 1996. The lone NE10 Player of the Year in Saint Anselm history, Lawrence posted 38 singles and 28 doubles victories for the Hawks, including a 31-10 singles record across her final three seasons of play.
At No. 1 singles for the Hawks, Lawrence won 25 career matches and held the top spot in that category until the last decade. She was voted as the league's top player in 1995 and finished her senior campaign as the runner-up at the NE10 Championship in the No. 1 singles flight.
As a two-time team captain, Lawrence guided the Hawks to two of its finest back-to-back seasons in team history – in 1994 and 1995, the team won 19 out of a possible 22 matches as she was a finalist for Student-Athlete of the Year honors as a senior. In total, Saint Anselm compiled a 34-12 (.739) record with Lawrence on the team.
Erin Thorpe, a 2004 graduate and a four-year member of the Saint Anselm women's cross country team, is the only three-time First Team All-Conference selection in program history (2000, 2001, 2002). Additionally, Thorpe remains the lone student-athlete from the women's team to receive the NE10 Rookie of the Year award.
The three-time team captain was also one of a select few to represent Saint Anselm at the NCAA Division II National Championship, doing so as an individual in 2001. Due to strong finishes at the NCAA regional championship races, Thorpe was also a two-time All-Region recipient after placing third in 2001 and 13th in 2002.
Thorpe burst onto the scene as a freshman, earning the conference's top rookie honor after finishing second at the league championship race, just two seconds away from capturing first place. Additionally, she was also voted as the Saint Anselm Female Student-Athlete of the Year as a freshman in recognition of her athletic performance.
Kathleen Twomey, the all-time leading goal scorer for the Saint Anselm women's ice hockey team, is a 2009 graduate from the Hilltop. Scoring 75 times in 102 career games for the Hawks, Twomey was an offensive force that also established the program's all-time record for game-winning goals with 15 to her credit.
On the way to ECAC East Player of the Year honors in 2006-07, Twomey logged 42 points to forge a team record that stood until the 2010-11 campaign. Her 25 goals that season are the second-most ever scored in single-season team history and 10 of those were scored on the power play.
Twomey burst onto the scene as the ECAC East's Rookie of the Year in 2005-06 by scoring 24 goals and 33 points in just 27 games and presently ranks third all-time in team history with 124 career points via 75 goals and 49 assists. The native of Londonderry, N.H. was inducted into the New Hampshire Legends of Hockey in 2012.