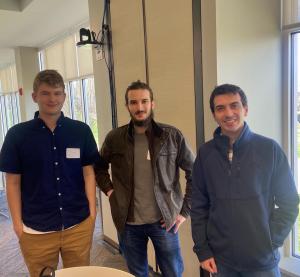 On Saturday, April 30, the Center for Ethics in Society hosted the Saint Anselm College Ethics Bowl. Six teams of students represented different clubs, organizations, and classes across campus. The Humanities Institute, Classics Society, Center for Ethics, and the Great Books major each had teams, along with one comprised of students currently enrolled in Political Philosophy with Dr. Jason Sorens and Human Nature Seminar (an introductory Philosophy course) with Dr. Max Latona.
In the Ethics Bowl, teams of students discuss interesting ethical case studies. Unlike a debate, where each team would take a different side of an issue, the Ethics Bowl allows teams to agree on the main issue, but they must push each other's thinking and ask good questions. 
After one team presents their thoughts on a case and hears the other team's commentary, judges ask questions and score them based on a few key criteria. Was the presentation clear and systematic? Did they thoroughly discuss the moral dimensions of the case? Did they indicate an awareness and consideration of different viewpoints? 
Faculty and community members volunteered their time to serve as judges, including Professors Bob Anderson, Kevin Staley, and Tom Larson (from the College's Philosophy Department), Emily Van Duren, Brian Chen, Elizabeth Dubrulle, Jay Pedone, Anabel Moreno-Mendez, and Connie Roy-Czyzowski. 
For Mary Duffy '23, a Communication major and member of the Center for Ethics team, the competition offered something new to her college experience.
"This competition was a unique way to discuss the ethical issues our generation is facing. It was helpful to be able to find common ground where we disagreed and highlight where we agreed," Mary Duffy '23 said.
Mary was given a prize for her exemplary performance in the competition.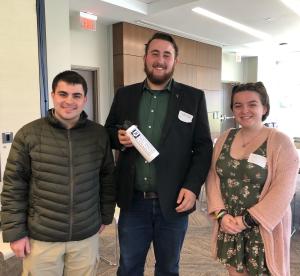 For the final championship round, the Philosophy and Classics Society teams discussed whether it is ethical to use rats in lab experiments to determine whether males can gestate a fetus (in which all the rats were eventually euthanized) and whether well-tended lawns that use herbicides, pesticides, non-native species, and a lot of water are ethical.
Patrick Marcoux, Meg Query, and Mac Connors of the Philosophy team won the competition and received gift cards to the Saint Anselm College Bookstore. Nick O'Keefe, Kyle Machado, and Nathan Crane of the Classics Society team proved worthy opponents in this final match. 
The Ethics Bowl was made possible by the support of Kenneth J. Goodchild '69.