The Hilltop has been buzzing with excitement as many students and professors pursued new research topics from many diverse interests. This summer saw student researchers on campus tackling all kinds of big questions and conducting research for a variety of reasons from honors thesis work to various grant programs. Every Thursday, the students and faculty gathered for a special luncheon to hear student presentations on their research. Towards the end of the summer, some students also completed their research at Dartmouth and attended the annual NH-INBRE meeting at the Omni Mount Washington Resort. It truly was a summer of collaboration, growth, and discovery for student researchers.
Twelve Saint Anselm students received funding from New Hampshire IDeA Network of Biomedical Research Excellence (NH-INBRE), a grant program that supports students' biomedical research and application. The breadth of research projects includes focus on cancer cell development, drug delivery systems, bioinformatics education, and the causal relationship of temperature and brook trout populations. 
FACES bioethics medical research
Hayden Rogers, a class of '23 psychology major, has spent his summer researching the bioethics of historical medical institutions with Professor Loretta Brady, director of the CRSEL Lab (Community Resilience and Social Equity Lab). Rogers has been developing a prototype card game called FACES and researching various historical and current figures or institutions in medicine with the goal of understanding how they fulfill, or oftentimes violate, the bioethical categories of Nonmaleficence, Beneficence, Justice, and Autonomy for the FACES game prototype.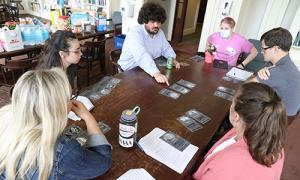 At a summit on June 21, local educators came to the College and played a test game of FACES, which provided Rogers with the opportunity to improve his prototype. "Going forward, my research aim is to take the game prototype I will have created and hopefully get it to a place where we can begin the process of making it an open-sourced education material for the State of New Hampshire's public schools to be able to use as a bias-intervention and bioinformatics educational tool," explained Rogers. He plans to continue his research after his INBRE grant concludes on August 9, as his senior thesis.
Compound synthesis as potential cancer treatment
Mackenzie Vallely '23, Larissa Havey '23, and Noelle Honan '23 have been working with Professor Jennifer Pace, Ph.D., of the chemistry department this summer to synthesize compounds that could be useful in cancer treatments. "We have already synthesized many compounds and our next steps are testing their efficacy on actual breast cancer cells (MDA-MBA-231)," said Honan, a double biology and history major. Their research focuses on the regulation of the Hippo pathway, which can lead to unregulated cell proliferation when dysregulated. 
Noelle explained how this research opportunity has positively impacted her, especially knowing that their work could contribute to cancer treatment. "My own personal experience has been very rewarding. I have been able to gain a lot of experience and acquire a lot of valuable laboratory skills thanks to Dr. Pace's guidance and expertise," she said.
Honan was later recognized with a third place award for her poster presentation during the NH-INBRE Conference.
S.pombe model organism for studying cancer cell growth
Angela Slaybe '23, the 2022 Chabot-Fletcher fellow, Anna Michaud, Alexandre Pennell '23, and Megan Wozniak '25 have been working in the lab with Professors Robert Vallari, Ph.D. and Stephen Tobin, Ph.D., of the biology department. Their project focuses on which proteins are responsible for the continued growth and development of cancer cells, using S.pombe as a model organism. By identification of Hyper- and Hypo-Expressed Proteins in Aneuploid S.pombe, the team can compare aneuploid and normal strains to determine which proteins are over/under expressed. 
The team visited Cell Signaling Technologies Inc. in Beverly, Mass., to use their Quantitative Mass Spectrometer. "This is a machine that can tell us the proteins that exist in our samples and can also tell us the concentration of the proteins as well," explained Slaybe. "This project has been something my lab has anticipated since last summer, so I am so happy that we finally are able to do it."
Studying temperature trends effects on NH brook trout populations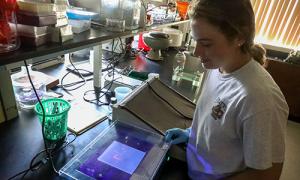 Abigail Halterman '23 is working with Shannon O'Leary, Ph.D., of the biology department to gather brook trout data and analyze temperature trends to understand how temperature affects the presence of brook trout. Using water samples filtered to isolate DNA, they use a quantitative PCR analysis to determine the amount of brook trout DNA. They then use the data to compare the abundance of brook trout in 13 headwater streams. Halterman shares how conducting research over the summer has been a fruitful experience, giving her more time to work through issues and conduct critical analysis than during a normal semester. "Overall, research has been going well and I have learned a lot; I am greatly enjoying it," she said.
Effects of nicotine on rats, accounting for gender and food differences
Caroline Kukas '23 and Adysn Kilty '23 worked with Professor Joe Troisi, Ph.D., of the psychology department on a drug discrimination study using animals. Professor Troisi's lab has been investigating nicotine addiction by using male rats, but this summer they are studying female and male rats to account for gender differences. Incorporating gender differences into this research is important because studies show that women have a harder time giving up nicotine and relapse more frequently than men. "We are continuing to look at nicotine sensitivity differences between male and female rats with the difference in high and low food states," said Kukas.
The experiment consists of training rats to associate nose poking with the release of a food pellet, then introducing nicotine, and finally conducting extinction trials and a test day. "When a person is exposed to a cue that they had to have when they were using a drug (even if they are not in withdrawal) they will remember and get a craving for the drug which is what is happening when we reinstate the food pellet on the test day for all rats," Kukas explained. As the summer winds down and INBRE research begins to wrap up, Kukas and Kitty shared that they have greatly enjoyed their experience working in the lab with Professor Troisi. "We look forward to finishing our last few weeks here over the summer and hopefully return to work here in the fall," Kukas said.
Environmentally ethical chemical synthesis for drug delivery systems
Michael Apitz '25 has been working with Professor Carolyn Weinreb, Ph.D., chair of the chemistry department, to chemically synthesize 1,3,5,7 - tetraethylnyladamantane. It has the potential to be used in drug delivery systems due to its 3D attachment properties. "During the synthetic process of our compound, we looked for more environmentally friendly ways of synthesizing an aldehyde from an alcohol," explained Apitz. "We found that Dess Martin Periodinane (DMP) could replace PCC which is toxic and hard to work with," he continued. They successfully made DMP, but have not yet tested it on alcohol. "We ended up successfully creating 1-(2,2-dibromovinyl) adamantane which is one compound away from our goal structure, 1-ethynyladamantane," Apitz said.
At the end of their research period, the Saint Anselm INBRE students went to the annual NH-INBRE research meeting to share their findings with other INBRE researchers across the state. From presenting their own research to the crowd to learning more about other projects, the annual meeting was a tremendous way to wrap up a successful round of summer research. For many students, this research is a base in which they can build future projects such as their senior thesis or future grant programs.