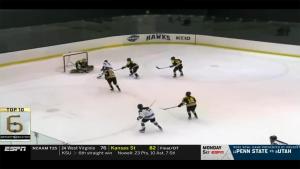 MANCHESTER, N.H. – Sophomore Audrey Jackson (Shoreview, Minn.) of the Saint Anselm College women's ice hockey team scored a highlight-reel goal on Saturday, earning a spot on the SportsCenter Top 10 Plays from ESPN.
Audrey Jackson's highlight-reel goal against Merrimack was featured as the No. 6 play on Saturday evening's @SportsCenter Top 10 Plays! #HawksSoarHigher pic.twitter.com/zgD02e3ivw

— Saint Anselm Hawks (@STAHawks) January 1, 2023
On New Year's Eve, Jackson scored her team's second goal of the game against Merrimack, a member of Hockey East, to trim the Warriors' lead to 4-2. Carrying the puck through center ice, she was able to elude three defenders and deke the Merrimack netminder for the score – the play was ranked No. 6 out of 10.
Jackson ranks fourth on the team in point scoring, notching five goals with 11 assists for 16 points (5-11=16) while also ranking fifth in the New England Women's Hockey Alliance. She is riding a six-game point streak with two goals and five assists (2-5=7) in that span.
Reaching a national audience on ESPN, Jackson becomes the fourth Saint Anselm student-athlete to earn recognition on the long-running SportsCenter program in the last five years. Most recently, teammate Tyra Turner (Andover, Minn.) scored a highlight-reel goal in February 2022 that was featured.
Women's volleyball's Katy Teets '18 and her "kick-kill" was featured on the "Top 10" in November 2017 and Chris Paul '22 of the Hawks men's basketball team hit a game-tying trey at the buzzer against Franklin Pierce in November 2019.