New Staff at Geisel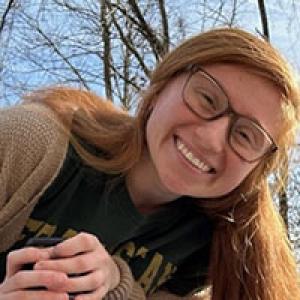 Circulation Associate
Angela Beatrice
Angela is the Circulation Associate at Geisel Library. Having started in May, she is so happy to be on campus with students, staff and faculty for the new school year. Angela graduated from Franciscan University of Steubenville this summer with her BA in English, American and British Literature. When not at Geisel Library, she enjoys thrifting, hiking (more like trail - walking), coffee shops, and reading about the American poet, T.S. Eliot.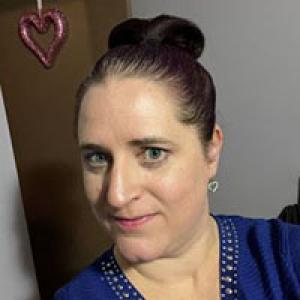 Part-Time Evening / Weekend Circulation Supervisors
Carisa Kolias
Carisa is a librarian and archivist who received her Master of Library Science and archival management graduate certificate from the University of North Texas after 17 years as a stay-at-home mom. A self described history nerd and book hoarder, Carisa also enjoys cooking, gardening, traveling, and spending time with her three teenagers in her free time. When not working at St. Anselm, Carisa can be found assisting researchers, processing archival collections, writing finding aids, and going down fun history rabbit holes at the Center for Lowell History, the archives and special collections library at UMass Lowell.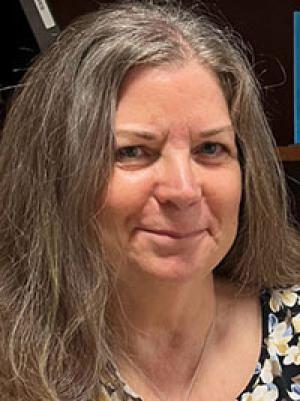 Kimberly Hartnett
Kimberly worked as a journalist for more than 30 years for newspapers in New Hampshire and the Pacific Northwest. She's the author of Carolina Israelite: How Harry Golden Made Us Care about Jews, the South, and Civil Rights (The University of North Carolina Press), and along with her work in the library, this semester she'll be teaching "Saving Lives – Writing about People" for the Nackey S. Loeb School of Communications, which recently announced an affiliation with our New Hampshire Institute of Politics. In her free time, Kimberly often grabs a bus to Boston or explores NH's backroads with her husband. "I also sketch (badly) in the galleries of the Currier Museum and pretend to do yoga," she says.
Part-Time Evening / Weekend Periodicals Supervisor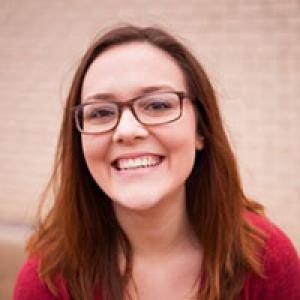 Kat Gatcomb
Kat Gatcomb (she/her) is happy to join the Geisel Library staff as a Periodicals Supervisor. She holds a BA in theater from the University of New Hampshire and a MS in Library Science from Simmons University. She has worked in public libraries since 2017 and was named the NH Children's Librarian of the Year by the NH Library Association in 2021. When not working, she enjoys thrifting, watching live theatre, and spending time with her amazing five month old daughter.