*Please note: This article is a student blog written by a Kevin B. Harrington Student Ambassador. The Ambassador Program is a unique opportunity for Saint Anselm College students of any major to be involved in supporting the Institute's various events and activities. To learn more about our student ambassadors please visit the NHIOP website.
On April 24, 2023, the New Hampshire Institute of Politics welcomed Betsy Fischer Martin and Dr. Jennifer Lucas to discuss the future for women in politics, both in terms of the 2024 election specifically and overall participation. Betsy Fischer Martin is an Emmy-winning journalist and former TV news executive. She is also the Executive Director of the Women & Politics Institute at American University.  
Recently, a poll was conducted by Benenson Strategy Group for American University Women & Politics Institute and the Barbara Lee Family Foundation that examined overall female public opinion on political participation and 2024 specifically. She was joined by Dr. Lucas, of the Saint Anselm Politics Department, to interpret these results and further explain their implications for the future.
In terms of the economic landscape, Fischer Martin began by stating that "women are not in a good place." She explains how the poll illustrated the fact that many women are anxious, worried, and frustrated about the current state of the U.S. economy and she notes that this feeling is especially strong in terms of inflation. Fischer Martin cited the poll by stating that "nearly half of women say they've cut back on groceries due to inflation - and nearly 1 in 5 say they've delayed or canceled health screenings." According to her research, inflation is the most important problem facing the country today, in the eyes of most women.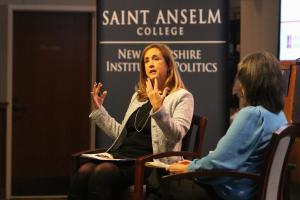 Dr. Lucas furthered this discussion by asking what this means for 2024 and for Biden's future specifically. Fischer Martin believes Biden's most effective strategy for female voters would be to transition more to solution-based messaging related to these specific problems as opposed to him describing what he has achieved since beginning his time in office.  
Fischer Martin then used the poll to emphasize that women do tend to want to be more politically engaged. She explained that most women think the next election in 2024 will be more important than the previous few cycles. Feedback that she studied also highlights a growing sense of wariness in social media and news organizations. The poll results claimed that "distrust of social media is widespread, while Republican women drive distrust of news and regulatory bodies."
The last section Fischer Martin presented was in terms of women in leadership. "Women leaders are seen as far more trustworthy on most policy priorities," said Fischer Martin. "Especially when it comes to abortion and childcare." She further explained that generally, women feel more confident in women leaders better understanding their challenges as well as the country's challenges opposed to men. Fischer Martin concluded her presentation by stating that "electing more women to office is almost universally important." However, the level of importance varies on partisan lines, with Democrats stating this is extremely important, while Republicans have less urgency on the issue. 
Fischer Martin and Dr. Lucas wrapped up by furthering their discussion relating back to the poll and answering questions from the audience. An audience member asked about the biggest barriers to women getting into politics to which Fischer Martin responded by saying that the time commitment as well as the financial constraints that come with being involved with politics are major barriers to women getting into politics. She explains that looking at recent years, "the people that can afford to take a job like that are older, more established, and often male."
Another audience member asked about the best strategies to improve women's political participation. Fischer Martin emphasized that the "encouragement component is a real thing." She and Dr. Lucas both agreed that the idea of engaging women, forming groups, joining a campaign, or getting together with other women to advocate for change are all ways of building up women in politics. Fischer Martin concluded by emphasizing that the "power of seeing other women in office has a multiplying effect."