From growing up in the Bahamas to building a thriving practice in Boston, E. Elon Joffre, D.D.S. '01 credits his time on the Hilltop with helping him become who he is today.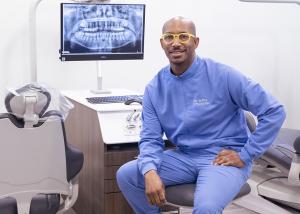 On the first day of new student orientation in 1997, E. Elon Joffre, D.D.S. '01 arrived in Manchester with his mother, his girlfriend and two large suitcases. They had flown 1,200 miles from the Bahamas to Boston, then taken a bus to New Hampshire. There was only one more leg of the journey before Joffre could begin his college years at Saint Anselm, but the few cabs at the transportation center had departed with other passengers and no others returned, so Joffre called the college switchboard for advice on how to get to campus.
A short time later, Dean of Students Joseph Horton, D.Ed. '77 pulled up in a minivan.
"He didn't even say who he was, he just said, 'I'm Joe Horton and welcome' and helped us load up the luggage," Joffre remembers. "He took us to campus and helped get us settled and then helped us navigate our dinner options that evening."
Small Acts of Great Kindness
Joffre was ready for a new adventure, and his girlfriend, and wife-to-be, Giselle, was studying nearby in Boston, but his mother had trepidation about leaving her son so far away from their home.
"She was very, very nervous. Like, fish-out-of-water-type nervous. It was all new. Nothing like she'd ever seen before. Here she was coming from the Bahamas, had never really been up in the Northeast, it was just so new," Joffre says. "Joe Horton, I'm sure, sensed some of that, and I remember him trying to reassure her that I would be in good hands, and I was OK. I think, in many ways, my mom being there, and her nervousness probably helped us solidify that relationship. Not that Joe already wasn't a phenomenal individual, but he did take a special interest in making sure that I was OK."
They stayed in close touch throughout that first semester and Horton helped Joffre acclimate to this new country, going with him to open a bank account and eventually get a driver's license.
"I always looked at my role at Saint Anselm as being somebody who does whatever needs to be done," Horton says. "I think, in some ways, the most fulfilling part of that job is the relationships with students and doing things like giving someone a ride to the store."
It was the first of many indelible friendships Joffre developed while at Saint Anselm and the beginning of a lifelong love and connection with the college. Fr. Peter Guerin, O.S.B., who was dean of the college, and Barbara Stahl, Ph.D., who was chair of the biology department, were also more than teachers and mentors to Joffre.
Saint Anselm College soon became his second home. He thrived as a biology student and as a resident assistant in Hilary Hall. Today, he remains an active member of the college in a wide variety of ways, supporting both Saint Anselm's strategic initiatives and individual students.
"I understand and recognize that Saint A's means many things to many people, but to me it was basically hope and opportunity," he says. "Because as I reflect on my background and where I came from and where my journey started, without the opportunity that
Saint A's afforded me, I could not have made it to the next step."
Recognizing this is important to Joffre. "And that's not lost on me. I understand it. I appreciate it. And because I'm grateful for it and appreciative of it, I want to make sure that I'm not just doing my best for Saint A's as an institution, but supporting others who may be in a situation similar to mine or just folks who may just need support in and of itself."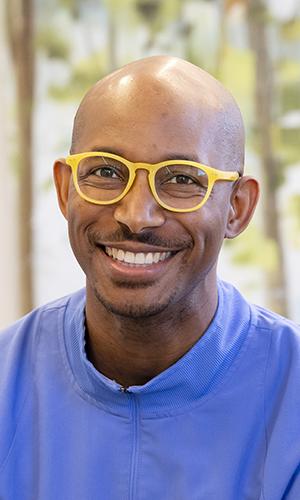 An Anselmian Always
After graduating in 2001, he went on to earn his D.M.D. from Tufts University School of Dental Medicine and a master's in public health from Harvard University's T.H. Chan School of Public Health.
Becoming a dentist was a childhood dream, and he has flourished in the field. He currently owns SquareSmiles in Milton, Mass., and dotSmiles in Boston, specializing in orthodontics and dentofacial orthopedics. He has been voted one of the region's top dentists by Boston magazine each of the past five years.
Joffre provides orthodontic care to those in need through the dental clinic at Brigham and Women's Hospital, and he volunteers with local and national organizations to help underserved communities have access to dental care and to educate dentists about caring for vulnerable populations. He also serves on the faculty at the Harvard School of Dental Medicine, where he enjoys teaching dental students and residents.
Since 2018, Joffre has been a member of the board of trustees at Saint Anselm and finds seeing the college through that lens provides insights he wouldn't have had.
"I think higher education is at an interesting intersection," he says. "Being on the board has given me a better view of that landscape, it's been fun, and I think it's been mutually beneficial. I hope there are aspects that I bring to my role as the trustee and advisor that are helpful, and I know for a fact that I've been benefiting in terms of my own personal growth as well."
To Saint Anselm President Joseph A. Favazza Ph.D., Joffre is an ideal member of the trustees, having exceptional business acumen and strong vocational skills that were first learned at the college. Like many colleges and universities, it is a pivotal time for Saint Anselm, so the guidance of board members like Joffre is very important.
"Elon brings unique insight and a deep passion for Saint A's to the table," he says. "As we embark on the second year of our Vision 2025 strategic plan, the direction of the board is so important as we make critical decisions to ensure the vibrancy of the college for generations to come."
Joffre believes the college has a strong foundation and is poised for growth. He points to its solid academic reputation as an example and believes Saint Anselm can reach beyond the Northeast with strong undergraduate programs and by developing additional graduate opportunities.
For him, a key factor in choosing Saint Anselm for his undergraduate years was the excellent academics, knowing he was planning to attend dental school.
Do something, do something, do something. Take action, whatever it is. If you do something every single day and take steps toward activating your dream, it will become a reality, he said. Dream, and dream big, he said. If you dream big, you can get there.  
"I had looked into the pre-professions program and was also thoroughly impressed," he says. "I was very impressed with Professor Stahl, not just her track record but also the track record of students who were at the college and how they were able to launch their dental careers."
Years later, he and Giselle saw Stahl and her husband in Harvard Square, and he was reminded of the close relationship among Anselmians. "I remember thinking to myself, 'Isn't this amazing? All these years later, running into the person who was very instrumental in helping me on my journey.'"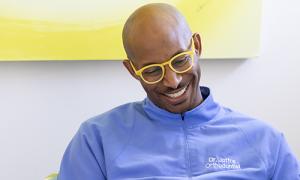 Elon and Giselle have two daughters, ages 11 and 8. When they were married in the Bahamas, Horton and his wife were among the invited guests.
"He's just a special guy to me, a lifelong friend," Horton says of Joffre. "We've stayed in touch over time, and he's just been a real joy. And, you know, that's one of the things about working in a place like Saint Anselm. There are just such great people and he's one of them."
In February 2020, Joffre was invited to speak at the annual Martin Luther King Jr. Dinner, where he challenged the audience to find their dream and pursue it.
"Do something, do something, do something. Take action, whatever it is. If you do something every single day and take steps toward activating your dream, it will become a reality," he said. "Dream, and dream big," he said. "If you dream big, you can get there."