Anselmian Donors, Anselmian Stories
At Saint Anselm College, we share a powerful story. It is a story of collective accomplishments and the moments that define who we are.
Our stories have a great deal in common, and for many Anselmians, their story includes reasons for giving back. Here are some stories of Anselmian commitment and support.
Do these stories sound like your reasons for giving back?
If you are interested in supporting Saint Anselm College at any level, you can make your gift online here or please contact Julie O'Connor, Assistant Vice President, Annual Giving at joconnor@anselm.edu or (603) 641-7165 for more information.
Read the Stories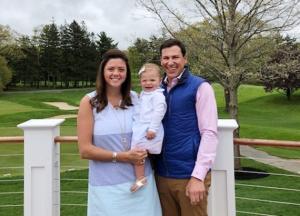 I support Saint Anselm College because it has given me a tremendous amount for which to be thankful. I was fortunate to start a career in a field I am very passionate about, something for which I feel I owe the school a bit of a thank-you. Over the years I have met alumni working in financial services, who are always looking to assist one another and I would like to keep this tradition going.
I had a phenomenal experience during my time at Saint A's. I initially became interested in the school through my involvement with the hockey team during the recruiting process. Upon arriving on campus, I quickly connected with a group of future friends I am still very close with today.
I studied financial economics while at Saint Anselm and will be the first to say the school holds their students to a higher standard. The challenging course work provided a strong foundation for my work in financial services. The rigorous curriculum taught me to take my time and think things through thoroughly, which I feel is lacking with others entering today's workforce.
Upon graduation I began my career with State Street Global Advisors, working for Trustee Barry F.X. Smith '87 and alongside Matt Steinaway '90 and Mike Spellman '00—three of the most impressive individuals in the investment management business whom I will always look up to as mentors and role models.
The ultimate gift the school has given me is my wife, Maggie, who I met our sophomore year. We actually got engaged on the steps to Alumni Hall, and have since welcomed our own future Anselmian, Rosemary Josephine.
Giving back, to me, means there will be another student who will benefit from similar experiences that I had. I spent two years participating on the golf team for Coach Driscoll. Frank is very passionate about the college, and someone his players learn a wealth of knowledge from. He and I are still close, and I always look to assist the school's program in any way possible.
Anselmian alumni seem to all have a similar affection for their time on campus. It's evident through the life-long friendships built. By supporting the school you are able to assist in making sure others have the same opportunity.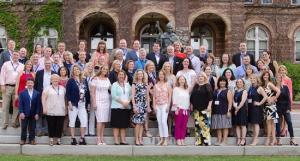 Members of the Class of 1993 were recently back on campus for Reunion Weekend to celebrate the 25th anniversary of their graduation from Saint Anselm College. This year's co-chairs Peter Gallo and Thom Nosek took over the duties from Brad Ellis, who chaired the class for many years and remained on the planning committee along with Tricia (Naughton) Clancy, Tom Enos, Lia (Miller) Gravier, Patrice Russell, Fr. Anselm Smedile, O.S.B., Nikki Amara Myers, Joan Harrington O'Hare, Marla Pascucci-Byrne, Jane (Shea) Yerrington, and Jake Young.
This year's Reunion Weekend was one of the largest in recent college history. Nearly 65 members of the Class of 1993 traveled back to the Hilltop from as far away as California and Florida.
"My favorite moment was hanging out with our class in front of the Living Learning Commons (LLC) on Saturday afternoon," shared Thom. "It was a great way to greet people as they showed up for the Saturday night class dinner."
Peter said his favorite part of Reunion was "simply spending time with my classmates, the monks, and my former teachers. There is nothing more rewarding than the relationships that the college helped me to establish."
Traditionally, reunion classes encourage classmates to donate to the college and set a goal for participation. The Class of 1993 more than doubled both their participation goal and dollar goal for Reunion thanks to generosity of classmates.
"Our gifts to the college go a long way toward helping the current students enjoy the college experience as we did," said Thom.
"Alumni should give back annually not just during reunion," said Peter. "So many alumni, parents, and friends have given so much which made our college experience unique. As alumni, we must do the same to ensure the mission remains strong and school is financially sustainable in these most uncertain times for private schools."
Another Reunion tradition is the class dinner. Each class hosts a dinner on the Saturday night of Reunion Weekend. This year, the Class of 1993 hosted their class dinner in the new event space in the Roger and Francine Jean Student Center Complex.
"Our class dinner was the highlight of the weekend," said Thom. "The view in the new student center is amazing and it was a great way to have everyone gathered to celebrate 25 years post-college and take a walk down memory lane with the slide show from 1993."
"I highly encourage alumni to attend (their reunion)," said Peter, "They will be surprised how well the college has progressed and will enjoy the time they spend with their classmates.  Reunion brings back so many great memories and good feelings."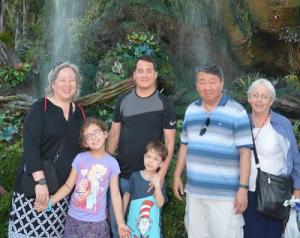 When I came to Saint Anselm College, it meant a change of country, culture, language, and religion. As an international student, I sometimes spent vacations at the college. There were some memorable visits to the homes of classmates and their families, which helped me understand American culture. On at least one occasion, Professor Robert Case '54, who taught my math courses, invited me to accompany him during vacation. I majored in mathematics and made it my career for fifty years.
After graduating, I went on to graduate studies, marriage and family, teaching, and research. I only visited the campus infrequently. I did communicate with Father Casimir, Father Brendan, and a few classmates over the years. Retirement and my 50th Reunion last year gave me an opportunity to reconnect and think more about those early times.
Revisiting the campus for my Golden Reunion was very meaningful to me. I was proud to share places and recollections with my wife Martha. There were a variety of events, and we enjoyed walking around the campus. Although there have been many changes, I noticed familiar sites such as the chapel, the administration building, and my dormitory, Dominic Hall, where I lived in a triple.
Conversations at the reunion crystallized some memories and triggered many others. I talked with classmates about remembered faculty members including Father Casimir; Father Brendan, who was my professor of statistics; Professor Schmidt, who hosted me for a year; and Professor Case.
Over the years, I wanted to contact Professor Case. He shepherded me through mathematics and triggered my interest in teaching others. Luckily, a classmate of mine mentioned having taken a course from Professor Case at Northeastern University and sent me his email address. Martha and I were able to meet with Professor Case and his wife for lunch in Boston. It was great to finally get together and reconnect with the professor who had such an impact on my life.
Saint A's fostered the development of the foundation I needed to go on to graduate school. I enjoyed a satisfying career in education and became a biostatistician. I was fortunate to be able to buy stock that appreciated over the years. I am so pleased that I could donate that appreciated stock to the future of Saint Anselm College in honor of Professor Robert Case.
Fred and Martha Djang recently made a gift of stock to Saint Anselm College to establish the Fred C. Djang '67 and Martha T. Djang Endowed Scholarship, in Honor of Robert W. Case, Ph.D., Class of 1954. The scholarship provides aid for a student pursuing or considering a major in mathematics. For more information about making a tax-advantaged gift that will benefit both you and the college, please contact Peter M. Labombarde, CFSC, director, gift planning, (603) 641-7228. You may also wish to visit the Planned Giving section of the college's website.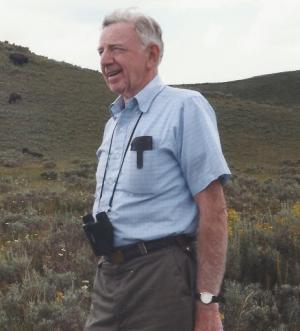 Our Dad was a first-generation college student who grew up on a modest farm in Bedford, New Hampshire. The son of Irish immigrants, he began to pursue his education at Saint A's, but was interrupted by the outbreak of World War II and his enlistment in the Navy. After the war, he returned home and earned his degree in Chemistry in 1946. At the time, Saint A's consisted of one building—the administration building. His experience was transformative in many ways and reflected the values that shaped his life as a husband and father, as an educator, and as a citizen.
The Benedictine's distinctive liberal arts education focused on fostering intellectual, moral, and spiritual growth, and resonated deeply with our Dad, a lifelong Catholic. Later, he strongly encouraged his eight children to attend Catholic, liberal arts colleges. The institutions we attended include Boston College, Notre Dame College, Saint A's, St. Joseph's College (ME), and Villanova. Naturally, his strong preference was for Saint A's!
Dad was also drawn to the rhythm of the Benedictine life, grounded in prayer and finding meaning in the routine of every day. Though raising a large family left little time for quiet, praying together in the evenings as a family is a distinct memory for each of us.
Finally, from Hawks basketball games to folk masses in the Abbey Church to Irish music at the Dana Center, the life of Saint A's was enmeshed with our own. One sibling recalls that Dad would often pick up hitchhikers as we neared the campus, assuming they were Saint Anselm students. In his later years, when his mobility diminished, a sure way to lift Dad's spirits was to take a leisurely drive through the ever-expanding Saint A's campus.
The idea of honoring Dad's memory by establishing an endowed scholarship at Saint A's was unanimously endorsed among our family. Beginning with his time as a student in the early 1940s until he died in 2015 at the age of 92, Saint Anselm was a source of pride, enrichment, and spiritual nourishment. The ideals of the Benedictine charism and educational principles fostered in our Dad have benefited each of us. By establishing a scholarship with a preference for first-generation college students, we hope to pass on the legacy of a son of immigrants whose life trajectory was immeasurably changed through his experience at Saint Anselm College.
The family of John Hastings recently created the John C. Hastings '46 Endowed Scholarship. Endowed scholarships at Saint Anselm College create an enduring legacy and a permanent source of support for those who seek an Anselmian education. We invite you to learn more about creating a scholarship to honor a person dear to you.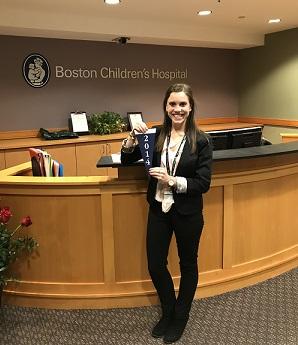 My experience at Saint Anselm was "Anselmian." I immersed myself in the culture, academics, and athletics. I am proud to be an Anselmian and believe the bond between Hawks is inseparable. Attending Saint Anselm College was one of the best decisions I have ever made and it has shaped me into the confident, motivated, and adventurous person that I am today.
I would not be as connected to Saint Anselm without my four-year roommate and best friend Ashlee Rollins. Ashlee and I were randomly placed together as roommates in our first year. We quickly became inseparable. Saint A's brought us together—and then cancer took her away from me and the world. All of my Saint Anselm memories have Ashlee in them, which is why I am so dedicated to the school and our time together there. It reminds me how precious time is, and how Saint Anselm created the best friendship, for which I will always be thankful.
I support the college because I want others to have a life-changing, Saint Anselm experience, as I did. I think everyone deserves the opportunity to have a good education and feel a part of the Anselmian community. I support the college so they can buy more Davison trays to sled on, buy more rakes for Spring Break Alternative groups to rake leaves with, and put on the best PYCO! All these little things together make up the Anselmian experience. I know I am helping by donating. Giving back to Saint A's means giving back to my home. I give back because I am thankful for:
•    the best friends I made
•    the dance team that I captained
•    the SBA groups
•    the Orientation Leaders
•    the Saint Elizabeth Seton Society, for which I proudly wore yellow & blue
•    the CAB events, because I never missed CABINGO
•    Tuesday night Pub Trivia, where some of the best learning happened, and
•    the Student Activities and Leadership Program Office, where I worked.
I donate money back to the school for the nostalgia and appreciation of my memorable four years on campus.
Amy Harrington is the coordinator of corporate relations at Boston Children's Hospital. Her Class of 2014 banner hangs behind her desk to remind her of her accomplishments and her days on the Hilltop.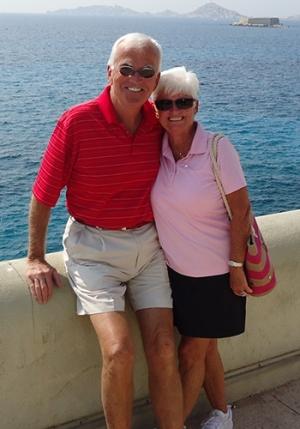 My father played football for Saint Anselm College after the war so I was familiar with the school from his stories before I started thinking about college. I played basketball in high school and was invited to play at Saint Anselm College. My career on the court was short, but Saint Anselm provided me with an opportunity to play at my father's alma mater with a great group of coaches and players. In the classroom, I became a better student because the professors were sincerely interested in their students.
I love Saint A's because of the people that I met and the friends that I made while I was a student there. I made some of the best friends of my life at Saint Anselm College. Many of us still get together once or twice a year. I have fond memories of many of the members of the monastery, especially Father Finbar O'Mahoney and Father Casimir Mulloy.
My wife Betty and I have donated to Saint Anselm College for several years because of the college's impact on my life. When I heard about the renovation of the new student center complex, I was interested in increasing my support. The benefits of a gift of stock were shared with me and I knew that was the way to go.
A gift of a stock that has appreciated over the years provides favorable tax incentives to the donor and a much-needed donation to the college. By giving the stock directly to the college, I didn't pay capital gains tax on the appreciated value of the stock. From a financial planning perspective, a gift of stock can also help you balance your investment portfolio if it is weighted by one or two stocks. Anyone thinking about a generous gift to the college should consider the tax benefit they can receive from making a gift of an appreciated stock. You benefit from the favorable tax rules, and the college benefits from your generosity. You both win.
Jack Treanor '69 studied economics at Saint Anselm College and is the retired president and chief operating officer of the Washington Trust Company. Jack received his M.B.A. from Suffolk University in 1976, completed the program for management development at the Harvard Business School, and successfully submitted his thesis to the Stonier Graduate School of Banking at Rutgers University.  Jack currently serves on the boards of directors of Federal Home Loan Bank of Boston, the Washington Trust Company, and Thielsch Engineering.
For more information about making a gift of stock, we invite you to contact Peter M. Labombarde, CFSC, director, gift planning, (603) 641-7228, plabombarde@anselm.edu, and visit the Planned Giving section of the website.
If it wasn't for Saint Anselm College, I don't know what I would be doing today. Being a student at Saint A's in the mid-sixties gave me focus and taught me how to study: it changed my future. After graduation, I went to Georgetown and was well prepared for the rigors of post-graduate work. That would not have been possible had I not learned the fundamentals of studying and preparation. Today I am a periodontal surgeon.
I tell my patients all of the time to look at Saint Anselm when their children are looking at colleges. A lot has changed since I graduated, but Saint A's has maintained its sense of community. Parents like to hear about the family feeling at Saint A's, which most schools can't offer. It is reassuring for them to know that someone is looking out for their child. For me, that person was Father Casimir Mulloy.
In the sixties, many of the monks lived in the dorms as proctors. Father Casimir was the proctor in our dorm when I was a freshman. It was great having him right there for students. Having never been away from home, I needed someone to talk to and he was always offering advice. Father Casimir also helped me get serious about my studies. The requirements of college were much greater than high school, where I'd been more interested in baseball than classwork. Father Casimir taught me the importance of making my studies my top priority.
From my stories about Father Casimir and others, my wife Sally knows just how important Saint Anselm is to me. When my youngest brother passed away from cancer, Sally suggested we create a scholarship at Saint Anselm College in his memory. Dennis went to Tufts before joining me at my practice. Establishing the Dr. Dennis O'Grady Memorial Scholarship at my alma mater is a two-way street. The scholarship is a wonderful way to memorialize a great person and to help a great student so that they can receive the same benefits that I did from Saint Anselm.
I can't believe it has been 50 years since I graduated. 1967 seems like only 10 years ago. The campus is bigger, but it still has that familiar feeling. It is so meaningful to be able to help students attend the school that taught me so much.
Alan O'Grady, D.D.S., P.C. '67 is a periodontal surgeon in Massachusetts. For Reunion 2017, he volunteered as a chair for the Class of 1967. We invite you to read more about creating a scholarship to honor a person dear to you.
On a busy night in the library, while studying for an exam, I received an email asking me to join the Senior Class Gift Committee. The what? I was even invited to serve as a co-chair. Me? At the time, I had little to no knowledge about the Senior Class Gift and how it works.
However, I was intrigued and went to a meeting with the director of the committee and the other proposed co-chair. Once I learned that the Senior Gift is part of our Anselmian tradition of paying it forward and giving it back, I accepted the position with no doubts. This committee has been one of the best engagements I've made during my four years at Saint Anselm.
Since then, I have learned that, by joining together with my classmates, our Senior Class can make a difference in the lives of our peers and the next generations of Anselmians. The Senior Class Gift is each senior's opportunity to support the activities, programs, and students that make Saint Anselm what it is today.
Many students, including myself originally, tend to assume that donations go directly into the same pool as tuition, making them reluctant to donate to a general budget. In reality, we seniors can choose what area of the college to support-scholarship aid, Service and Solidarity trips, student clubs, or countless other choices. Each of us just has to think about what area of Saint Anselm has impacted our experience the most.
Making your Senior Class Gift helps our class leave its legacy at Saint Anselm College. The main goal of the Senior Class Gift is to show the support from seniors and to say a simple "thank you" to programs such as athletics, NHIOP, Meelia Center, Campus Ministry, student activities, or scholarships. Who of us hasn't befitted from or participated in at least one of these programs during our four years on campus?
I have made my donation for the senior class gift. I feel it is important to donate because this school has grown me into the person I am today. Looking back on myself entering first year, I was truly a younger, more unexperienced individual. The programs in which I was able to participate are one of the many reasons I have grown to absolutely love this place and call it home. Although I still have many challenges ahead of me, this school has become the main reason I will be able to overcome them.
It's hard to believe four years go by so quickly! The Senior Class Gift is your opportunity to give back to the college that has given you so much. Every senior's participation, in ANY amount, counts. I ask my senior classmates to join me and please consider giving to the Senior Class Gift. Saint A's is truly a college like no other, and remains that way because of the many great Anselmian traditions, including the Senior Class Gift.
Saint Anselm College has been and remains a very special part of our story. It's where we first met and started dating as co-captains on the cross-country team.
Our cross-country coach, Professor Paul Finn, is a very special part of our lives. His support, going back to our initial days of setting foot on campus first year, made Saint Anselm feel like home almost immediately.
Saint Anselm's challenging liberal arts curriculum also instilled a hard work ethic and critical thinking skills that we continuously rely on in our careers at a cancer research hospital and technology start-up in New York City.
Because we have so much to be thankful for in all the relationships, opportunities, and foundation that Saint Anselm has given us, giving back financially has always been something we have strongly believed in doing together as a married couple. Recently, we signed up for the monthly auto-pay option. This enabled us to be consistent, reliable contributors to an institution we strongly believe in supporting.
Giving back is our way of simply saying thank you to a community that has given so much to both of us. Giving back also keeps us connected to fellow alumni who appreciate the school as much as we do and are passionate about wanting the college to continue its success in the years and decades to come.
We have recommended to our friends and family, who are looking at colleges, to check out St. Anselm any chance we can. What else can you ask than a school where you are able to develop lifelong friendships with students, professors and coaches; gain a true liberal arts education that also directly leads to your dream jobs right out of college; meet your future spouse, and have the school be the location of your wedding?
We even named our black Lab Abbey after the church.
Kevin Golen '08 is an analyst for a NY-based technology start-up. Jessica (Marzik) Golen '10 recently completed Saint Anselm's RN-to-BSN program and works at a cancer research hospital.
On the second annual Anselmian Day of Giving on April 13, 2016, alumni and friends near and far joined in to support Saint Anselm.
Many shared their great reasons for giving on social media. One post in particular caught our eye.
Allison Welch '03 posted a photo of herself wearing a Day of Giving shirt—with her newborn baby! Her caption read, in part,
On this #AnselmianDayOfGiving I'm donating to support #FutureAnselmians like this exceptionally cute one-day-old who may someday join the #classof2037.
Amid the excitement of welcoming her daughter into the world, Allison remembered Saint A's and encouraged others to give, too.
We needed to find out more about Allison's loyalty and love for her alma mater. So we caught up with her a few months later.
Here's what Allison had to say about the inspiration for her Saint A's spirit, in her own words.
---
When I started as a freshman at Saint Anselm, I was a declared politics major but didn't really know what to expect. When I started classes, I met engaging professors who were renowned experts in American politics, political philosophy, and international relations. I had a front row seat to the "First in the Nation" New Hampshire primary. I stayed up all night in Cushing waiting for the cliffhanger results of the 2000 presidential election.
I found my passion at Saint Anselm and, through my studies in my major, gained a base of knowledge to excel in grad school and launch a career. Ultimately though, I think the value of a liberal arts education from Saint A's is much more than becoming an expert in a specific field. The critical thinking, writing, and analytical skills I developed on the Hilltop gave me the flexibility to be successful in a number of different professional roles in politics, policy, and public affairs.
The community at Saint Anselm was also a big part of my experience and growth there. One of my favorite Anselmian memories is decorating gingerbread houses in Davison with friends. There was always something a little magical about that night. It's a tradition I've continued at home during the holidays with my children—who are MUCH messier than we were—and now look forward to every winter.
I am grateful for my experience at Saint Anselm. Giving back is a way to show my appreciation and to ensure current and future students can enjoy the same experience I did.
I think the Day of Giving is much more than a fundraiser. It's really a way for members of the whole college community to reflect on what Saint Anselm means to them. As an alumna, it's also a way for me to stay connected to Saint A's well past my own graduation.
I would be thrilled to see one of my children attend the college—not only for the education and opportunities it would afford them, but also because it would give me an excuse to spend more time on the campus I love!
The View from the Top: Boston Globe CEO Michael Sheehan '82
By Gabriella Servello '14
Portraits, Fall 2014
Mike Sheehan has been known to say that all he ever wanted to do was write. He's taken this desire all the way to the CEO's office of The Boston Globe. Prior to taking the helm of the award-winning newspaper in January, he had a distinguished advertising career, most recently as CEO of Boston advertising giant Hill Holliday.
Sheehan was a trustee of the college for 10 years, serving as chair of the board for four. Sheehan and his wife, Maureen, are longtime supporters of the college and created the Frederick and Claire Sheehan Endowed Faculty Fund for the Saint Anselm College Humanities Program. The college awarded Sheehan an honorary degree in 2011.
New graduate Gabriella Servello, an aspiring journalist and former news editor of The Crier, interviewed the alumnus in his office in June.
When it comes to memories of Saint A's, I have too many to count, and they include fun times, solemn occasions, or just the day-to-day. The memories always envelop me with a feeling of contentment—it was a great school to go to, especially in the unsettling times we were living in.
Some favorite memories include:
hanging out in the Coffee Shop in the morning or on study breaks from the library
walking across the Quad to the Student U for dinner
St. Patrick's Nights in the Pub
daily Mass during Lent at 5:00 p.m.
a ski trip to Mt. Tom
driving to clinical in early morning snow
weekends—any weekend
line dancing on Third Street on a Friday night while we waited hours for our hair to dry
good times—always!
My experience at Saint A's, from my education to campus activities to serving as an RA, fostered skills such as organization, project management, being detail-oriented, and always being prepared. Professionalism, integrity and moral ethics were the standards to live by and the community set an example that would last a lifetime.
Life is moving fast these days and special people—classmates, priests and brothers—are no longer with us. After graduation in 1976, we only have so many opportunities to get together as a class; this June, our 40th reunion, is one of them. I got involved so that I could encourage everyone in our class to come back to Saint A's in June—even if it is just for a day.
I was fortunate that I found Saint A's because it was the perfect school for me. It was the perfect size, with the type of ethical and Catholic leadership I needed at that time in my life. I know that there are many young people today who are also a perfect fit for Saint A's and who need assistance of some sort. I haven't always been in a financial position to donate but nevertheless, we always tried to give something to show we supported the Saint A's family. I never worry about how my donation is being spent as I know that student need is always paramount.
In honor of our class reunion, I decided to increase my giving this year. My company's matching gift program helps me to give at the leadership level, and I am a proud member of the President's Society. Matching funds are fantastic and I'm lucky to work for a company that provides them—it is a real boon to the school as they get twice as much from my gift! (Check to see if your company offers matching gifts too.)
---
Susan (Verian) White Murnane is a senior vice president and training director at AIG Environmental based in Washington, DC. A member of the Fortune 500, AIG is one of the world's largest insurance firms with more than 90 million customers around the globe. AIG is known as the pioneer in launching environmental insurance. Susan has been with the company for 16 years. This year, Susan has volunteered to serve as a reunion chair for the Class of 1976. Please join Susan in coming back and giving back to Saint Anselm during Reunion 2016, June 10, 11, and 12.
On a Friday night in 2006, I was hanging out with my friends at the Pub, when someone asked me the unexpected.  Would I join my classmates in making a senior class gift?  Saint Anselm needed my help. Of course, I said yes. And giving back to the college has become one of the great Anselmian traditions that I have continued over the years.
One of the many reasons that I support Saint Anselm College is because I love the school. I had a great experience and received a valuable education. I want to support the future generation of students in any small way that I can.
It is important to me to donate to Saint A's because when I was a student, the college awarded me scholarships that made it possible for me to attend. Giving at the leadership level and joining the President's Society is my attempt to pay it forward.
As the busy mom of two little ones, I appreciate anything that saves me time. I signed up to give monthly through automatic deductions because it creates a habit of giving and is super convenient.
I often think of the Christmas season as the season of giving. We Anselmians donate to our favorite charities because we want to support organizations we care about - like our alma mater. In addition to the joy of giving, our generosity can pay off at tax time. (Remember, I was an accounting major!)
Please give what you can - no donation is too small, and signing up to give monthly makes giving (even at the leadership level) gentle on your budget.
For Michael Siddall '84, the Anselmian experience is all about the people. "Certainly I received a good education. But I'm most grateful for the relationships, to this day, with friends and acquaintances, and the monks and professors…" He trails off, trying to think of a way to express that unique Anselmian quality without resorting to a cliché. "It's just authentic. You meet people that are really nice, kind people. It's a very special thing."
Mike served as vice president of the Alumni Association and participates regularly in the Greater Springfield (Mass.) Anselmian alumni group. "I've developed great friendships with people who are connected to Saint Anselm. Not just alumni, but also parents and other people in the community who share common interests."
These relationships have impacted Mike both personally and professionally. After college, each of his jobs had some Anselmian connection. A few years after graduation, Mike even worked at Saint Anselm as the alumni director, before leaving to pursue law school.
Now running his own law firm, Mike notes that his undergraduate degree prepared him well for law school. "There were professors who talked about my writing skills and how they could tell I had a good background. Lawyers are constantly drafting, so writing is part of my daily routine."
At Saint Anselm, Mike also learned important core values, especially open-mindedness. "Over time, I have come to realize the importance of diversity of thought. Saint Anselm allowed me to be open to diversity of thought. Maybe it comes from the Benedictine values, or maybe from being around good people. Perhaps each supports the other. The bottom line is, I'm grateful for learning to think in a diverse way."
Gratitude comes up again when Mike explains why he gives. For him, it's simple: "I think what it gets down to for me is gratitude. That's it. I'm very grateful."
---
Are you interested in supporting the college at a leadership level, as Mike does? We invite you to read more about becoming a member of the President's Society.
Michele Pesula Kuegler '92 has forged her way along an unusual career path, transitioning from elementary school teacher to startup entrepreneur. The skills that she learned at Saint Anselm College empowered her to succeed, and now her giving helps a new generation access an Anselmian education.
Michele is CEO and editor-in-chief of PeKu Publications, a group of online publications that she founded in 2008. Her writing skills were a key asset as she started in this field: "I'm a writer and an editor, and I definitely credit that to Saint Anselm. Having a high bar set— 'you will be a great writer'— helped me become who I am." These days, Michele has a staff of writers and editors, and she focuses on the big picture, using her organizational and interpersonal skills to oversee an expanding media network.
As for what motivates her to give? "I understand that education is a pricy endeavor. The education here is valuable, well worth the investment. If my giving helps make it attainable for someone who might not be able to go—that is why I keep giving." As a member of the Corporate Partners Program, Michele makes gifts that go directly to scholarship aid.
Michele says, "Students here learn to aim for higher goals." She has seen this in the Saint Anselm students whom she has hired as interns each year since 2010. "I have had fabulous, dedicated interns. I expect great results, and I get great results." Now a mentor herself, Michele recalls experiences from her own student days. "Professors coached students the way I coach my interns. They always made time for students. The way I was educated, that is the same style I use now in coaching others."
---
Are you interested in supporting the college through the Corporate Partners Program, as Michele does? We invite you to explore your options and find out how you can benefit both your business and the college.
Dr. Paul McNeil '46 first got to know Saint Anselm College as a high school student visiting the Hilltop to see the Saint Anselm football games. His older brother, John, was on the team having received a football scholarship. John graduated from Saint Anselm in 1942, the same year Paul graduated from high school. Paul wanted to attend Saint Anselm but doubted he could afford the full tuition.
That summer, John reached out to the college treasurer, Father John Lynch, O.S.B. Fr. John invited Paul to meet with him and asked, "How much could you afford?" Paul told Fr. John what he had saved from his summer job—and Fr. John told him he could attend for that amount.
Paul matriculated in October 1942. With World War II underway, Army Air Corps cadets came to Saint Anselm to receive training. As military personnel filled the campus, the few civilian students like Paul were hired to wait tables in return for tuition remission.
In 1943, Paul was accepted to the University of Pennsylvania dental school, where his brother John was also a student. However, Paul was lacking one science course that he needed in order to enter dental school in the fall of 1944. Again, Fr. John offered a solution. At his suggestion, Father George Jacobson, O.S.B., agreed to teach a course for Paul and one other student.
Paul graduated from dental school in 1948 and went on to serve three years as a Navy dentist before starting his dental practice. He has never forgotten how the monks of Saint Anselm helped him. He says, "Because of everything Saint Anselm did for us, when my brother and I started our practices, we wanted to give something back. In the first years, it was just a small amount, but we sent whatever we could."
For more than ten years, Paul and his wife, Maureen, have funded the Dr. and Mrs. Paul McNeil Annual Scholarship. Now Paul continues the monks' legacy by supporting a new generation of Anselmians, just as he was helped all those years ago.
---
Are you interested in giving to Anselmian Scholarships, as Paul and Maureen do?  We invite you to learn more about how you can help deserving students access an Anselmian education.