On March 29 and 30, 2023, Anselmians joined together as ONE to support Saint Anselm College during the ninth annual Days of Giving campaign. This year's campaign raised more than $1.3 million from over 4,000 donors.
Over the two days of this year's Days of Giving campaign, Anselmians celebrated everything that makes Saint Anselm College their home by raising funds for the programs and initiatives most important to them.
Generous donations to important initiatives such as scholarships, the nursing program, the Fr. Peter Guerin, O.S.B. Center for Teaching Excellence Endowed Fund, and the Professional Development Initiative – just to name a few - will impact the lives of our students, faculty, and staff.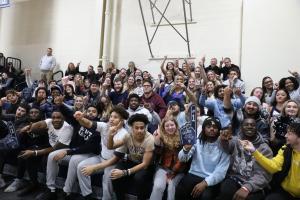 There was also a tremendous response to the #HawksSoarHigher athletics challenge led by Vice President of Athletics Daron Montgomery, student-athletes, coaches, and staff, where more than 2,600 donors supported the many varsity sports programs, athletics scholarships, and athletics operations.
"Thank you to everyone who joined together as one to support the transformative education that our students, past and present, receive on the Hilltop," said President Joseph A. Favazza, Ph.D.
More facts and figures:
More than 4,000 members of the community donated – a new record for the campaign.
Gifts came in from across campus, 41 states, and around the world in denominations ranging from $10 to $100,000.
Reunion classes, led by the class of 1993 in participation, raised more than $180,000.
Hundreds of volunteers—including alumni, faculty, staff, monks, parents, and students—assisted by making phone calls, sending emails, issuing challenges, and spreading the word through social media.
"Thanks to the generosity of our alumni, faculty, staff, monastic community, board of trustees, students, and parents we celebrate the incredible success of our Ninth Annual Days of Giving," said James F. Flanagan P'23, senior vice president and chief advancement officer. "I offer my gratitude to our campus partners and our alumni, parent, trustee, faculty and staff volunteers who helped support this Anselmian tradition."
Saint Anselm College would like to thank the generous donors who provided match and challenge gifts during the campaign for important initiatives such as the Nursing Simulation and Technology Fund, the Nursing Preceptorship Fund, the Thomas A. Melucci Jr. Memorial Scholarship Fund, the Rockett Challenge (class of 1988), the Rummel Scholarship for Intercultural Leadership, Anselmian Scholarships, the Center for Ethics in Society, the Fr. Peter Guerin, O.S.B., Center for Teaching Excellence Endowed Fund, and the Gregory J. Grappone '04 Humanities Institute. 
A special thank you to: Julie O'Connor, assistant vice president, Annual Giving; Shelagh Freda, senior associate director, Annual Giving; Katie Amato '14, associate director, Annual Giving; Audrey Gauss, assistant director, Annual Giving; Tiffany Lewis, administrative assistant, Annual Giving; Emiko Ostrowski, director, Advancement Services; Shauna Admirand, advancement systems manager, Advancement Services; Donna Hume, coordinator, Advancement Services, Pauline Shire, database coordinator, Advancement Services; the entire Advancement team;  the College Communications and Marketing team; and the Department of Athletics. 
Related News