The Kevin B. Harrington Student Ambassadors hosted an election watch party on Tuesday, November 8, open to all Saint Anselm College students.
The night was filled with pizza, snacks, and conversation as students sat in the New Hampshire Institute of Politics (NHIOP) auditorium cheering on the candidates.
NHIOP Program Assistant Thomas Case '18 drew a map of the country and filled in by color the seats that were taken by the U.S. Senate. Case also engaged students in writing their predictions of winners in the New Hampshire governor, senate, and congressional district races.
Most ambassadors were eager to watch the race between incumbent U.S. Senator Maggie Hassan and Republican challenger Don Bolduc. Many students had a one-to-two-point margin between the candidates and believed it would be a close race.
Junior community outreach co-chair, Luke Chadwick '24, reflected on the outcome of the midterm election. "I believed that Democrats would certainly lose control of at least the House of Representatives and almost a week later the House still has not been called," said Chadwick.
"I also thought that if Democrats were to defy historical trends and political expectations it would be by a narrow margin. I did not expect Chris Pappas and Maggie Hassan to win by as much as they did. While it was more likely for Democrats to hold the Senate, I believe that the fact the House is still uncalled but likely to go to the Republicans by a narrow margin means that the Republican party must do some soul-searching on the role that former President Trump and election denialism play in American politics."
In Congressional District 1 (CD-1), ambassadors believed Republican nominee Karoline Leavitt '19, would defeat incumbent Chris Pappas by a large margin. This prediction was also made for Governor Chris Sununu and CD-2 Rep. Annie Kuster.
"I think [the election] says something about the Republican party more generally going into 2024. Many were predicting a "red wave" and that did not happen," said Events Committee Co-chair Caroline Mara '24.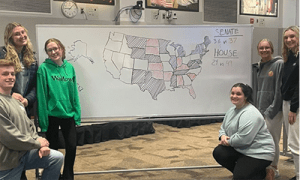 Many ambassadors took the NHIOP's recent polls into consideration while making their predictions. Elizabeth Duffin '25, a civic engagement co-chair reflected on polling at the Institute and how that may have affected the election results.
"Based on the polling Civic Engagement did on campus, it appeared to me that several students were not planning on voting in the midterms, nor were they aware of the candidates running in their region or knew the issues on their ballots," said Duffin. "I believe that those who were planning on voting and those who already submitted their mail-in ballots had strong opinions and incentive to participate based on their personal beliefs".  
The College community further promoted civic engagement among NH voters, especially for students at Saint Anselm College.
Through the use of social media, the Institute was able to reach larger audiences by providing details for the 2022 midterms. Instagram users were encouraged to participate in this election cycle, with posts outlining the importance of civic engagement among the student demographic, details on voter registration in NH, absentee ballots, and snapshots of candidates running for U.S. Senate, Congress, and NH Governor in particular.
Potential NH voters were also given information regarding their Congressional District, such as candidates running for CD1 and CD2, as well as the counties and/or towns falling within each district. Brief descriptions of each district showed users historical partisan leanings and demographic details.
The Institute also broadened its reach to New England voters, giving a glimpse into the region's partisan demographics and parties of serving governors among the six states. 
In the week leading up to the general election, followers of the NHIOP Instagram, Facebook, and Twitter social media accounts were further encouraged to watch WMUR's coverage of the Granite State Debates hosted at the Institute of Politics.
Student Ambassadors to the Kevin B. Harrington program at the NHIOP had the unique opportunity to act as stand-ins and liaisons during these debates, which were featured in a collaboration between Saint Anselm and NHIOP's Instagram accounts. Following the election, the Institute highlighted the efforts of everyone who got involved in this election cycle, thanking the candidates, campaigners, poll workers, and voters; without each of these different groups, a successful election season would not have been possible.
Jilian Dorazio '24, who manages the ambassador social media accounts shared her experiences creating the content. "It was such a great experience promoting civic engagement during this election season. I organized materials from different campaigns (i.e. yard signs, stickers, pamphlets) and digitized them into separate posts encouraging voter participation for CD-1, CD-2, senate, and gubernatorial races. I used software to create graphics to physically outline both districts, promote the debates, and highlight all of the candidates! I was also lucky enough to work the WMUR Senate debate as a candidate handler."
The NHIOP ambassadors loved interacting with one another at this event and it was a great opportunity to invite students to share their perspectives on politics.