The New Hampshire Institute of Politics (NHIOP) hosted a climate change campus debate on September 12, 2023, in tandem with the National Governors Association, Braver Angels and the Saint Anselm Debate Team. Since its inception in 2001, the NHIOP has offered Saint Anselm students a unique window into American politics. As such, the semester kicked off with an historic campus event when a bi-partisan group of four sitting U.S. governors came to campus to participate in a student debate about climate change. In attendance were Rhode Island Governor Dan McKee (D), Utah Governor Spencer Cox (R), New Jersey Governor Phil Murphy (D) and New Hampshire Governor Chris Sununu (R).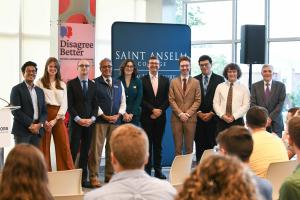 "This was an extraordinary opportunity for Saint Anselm students to voice their opinions with four sitting governors in the audience," remarked Neil Levesque, executive director of the Institute.
Hosted in part by Braver Angels and the National Governors Association, the debate was inspired by Governor Cox's initiative to Disagree Better. According to Cox, "there is nothing more un-American than hating our fellow Americans." Working with his wife, First Lady Abby Cox, they are developing programs to model civil discourse and healthy conflict around the country.
Preparations for the event were made by the Saint Anselm Debate Team, who drafted the resolution topic "Climate Change: Individual Responsibility or Government Action?" Select members of the team, created opening statements to start the debate, which included students: Nathanial Crane '24, Sean Kelleher '24, Alexander Burgess '24, Bella Uva '26, Kellan Barbee '26, and Michael Hanna '26.
Kevin B. Harrington Student Ambassadors greeted the governors as they arrived to campus. The students then escorted the gubernatorial delegation to the Jean Student Center's McCready Event Space, where the debates took place.
"Civil discourse doesn't just happen. It is cultivated," stated President Joseph A. Favazza, Ph.D. during his opening remarks. He also noted that the Hilltop was the perfect place to host this type of event because of Saint Anselm's commitment to the Benedictine values of respect, hospitality and community.
"It was inspiring to hear so many St. A's students voice their opinions," said David Trumble, the Saint Anselm College Debate Coach. He continued, "Climate change is clearly a topic of great concern to this generation. They spoke about their willingness to change their own lifestyles and to bring positive change to the political system, through voting, working on campaigns and even running for office. It was an honor to have the governors in attendance and to have such a large group of people in the room."   
Caroline Mara '24, echoed this sentiment, "One of my favorite parts about this is that we have all these governors in the room. One of the rarest parts of this debate was that we actually got to have the ears of some of the people who make our policy changes."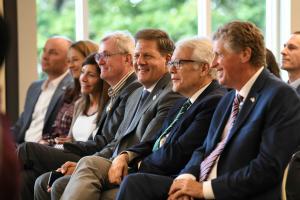 Braver Angels is a nonprofit organization based in New York City, that is focused on political depolarization. Throughout the year, the group facilitates a variety of debates and workshops to encourage participants to listen and better understand one another's positions. Their mission is to build a bridge, through civil dialogue, that allows audience members to discover shared values. The Braver Angels name was inspired by President Lincoln's plea for national unity during his first inaugural address. 
The unique Braver Angels debate format encourages listening and sharing different perspectives. According to Doug Sprei, Braver Angels vice president of campus partnerships & multimedia, "the goal is to flatten the hierarchy, such that everyone in the room is welcome to speak and ask questions, whether they are the college president, faculty, students or staff – all are viewed as equals during the 90 minutes of the debate."