On Saturday, May 20, following Saint Anselm College's 130th commencement exercises, four graduates of the class of 2023 were commissioned as 2nd Lieutenants in the United States Army.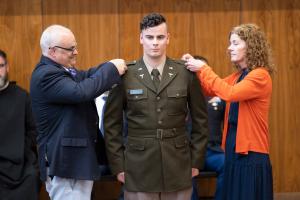 The ROTC Commissioning ceremony held in the Jean Student Center's Melucci Theater, celebrated Saint Anselm graduates Cameron Barbone, Katherine "Kate" Macaluso, Liam Reeve, and Joseph Walker as well as University of New England graduate Kara Murray. 
"We give our deepest congratulations […] and give our heartfelt thanks for your call to serve our country," said Dr. Joseph A. Favazza, college president. 
Barbone, a criminal justice major will be a quarter master; Macaluso was a psychology major. Reeve, a nursing major, is a nursing officer and Walker, a history major, is joining the field artillery with New Hampshire National Guard. 
During the ceremony, the graduates were pinned by parents and loved ones and then gave their first salute. Alumnus Christopher J. Fiorentino '03 addressed the group, their families, and ceremony attendees, providing words of wisdom and advice. Although now an attorney licensed in Massachusetts and New Hampshire, Fiorentino was a platoon leader in combat in the Army; during his service, he earned an Iraq campaign medal.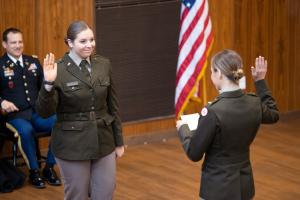 He advised, "if you do the hard work, if you continue to keep your nose to the grindstone and learn from the soldiers around you […] then you will earn their respect."
"You're going off into the Army to lead troops and you'll have the opportunity to do difficult things," he said. "I want the be the first one to say to you on behalf of the school, all of us, the country: go out and be all you can be."
All five Lieutenants participated in the Reserved Officers' Training Corps (ROTC) program out of the University of New Hampshire. This is the first ROTC commissioning ceremony at Saint Anselm College in 13 years. 
In addition to the ROTC commissions, class of 2023 graduate Zachary Martin will be commissioned as a 2nd Lieutenant in the United States Air Force at a later date.