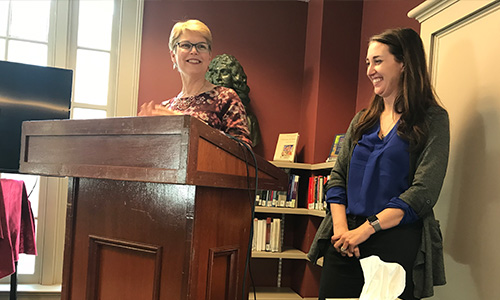 Professors Deb McCarter and Tauna Sisco
On Feb. 19, the published work of four dozen faculty and staff was recognized at the Geisel Library's sixth annual Celebration of Research and Scholarship. Four faculty who published in international relations, biology, nursing and sociology, presented their work in the DeCiccio Reading Room.
Mark Cronin, dean of the college, opened the event by emphasizing the engagement and dedication the faculty have to their research and contribution to their field. "They always rise to the challenge," said Dean Cronin, speaking about the faculty commitment to their work and to the college.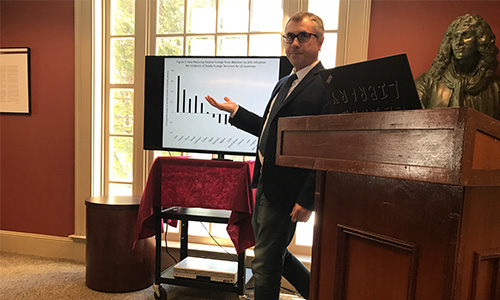 Professor Erik Cleven
Erik Cleven, associate professor of politics, presented his research "Deadly Foreign Terrorism and the Rank-Ordered Tournament for Foreign Press Attention: Implications for Counterterrorism," focused on the correlation between press attention and deadly terrorist attacks. Professor Cleven and his co-authors asked whether higher levels of international press attention make countries more vulnerable to terrorist attacks, and whether reducing press attention therefore is a viable counterterrorism strategy. Their research found that higher levels of press attention do predict a higher level of deadly foreign terrorist attacks. However, if the U.S. could reduce its level of international press attention by 20% it would not result in a statistically significant reduction in these attacks. For policymakers who might want to trade liberty for security, Dr. Cleven and his colleague's research makes clear that this trade would not be worth it.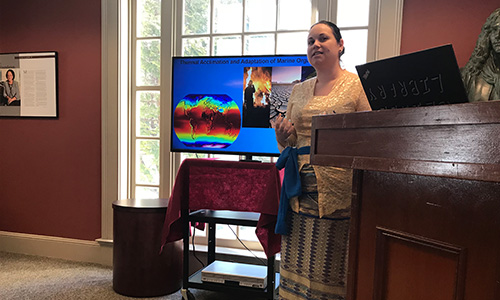 Professor Theresa Dabruzzi 
Assistant professor of biology, Theresa Dabruzzi, presented her research "Thermal Niche Adaptations of Common Mudskipper (Periophthalmus kalolo) and Barred Mudskipper (Periophthalmus argentilineatus) in Air and Water." She spoke about her passion of working with temperature and the limits animals have when dealing with extreme variations. Her research focus was on Mudskippers, a fish found in the coastal Pacific and Indian oceans that migrates between breathing water and air. Conducting her research in Indonesia, she studied Mudskipper thermal adaptation abilities and found that the Mudskippers have a high tolerance for temperature when it is removed from water and placed on land. The difference in tolerance results from an adaptation which allows the fish to transition between an aquatic habitat and a terrestrial habitat. 
Deborah McCarter, professor of nursing, and Tauna Sisco, associate professor of sociology, presented their research, "Technology-Assisted Nursing for Postpartum Support: A Randomized Control Trial," on the effects of technology-assisted nursing care during ​the first six months after childbirth. Professors McCarter and Sisco researched a group of women who agreed to receive four standardized text messages over the course of six months that included messages about maternal care, infant care, and inspirational comments. Some, but not all women had the opportunity to choose to speak with a nurse, helping them to feel less isolated and more supported. The results found that many women experienced symptoms of depression as much as six months postpartum and that the messages and offers for nurse contact were appreciated by women and not burdensome to nurses.