*Please note: This article is a student blog written by a Kevin B. Harrington Student Ambassador. The Ambassador Program is a unique opportunity for Saint Anselm College students of any major to be involved in supporting the Institute's various events and activities. To learn more about our student ambassadors please visit the NHIOP website.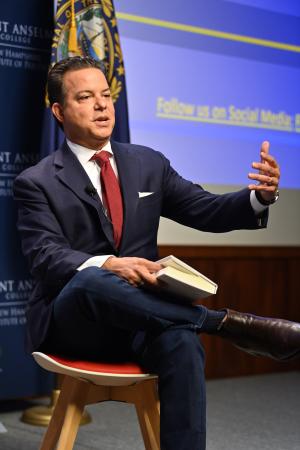 On May 1, 2023, the New Hampshire Institute of Politics along with the Geisel Library welcomed John Avlon for the Bookmark Series to speak about his book "Lincoln and the Fight for Peace." Avlon is a senior political analyst and anchor at CNN, in addition to being the author of several political books. The discussion was moderated by Dr. Hugh Dubrelle of the Saint Anselm College History Department. 
Professor Dubrelle explained that "Lincoln and the Fight for Peace" is not simply another biography of the famous president. Avlon himself admitted that there were thousands of books written about Lincoln, but his approach was from a different angle. The book goes deeper about the complexities of healing a nation after civil war, and the certain type of leader that met the challenges of the job.
It was imperative the Lincoln not only win the war for the union, but also win the peace and reunite the country. He was never against the south or the people who lived there; he needed to eliminate slavery which was causing the strife. Notably, Lincoln would refer to "we" when speaking about slavery and acknowledged the northerner's part in making it the issue it became. 
There are connections and wisdom from Lincoln's history that can be used today. Avlon said he was inspired to write this book due to the intense division in our current political landscape. When asked whether there are politicians today who could emulate Lincoln in their leadership, he said, "there are certainly people capable of it, and that they must have the same spirit for uniting people and must shun this era of tribal politics." As our country tackles extreme division and polarization, there is much to be learned from Lincoln's strength and compassion.
This was Avlon's second appearance with the NHIOP's Bookmark Series. Previously he visited campus in 2018 to discuss his book "Washington's Farewell."