On Saturday, July 28, 2023, the United States Navy christened the Harvey C. Barnum Jr. in Bath, Maine. The future naval destroyer is named for Saint Anselm alumnus Harvey "Barney" Barnum '62 who received the Congressional Medal of Honor during the Vietnam War. Abbot Mark Cooper, O.S.B., '71, HD '04 delivered the invocation at the event.
"How proud Saint Anselm College, and its 20,000 alumni, is today of Harvey Barnum Jr." said Abbot Mark during the invocation. "Let us ask God's blessing on this man and on this ship honoring his commitment, his valor, and his willingness to sacrifice everything for the good of others."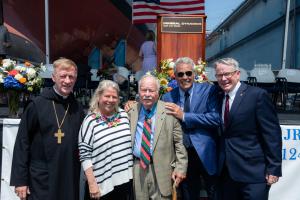 Born on July 21, 1940, Barnum grew up in Cheshire, Conn. He attended Saint Anselm College, where he studied economics. While on campus he was a member of the Marine Corps Platoon Leaders Class as well as the Red Key Society. After graduating, he was commissioned into the Marine Corps as a second lieutenant. During his first tour in Vietnam, Barnum earned the Medal of Honor after taking command when the officer in charge was killed in an ambush. He reunited his unit with the larger battalion. He later became the first Medal of Honor recipient to return to Vietnam for a second tour. Barnum retired from the Marines as a colonel, and later served as deputy assistant secretary of the Navy for Reserve Affairs. 
"We are so proud of Saint Anselm alum Barney Barnum, whose heroism and distinguished career in public service has been recognized with this unique and very special honor," said Dr. Joseph A. Favazza, president of Saint Anselm College.
The event was attended by Maine's governor, senators, and the secretary of the Navy. Barnum's wife, Martha Hill, christened the ship and his granddaughter sang "God Bless America." Abbot Mark, Dr. Favazza, and Jim Flanagan, senior vice president and chief advancement officer, represented the College.