Access to affordable housing continues to be a crisis in New Hampshire. There is currently a severe shortage of housing options, and a recent housing needs assessment estimated that 23,500 units are needed to fill current demands. Without affordable places to live, both employees and employers will look elsewhere. Due to complicated zoning regulations, local communities often unknowingly create barriers that impede the creation of needed living spaces. 
The Center for Ethics in Society at Saint Anselm College, in a combined effort with New Hampshire Housing and the NH Department of Business and Economic Affairs, realized that something needed to change. Inspired by the work of Sara Bronin and the National Zoning Atlas project, Max Latona, the executive director of the Center for Ethics in Society, spearheaded the project. 
"Ever since we started the Housing We Need initiative at the Center for Ethics, we have been aware that exclusionary zoning is one of the primary culprits in the affordable housing crisis—causing hardship for individuals, families, and employers across the state," said Latona. "We hope that the atlas can help move the needle at the state and local level to ease the shortage of affordable homes."
A team of almost 20 people, including the leadership team, contracted specialists, and student interns, worked together to organize, digitize, and share NH's zoning regulations. After 16 months of research and combing through 23,000 pages of data, the NH Zoning Atlas officially launched on May 9. The atlas was unveiled to stakeholders at special event, in which the leadership team demonstrated the online tool, explained the methodology, and showcased key findings. Currently, N.H. is just the third state in the nation to have a complete online repository of housing-related zoning regulations.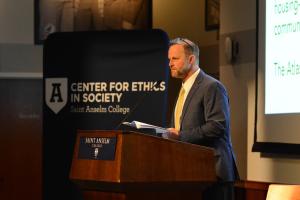 Rob Dapice, executive director of New Hampshire Housing offered welcoming remarks and stated that "the creation of the NH Zoning Atlas is a turning point" in New Hampshire's housing history. Communities, policymakers, and researchers now have the ability to quickly navigate through the complicated maze of zoning regulations.
The information provided by the NH Zoning Atlas offers the first comprehensive look at zoning across the state, so that communities can have real conversations about creating meaningful solutions to the housing crisis. The atlas is policy-neutral tool to be used for analysis and as a catalyst for engagement by citizens.
The project included 10 student interns from a variety of colleges around the country, including Thomas Donovan '24, Carolyn Hill '22, Donald Jepsen '22, and Jacob Akey '24 from Saint Anselm College, but whose hometowns hail from New Hampshire. The students were motivated to participate due to the current inequity in housing opportunities for both the young and old. Citizen engagement, especially with young voters, is going to be key in order to create change on the local level.
"I think there is a lot of ignorance out there about zoning," said student intern Jacob Akey '24, an Economics and International Relations double major. "People and politicians don't really have a clear idea of what their local zoning is and what it does. Hopefully, our atlas will clear up some of those misconceptions." 
Zoning was initially created to protect public health, safety, and welfare. But after the housing booms in the 70s and 80s, zoning started evolving to prevent growth, and to exclude all housing except single family homes on large lots. In communities across New Hampshire, layers of regulations have made it difficult to build smaller affordable housing units such as apartments, duplexes, town-houses, and starter homes on small lots. During a panel discussion at the launch event, industry experts explored reasons for these changes and how the "not in my back yard" (NIMBY) mentality impacts communities.
"We seem to be at such polar opposites when we talk to people about housing. There are those who are like, 'I love my community the way it is. I want to build a wall, the moat, bring in the alligator and no more building, because I just bought my home, and I like it the way it is. This is where we draw the line now that I just moved here,'" said Sylvia van Aulock, executive director of the Southern New Hampshire Planning Commission. 
"Then there are those who say to you, 'I love my community. I've lived here for my whole life. I've raised my family here.' They also love the community character just like the first example. And yet their adult child has no choices on where to live. They cannot move in that same community, so they have to leave. They may even need to leave New Hampshire."
The project was made possible by many generous grants. Major sponsors included: New Hampshire Realtors, Evernorth, the Mercatus Center at George Mason University, and the Charles Koch Foundation. At present, the plan is to update the atlas annually and to preserve previous data sets to provide critical information on the formal legal treatment of housing development in the Granite State. If you have any feedback or corrections to the Zoning Atlas data, please email ZoningAtlas@anselm.edu.
To visit the NH Zoning Atlas: www.NHZoningAtlas.org
Recent Media Mentions