Since the 1960s, women have challenged the status quo to break glass ceilings in the business world. Here on the Hilltop, a group of Anselmians continue this important work with the newly formed Women in Business (WIB) student club.  With the goal to promote equality and empowerment, WIB has enjoyed a successful first year on campus. Their mission is to advocate for women's rights and professional development opportunities in the business sector. This past semester, the club partnered with the Center for Ethics in Society to host discussion panels for both students and local professionals.
As part of the Ethics in Governance program, the Center for Ethics in Society, launched the "Women of Influence" series in 2023. This three-part program was devoted to topics relating to women's success in business and governance. The series examined challenges and opportunities in getting a career started, the importance of a good mentor in professional development, and the courage, creativity, and patience required for innovative entrepreneurship.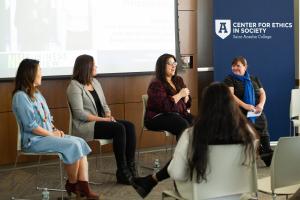 "I was thrilled to play a part in organizing the 'Women of Influence' series and highlight incredible women in our community," said Hannah Beaudry '21, program coordinator for the Center for Ethics in Society. "I believe it is important to showcase women in their careers and offer an opportunity for others to learn how they got there, the challenges they faced, and the advice they have to offer. The networking segment was especially exciting. It was nice to see the audience, including college students, talking to speakers and making important connections."
The series kicked off on March 1, with a themed panel discussion titled "Launching Your Career." Seasoned professionals spoke about their own business endeavors and the importance of starting strong if you want to grow and maintain upward momentum in your career or your company.
The second event, "Mentorship: Maximizing the Mentor/Mentee Relationship," was held on March 15. The speakers shared how an exceptional mentor can help shape professional relationships in numerous ways. They detailed experiences with mentorship, both serving as a mentor and receiving direction as a mentee, and how this encouragement helped propel their careers. A lively networking session followed the discussion.
Lastly, the third and most popular event titled "Entrepreneurship" was hosted on April 19.  With standing room only, students and the community members learned about starting a business and the type of community support that is vital for continued success. A lot of great connections were made with a strong turnout during the networking segment.
Amy LaBelle, winemaker and co-founder of LaBelle Winery, participated as a panelist for the "Entrepreneurship" discussion. "I enjoyed sharing my journey with the students and other audience members, and I especially loved the thoughtful and authentic questions posed by students," said LaBelle. "Women leaders must take time to look back and give a hand up to those just beginning, and this forum was a great opportunity to do just that!" 
President of Women in Business and accounting and business double major Katelyn Clark '24, is thrilled with the club's success and has great expectations for the future. "We have been working on a lot of great events and ideas for next year and are super excited to put these ideas into action," said Clark.
Graduating seniors Kim Tran '23 and Lauren O'Reilly '23 conceptualized the club in 2021 and began working to make it a reality. "Graduating as the club is gathering steam has brought mixed emotions," says Tran. "It's a moment of pride to witness the club's progression while it is also bittersweet to leave as it is reaching new heights. However, I feel a lot better about leaving knowing that the club is in great hands."
In their first year, they gained 40 members and hope to grow to a larger number. Women in Business won the Saint Anselm Club of the Year for the 2022-2023 school year. They hope to repeat this victory next year. Clark is thrilled to work with her executive board for next year, as she is enthusiastic about new leadership and working with strong, impactful women. 
Their programming schedule is already filling up for 2023-24, as the club is planning another "Meet the Firms" event, which is a networking style event, where students learn about internships or jobs. Additionally, the Center for Ethics in Society is making plans to continue the Women of Influence series next school year. Stay tuned for updates in the coming months, as they finalize their program schedule for spring 2024.