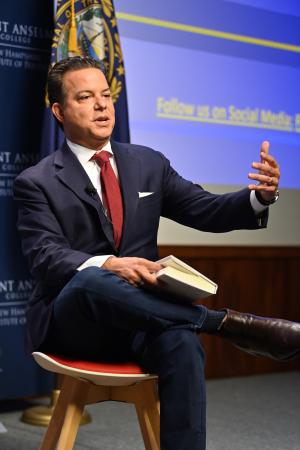 There is no debate that the American political landscape has been particularly charged over the last few years. In fact, many experts have declared that at present, our nation is the most divided that it has been since the Civil War. It is these types of observations that led CNN Political Analyst John Avlon to write his most recent book, Lincoln and the Fight for Peace.
On May 2, 2023, Avlon visited Saint Anselm College as part of the New Hampshire Institute of Politics Bookmark Series, to participate in a moderated discussion with history professor Hugh Dubrulle. For over an hour, Avlon explored President Lincoln's vision for peace and the fundamental importance of character when leading the nation.
Avlon is the first to admit that this time-period is a well-covered subject. Over 16,000 books have been written about Lincoln, and Avlon openly mused, "What could I add?" But after the last two election cycles, he felt himself looking back at history to study how former leaders bridged bitter divisions. Lincoln was the first president to negotiate peace during wartime, and his extensive plans for reconciliation were crafted with themes of goodwill and moral courage.
"Lincoln is one of the only historical figures that doesn't disappoint upon closer inspection. And I think that's because his greatness is directly tied to his goodness," said Avlon. "He is genuinely a kind man. And that's a quality we don't celebrate enough."
The most serious question for statesmen to contemplate, according to Avlon, is how to prevent conflicts reigniting from the ashes of the past. "If you don't win the peace, you don't really win the war," he explained. This requires rising above the normal cycles of revenge and encouraging citizens to find a way to live together again. Achieving this peace requires a degree of centrism, which is the ability to push back against hyper partisanship.
Professor Dubrulle directed the conversation with several questions about the book and moderated a lively Q&A session with the audience. The correlation between the Civil War and current events was a captivating comparison. Both Professor Dubrulle and Avlon underscored the theory that studying the past can enable the country not to duplicate previous mistakes.
"Avlon's main point is that in our hyper-partisan times, we would do well to refer back to Lincoln's plans for Reconstruction after the Civil War which stressed winning the peace through reconciliation," said Dubrulle. "That reconciliation was to be attained through moderation and magnanimity—but a moderation that was unyielding and a magnanimity that was issued from a position of strength."
It is also worth noting that much of what we admire about Lincoln was also revered during his lifetime. "The nickname 'Honest Abe' was not something given to him after he died…He was known as Honest Abe in his own time because he had a reputation for profound honesty and credibility," said Avlon. "He had enormous powers of empathy." It is unique that Lincoln was recognized for his humility and humor before his untimely death, and not only because he was a martyred due to his assassination.
The event included several Kevin B. Harrington Ambassadors who volunteered in a variety of roles, including communication and history double major Jillian Dorazio '24, who gave opening remarks.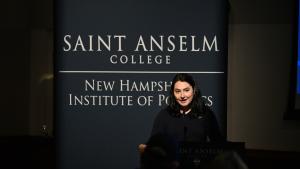 "I really enjoyed doing the introduction for this event and being able to attend, especially considering the historical dimensions of the topic and it's connection to modern day politics," said Dorazio '24. "Avlon stated that our revered historical figures are much more interesting when taken off of the pedestal we so often place them upon; we gain a lot more insight if we understand that Lincoln and others are flawed, multifaceted individuals. He also noted the danger of indulging in tribal politics: 'We saw a Confederate flag in the U.S. Capitol on January 6th. That didn't happen during the American Civil War.'"
This event was hosted in partnership with the Geisel Library and was the final Bookmark Series discussion for the semester. As the campaign season gears up for the 2024 presidential election, the NHIOP will have more programming announced for the remainder of the 2023 calendar.